Investing in publicly-held mobile gaming companies like King Digital Entertainment (BATS:KING), Zynga (NASDAQ:ZNGA), GLU Mobile (GLUU) and a host of other companies around the world, is the purest play ever on the hit-making business. It is momentum investing on steroids.
The speed of success and decline of mobile games suggests that you can't wait for quarterly 10-Qs and conference calls to give you buy and sell indicators.
To invest with success here, you need something equivalent to weekend box office figures, followed closely by investors in pure play movie studios, like Lions Gate (LGF), during the release of movies with blockbuster potential.
Fortunately, there are several data analytics companies that we are aware of which track daily app store downloads and in-app purchases of mobile gaming companies. We have a limited access, free account at App Annie. (Disclosure: I have not received any remuneration from App Annie.)
With a free account, you cannot download any data. But, you can take screenshots of graphs of daily rankings (1-1000) of mobile games by revenue, where revenue is the sum of download revenue + in-app purchases. These graphs can be filtered by app store - Apple (NASDAQ:AAPL) Store, Google (NASDAQ:GOOG) Play, and Amazon (NASDAQ:AMZN) - by mobile game type, and by country.
App store data does not include revenue from advertising. But, most mobile game like KING's Saga series are free-to-play with monetization via in-app purchases of addicted players.
Moreover, studies have shown that a very small percent of players -- called "whales" in industry parlance -- make up the majority of dollar in-app purchases. Indeed, we believe that the long term success of KING depends not on innovative games, but on innovative "addiction technology " which increases the percentage of players who make in-app purchases.
What follows are a series of screenshots of Apple Store U.S. downloads and revenue ranking data for various KING games from App Annie. As a space saver, we sample only data from U.S. Apple Store, believing that this sample is reflective for KING games as a whole. For other games with a significant following in Asia, data from the Google Play store should be included, as Android is the primary smartphone OS there.
We start with the now familiar recap of KING pre-IPO financials, showing a recent stagnation in revenue -- Q4 2013 of $602M vs. Q3 2013 of $648M. This revenue stagnation is the cause of the failure of KING's IPO to take off.
The purpose of this article is to show that individual investors do not have to wait until the next 10-Q and conference call to get some sense of a revenue trends of mobile games. You don't have to be blindsided by some Wall Street release, at their convenience, of sales data from internal polling of customers.
Freely available app store data represents a new step up in the democratization of investor data. It builds on the strides made by internet access to real time stock prices, live conference calls, and live blogging of major new technology releases. It is part of the same trend toward equal access to investor data that fund manager Peter Lynch wrote about after realizing that any shopper could see the disruptiveness of L'eggs hosiery sold in grocery stores.
The first screenshot is of daily download rankings of Candy Crush Saga. The game was released in November of 2012, shot up quickly to a top 10 ranking, but started to decline in October 2013. Notice the spike up last week due to publicity about the IPO and a few TV ads, which Japanese companies have used successfully to boost downloads in Japan.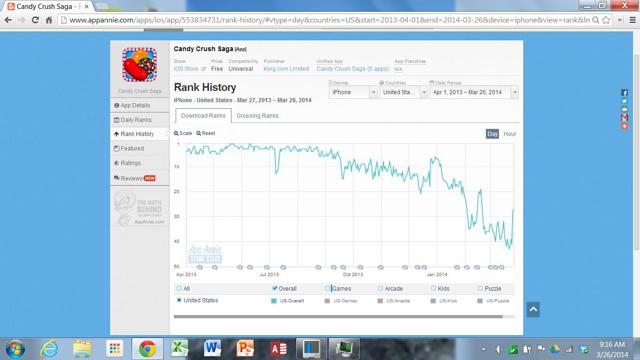 Next is a screenshot of Candy Crush's daily revenue ranking. It has remained consistently #1 or #2 on the U.S. Apple Store revenue charts. Note in particular that Candy Crush held that ranking through the last half of 2013 when revenue declined in the 4th Q/Q. For a top #1 or #2 ranking game, there is no clear correlation between that qualitative ranking and quantitative revenue trends.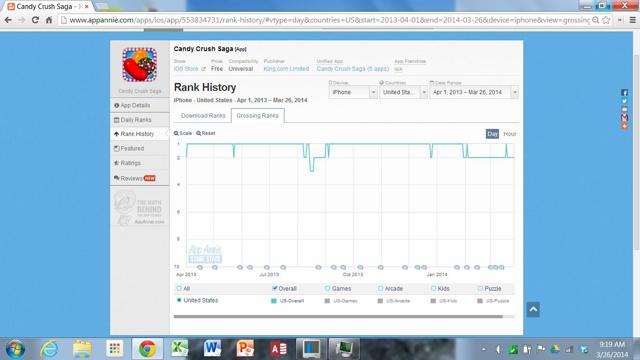 KING's next highly touted game was Pet Rescue Saga released in June of 2013. Daily app store data shows that Pet Rescue has been a success, achieving a top revenue ranking between #7 and #10, but not as successful as Candy Crush. While Pet Rescue may have been a consistent revenue contributor in 2013, there is no evidence it is a revenue booster in 2014.
Here is a screenshot of Pet Rescue's daily download ranking history since initial release.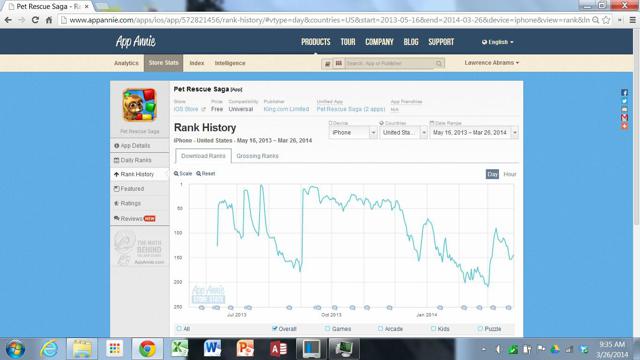 Next is a screenshot of its daily revenue ranking history since release. Pet Rescue Saga has remained between#7 and #10 for the last 6 months.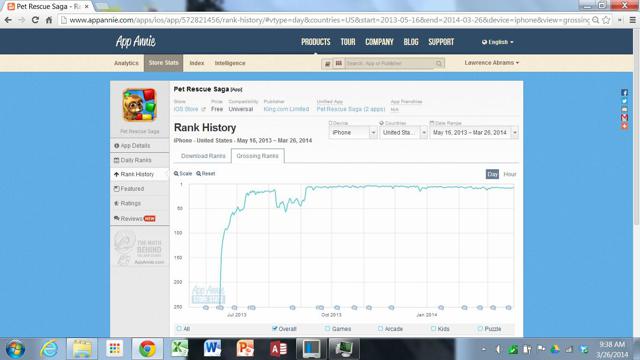 Below is a better look at Pet Rescue Saga revenue ranking for the last 2 months:
In early January 2014, KING released Farm Heroes Saga. It is up to Farm Heroes to provide a boost to KING in the first half of 2014.
The screenshot below indicates that downloads are on the rise, albeit slowly.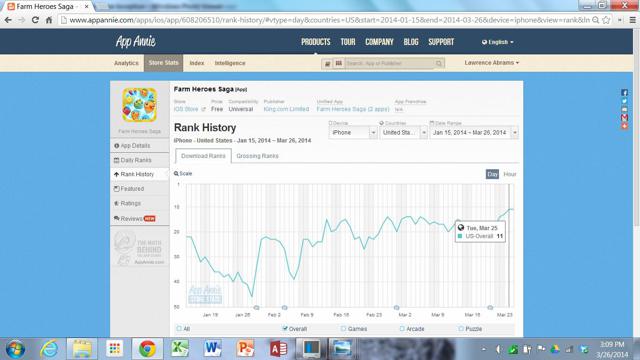 Below is a screenshot of Farm Heroes daily revenue rankings. It is impressive that the game has risen to #5 on the charts, ahead of Pet Rescue, and its ranking has been steady.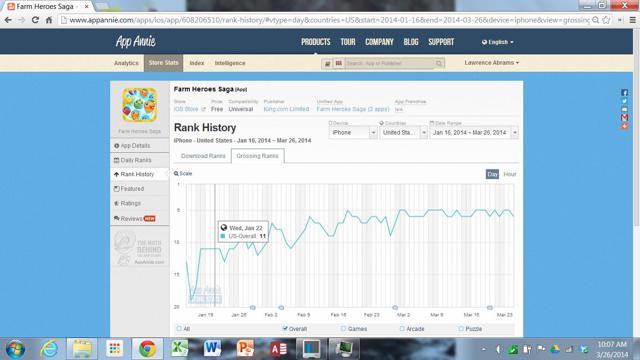 The revenue contribution of Farm Heroes is both significant, and most important, all new for 2014. As a result, we are forecasting renewed Q/Q rise in KING's revenue for the first quarter; boosted by Farm Heroes but muted by Candy Crush. KING is a buy below 17.
Many pundits view mobile gaming companies as "one hit wonders", doubting the existence of a formula for successful game development. The focus is misplaced.
The key to long term success in the free-to-play mobile gaming industry is not innovative games, but better "addiction rates" to released games, which companies understand but won't talk about it publicly. The key to success is innovative "addiction technology" and we think there is a formula for that.
Disclosure: I am long ZNGA, GLUU. I wrote this article myself, and it expresses my own opinions. I am not receiving compensation for it. I have no business relationship with any company whose stock is mentioned in this article.