Grand-standing by ranking Democrats on the House Energy and Commerce Committee, questioning Gilead's (NASDAQ:GILD) pricing on its next-generation hepatitis C virus (HCV) drug Sovaldi, may offer yet another opportunity for investors to load up on this great growth story. In its letter to Gilead's CEO last Thursday, the Committee while acknowledging the drugs breakthrough benefit in effectively treating multiple types of hepatitis C virus, questioned the high $84,000 price tag for the drug, expressing concern that, "a treatment will not cure patients if they cannot afford it."
The news has had a devastating effect not just on Gilead shares, but on the broader biotech and pharmaceuticals group. Gilead's shares have fallen as low as 20% below highs set about a month ago, with about half of that drop coming after the news. Similarly, the broader NYSE ARCA Biotech Index (BTK) and the RBS Global Big Pharma ETF (NYSEARCA:DRGS) have also declined as much as 14% and 9% respectively from highs set about a month ago, with about two-thirds of the fall happening after the news.
The sharp sell-off in biotech and pharmaceutical company shares is understandable. Investors are concerned that the government's role in healthcare could easily over-reach well beyond Obamacare mandates, including challenging the prices set by drug companies for their medications. This is a critical concern as the promise of future pricing power is what makes it viable for healthcare investors to justify spending billions of dollars up-front on drug development before even a single product is launched in the marketplace. Government meddling in pricing puts into question the whole investment model.
While a 9% correction in the Big Pharma ETF may not seem like much, it is contextually large given the historically low volatility of many big pharmaceutical stocks in the 0.30 to 0.50 range, i.e., on average these stocks move at about one-half to one-third the rate of change in overall market indices. Another way to look at the magnitude of the change is that the current correction to-date is the largest top-to-bottom move so far since the construction of the ETF almost two-and-a-half years ago. Furthermore, the correction comes after a steep rally that has lifted the Biotech Index and Global Big Pharma ETF 170% and 80% respectively since year-end 2011 (see Figure), leading to speculation that this could just be the beginning of a more sustained down-move.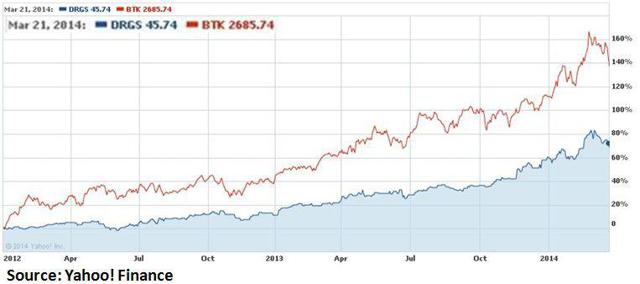 It is in this context that we look at the relative attractiveness of a few select mega-cap pharmaceutical stocks (market-cap of at least $100 billion), especially with respect to their valuations, growth projections and their attractiveness to our handpicked list of over 330 leading fund managers. The intent is that we use the impending correction in the group as an opportunity to separate the wheat from the chaff, and load up on the best name(s).
Gilead is Priced Attractively vs. Its Peers
In the Table below, we compare Gilead Sciences Inc. to its peer group of the following four mega-cap pharmaceutical companies (i.e., those with market-caps of over $100 bill.):
We compared the five mega-cap pharmaceutical industry peers using the following three financial ratios that we consider to be among the most important in conducting a top-down broad industry analysis:
fwd. price-to-earnings (P/E) ratio, that is the price divided by the earnings two years out. So, for the current time frame, for example, we took the year 2015 consensus estimates.
fwd. Enterprise Value over EBITDA (EV/ EBITDA), that is the enterprise value divided by the EBITDA projection for two years out.
fwd. Price-to-Sales (NYSEARCA:PSR) ratio, that is the market-cap divided by the analyst consensus estimates for revenue projections two years out.
And we did this for three time periods, at the end of 2011 and 2012, and at the current time, and then we also compared these ratios across the five peer companies, for three different time periods, to their projected 5-year earnings growth rates.

As is obvious with even a brief glance at the Table, Gilead stands out among its peers. At 36.1%, it has by far the highest growth rate projections for the next five years, with analyst consensus earnings estimates projecting almost a double from $2.04 in FY 2013 to $3.80 in FY 2014, and then another ~50% rise to $5.69 in FY 2015, with FY 2018 potential earnings in the $9.50 range. In comparison, its current P/E of 35.6, based on trailing-twelve-month (NYSE:TTM) earnings, and a forward multiple of 12.8 based on FY 2015 earnings estimates, represents a steep discount to growth.In fact, looking strictly at PEG (P/E over growth rate) ratio, based on the five-year EPS projections, Gilead actually is by far the cheapest in the group at 0.35 vs. PEG ratios in the two to eight range for its mega-cap peers.
Besides P/E, Gilead shares also look relatively more attractive than its peers, on the basis of fwd. EV/ EBITDA (enterprise value over EBITDA) and fwd. PSR (price-to-sales ratio). While it has a significantly higher projected growth rate, its fwd. EV/EBITDA ratio of 9.5 is comparable to the 9.2 average EV/EBITDA for its four peers, and its fwd. PSR of 4.6 is only slightly larger than the 3.6 average for its four peers.
Assuming earnings do in fact rise to $9.50 by FY 2018, Gilead shares are currently trading at only about 7.6 times that. Historically, Gilead shares have traded in a 10-40 earnings multiple band, mostly during periods of relatively modest earnings growth. Also, as a group, its four peer mega-cap pharmaceutical companies listed in the above Table trade at an average 15.9 P/E based on TTM earnings, at earnings growth rates much more modest than in Gilead's case. Applying the 15.9 P/E multiple to potential FY 2018 earnings of $9.50, and discounting the resulting price by a required rate of return of 6%, we get a target price of $113 for Gilead shares, about 60% above current levels. For the lower bound, we assume that multiples fall by about 30% to year-end FY 2011 levels, in which case we still end up with a target price of $79, about 8%-9% above current levels.
In contrast to Gilead, all four of its mega-cap pharmaceutical peers trade at similar valuations in a narrow 13.6 to 14.7 fwd. P/E range based on FY 2015 earnings estimates, while five-year annual growth rate projections for all of them are in the single-digit range, between 2% and 6%.
Leading Fund Managers Are Bullish on Gilead
Next, we looked at the sponsorship of Gilead and its mega-cap peer pharmaceutical industry stocks among our hand-picked 330+ leading fund managers, as illustrated in the following Table.
Our hand-picked 330+ leading fund managers collectively own an impressive 61.7% of the outstanding shares of Gilead, far above the 35%-45% ownership range for its three other U.S. mega-cap peers, a reflection of their collective bullish outlook on the company, both in absolute and relative to its mega-cap peers. Also, while they collectively sold 5.6% of their holdings in the last three quarters, this is not surprising given the more than 100% run-up in Gilead shares since year-end 2012. In fact, the number is lower than we would expect based on empirical observations of other large-cap stocks that have undergone similar rallies. For example, leading funds dumped ~10% of their holdings in Apple (NASDAQ:AAPL) during just the last two quarters leading to the top in late-Sept. 2012, during Apple's massive run-up that lifted shares more than 70% in the preceding year. In the case of Gilead, broken down by quarter, leading funds dumped 1.4%, 1.3% and 3.0% of their holdings in Gilead in 2Q'13, 3Q'13 and 4Q'13 respectively, which appears very reasonable given the run-up in its shares since year-end 2011.
In the latest 4Q'13 (see Table), our hand-picked 78 legendary or guru fund managers added 1.27 mill. shares to their 8.14 mill. share prior quarter position, with 12 funds buying and 6 selling all or part of their position in the company, while the number of guru funds holding Gilead shares went up only marginally from 16 to 17. Guru fund managers have proven long-term track records of consistently beating the markets, and hence it is significant when they add to their positions after such a strong run-up in Gilead shares. Overall, our list of 330+ leading fund managers cut 54.08 mill. shares, with our hand-picked 27 of the world's largest or Mega fund managers selling 47.54 mill. shares in the latest 4Q'13.
The largest leading fund holders of Gilead shares are:
Capital Group Companies (click link for latest summarized 13-F), arguably the most powerful controlling shareholder in global stock markets, running the American & Capital Intl. Mutual funds, and with $1.1 Trill. in AUM, that holds 192.43 mill. shares, including cutting 30.67 mill. shares in the latest 4Q'13;
mutual fund company FMR or Fidelity Investments, with $1.6 Trill. in AUM, that holds 111.20 mill. shares, including cutting 4.16 mill. shares in 4Q'13; and
BlackRock, the world's largest and most prominent asset manager, with $3.6 trillion in assets under management, that holds 89.40 mill. shares, including adding 1.92 mill. shares in 4Q'13.
Conclusion
Gilead has an attractive valuation, consider its strong projected growth rate projections in the 36.1% range for the next five years. Based on the currently available median analyst projections, we came up with a valuation range of $79-$113, about 8% to 60% above its current price in the $73 range. In fact, there is a huge upside potential to even these numbers, as for the year 2015 alone for which analyst estimates are available on Yahoo! Finance, while the mean analyst earnings estimate is $5.69, the high estimate is almost two-thirds higher at $8.98. The upside potential is based not just on Gilead's breakthrough Sovaldi treatment for HCV, although that is the most significant factor, but also on its broad product portfolio and strong pipeline, including drugs for treating HIV/AIDS, hepatitis B virus (HBV), respiratory, oncology and cardiovascular diseases.
In comparison to the high potential upside, we believe the most likely downside scenario is in the mid-$60's, near the 200-day moving average, currently at $68. In fact, we believe that it is very likely that current market conditions, including the bearishness among pharmaceutical and biotech investors, will most likely give us that low price in the mid-$60's. Gilead's CEO has until April 3rd to respond to the House Committee letter, and it is very likely that the company will respond well to the letter, citing Sovaldi's amazing 90% cure rate, its success in saving the government far higher costs associated with liver transplants related to HCV due to the higher cure rate, the incremental relatively small additional cost when compared to traditional HCV drugs with a far lower cure rate in the 55% range that cost $70,000 for a full treatment, and by presenting plans that would limit out-of-pocket costs.
We believe a rational strategy to accumulating Gilead shares would be to buy a third here, and then to average down by buying additional increments of one-third every time it drops another $2 to $3 towards its 200-day moving average in the high-$60's.
Disclosure: I have no positions in any stocks mentioned, but may initiate a long position in GILD over the next 72 hours.
Business relationship disclosure: Business Relationship Disclosure: The article has been written by the Hedge and Mutual Fund Analyst at GuruFundPicks.com. GuruFundPicks.com is not receiving compensation for it (other than from Seeking Alpha). GuruFundPicks.com has no business relationship with any company whose stock is mentioned in this article.
Additional disclosure: Additional Disclosure: Use of GuruFundPicks' research is at your own risk. You should do your own research and due diligence before making any investment decision with respect to securities covered herein. You should assume that as of the publication date of any report or letter, GuruFundPicks, LLC, has a position in all stocks (and/or options of the stock) covered herein that is consistent with the position set forth in our research report. Following publication of any report or letter, GuruFundPicks intends to continue transacting in the securities covered herein, and we may be long, short, or neutral at any time hereafter regardless of our initial recommendation. To the best of our knowledge and belief, all information contained herein is accurate and reliable, and has been obtained from public sources we believe to be accurate and reliable, and not from company or persons who have a relationship with company insiders. Also, in our preparation of this article, we referred investor resources such as Zacks.com, Marketsmith and Sentieo.