Inter Pipeline (OTCPK:IPPLF) is a Canadian company focusing on energy transport, storage, and natural gas liquids extraction. These businesses were discussed in my first article on the company: Inter Pipeline: Low-Risk Dividend Growth Will Drive 20% Total Returns Over The Next 5 Years. On February 28, IPPLF (traded on the US OTC market), traded 3,709,400 shares - 57x the normal trading volume of 64,587 shares. On the company's home market, the Toronto Stock Exchange, IPL traded over 14.7 million shares - 18x average trading volume. The trading spike is clearly shown in the stock chart below. This happened about a week after the company reported record full-year 2013 financial results and was subsequently followed by the company's announcement of a new "Shareholder Rights Protection Plan". The combined events led to the obvious question: Is Inter Pipeline in takeover target?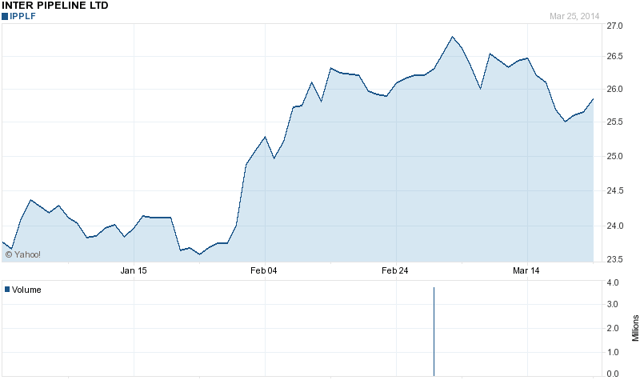 Some Recent Events
A couple weeks after the big spike in trading, March 17 to be exact, the company announced its intent to sell 10,400,000 common shares at C$28.90 (these are IPL shares traded on the Toronto Stock Exchange) for gross proceeds of $300,560,000. The offering was made on a "bought deal basis" through a syndicate of underwriters and closed yesterday (March 26). The offering amounted to a roughly 3.3% dilution when compared with the 312,692,307 fully diluted shares outstanding at fiscal year-end 2013.
Considering the small scale of the secondary offering (~3.3% of the existing share base), it was likely coincidental with respect to the unusually high volume trading that took place a couple weeks earlier. However, what made me wonder if Inter Pipeline was in play was the company's announcement of a "Shareholder Rights Protection Plan" (some would call this a "poison pill") which you can read about here. Considering the purpose of the Rights Plan is to grant the Board and shareholders adequate time to consider and evaluate any unsolicited takeover bid, the announcement appeared to be in response to the big volume day experienced a month earlier.
Making me even more curious was that all this happened a bit under the radar. That is, I had bought a few shares in InterPipeline after researching the company for my first article and being quite impressed. I signed up for the company's email alerts at that time, which I normally do when owning a stock. However, I did not get an email "alert" on either the secondary offering or the "Shareholder Rights" plan.

Who would be nibbling on Inter Pipeline in preparation for a possible bid for the company? Berkshire Hathaway (NYSE:BRK.A) would be an obvious first guess because IPPLF is exactly the kind of company Warren Buffet would find desirable: a relatively low-risk, stable, and growing source of cash flow; a dominant position in its operating space; and a growing dividend. We already know Buffet was rooting around the oil sands because of the significant stake Berkshire took in Suncor Energy (NYSE:SU) last year. I found the Suncor/InterPipeline combination somewhat analogous to the Burlington Northern/Phillips 66 (NYSE:PSX) duo (i.e. transportation of petroleum). Not only does Berkshire own a significant stake in PSX, but late last year it purchased Phillips Specialty Products Inc for $1.4 billion. The PSX business unit focuses on the manufacturing Polymer-based additives used to move products through pipelines more efficiently by reducing drag. If Berkshire and Buffet are bullish on additives to improve pipeline transport , why not buy a company like InterPipeline - the dominant player in oil sands pipeline infrastructure?
This also sounded perfect to me and I patted myself on the back for such an astute conclusion. However ... something told me to dig a bit deeper on this story. So I simply called InterPipeline and asked a representative to comment on the big spike in trading volume followed up by the newly activated shareholder rights plan. The InterPipeline employee was very cordial and said the company was not certain, but it appeared the big spike in volume was due to the company being a new addition to the iShares MSCI Canada ETF (NYSEARCA:EWC). This ETF focuses on Canadian large- and mid-cap stocks:
Profile as of 3/26/2014
Description
Value
Total Net Assets
$2,972,947,484

Expense Ratio as of 8/31/2013*

0.51%

Expense Ratio as of 12/31/2013**

0.48%

Shares Outstanding
102,600,000
Number of Holdings
as of 3/26/2014
98
Inception Date
3/12/1996
Index
MSCI Canada Index
Index Ticker
NDDUCA
Net Asset Value
as of 3/26/2014
$28.98

Price

as of 3/26/2014
$29.13
EWC has a 5-year average annual total return of 13.3%.
Summary & Conclusion
Despite my origin suspicions, and to the best of my knowledge, InterPipeline is not currently a takeover target. The spike in trading volume was apparently the result of the company being added to the iShares MSCI Canada ETF. The shareholder rights plan the company adopted was something the company had been planning to do and the timing of its adoption was a coincidence. Such a plan is standard operating procedure for Canadian energy companies and is very similar to shareholder rights plans implemented by other firms in that country.
All that said, the rationale discussed in this article as to why a large company would find IPPLF desirable is still valid. As I reported in my last article on the company, IPL: Long-Term Oil Sands Transport Contracts Will Drive EBITDA & Dividend Growth, the outlook for IPL is extremely bright. Despite the lack of an apparent takeover bid, I maintain my previous opinion on the company's stock:
As a result of the acceleration in EBITDA growth, shares will likely exceed its 23% 10-year annual total return record and appreciate by 25% over the next 2-3 years. Add in the growing 4.5% dividend, and investors could reap 30% total returns over the next couple years.
Inter Pipeline's inclusion into the MSCI Canada Index and the associated ETF is simply another bullish catalyst going forward.
Inter Pipeline is a STRONG BUY.
Disclosure: I am long IPPLF, PSX, SU. I wrote this article myself, and it expresses my own opinions. I am not receiving compensation for it (other than from Seeking Alpha). I have no business relationship with any company whose stock is mentioned in this article.
Additional disclosure: I am an engineer, not a CFA. The information and data presented in this article was obtained from company documents and/or sources believed to be reliable, but has not been independently verified. Therefore, the author cannot guarantee its accuracy. Please do your own research and contact a qualified investment advisor. I am not responsible for investment decisions you make. Thanks for reading and good luck!