The end of legislative uncertainty on health reform was supposed to open the door for a wave of buying interest for stock assets. With few exceptions, however, investors have continued to shy away from Health Care ETFs.
The case for pharma as well as for medical devices seems pretty strong on the surface. An aging population plus the inclusion of 32 million more insured in the U.S. means more drugs and more devices, in spite of thinning profit margins.
Then there's the global demand story. Some have estimated 15% or more growth in pharma sales to emerging regions over the next 5 years.
And then there's the fundamental fair value issue. Morningstar's screen for the lowest prices relative to fair value produces an inordinate number of exchange-traded options from the health care segment. Many Health ETFs have been tagged as being "undervalued" by as much as 25%.
ETFs Appearing on the Morningstar Low Price To Fair Value Screen
P/FV
SPDR Select Health Care (XLV)
0.77
iShares DJ Health Care (IYH)
0.78
Pharmaceutical HOLDRS (PPH)
0.78
Biotech HOLDRs (BBH)
0.81
iShares DJ Health Providers (IHF)
0.83
iShares Global Health (IXJ)
0.84
Rydex S&P 500 Equal Weight (RSP)
0.93
Nevertheless, over the prior 6 months, only hard asset producers and commodities seem to have struggled more than Health ETFs. Global Healthcare (IXJ) is off about -6%, Pharma HOLDRs (PPH) is down roughly -5.8% and SPDR Select Health Care (XLV) shed nearly -4.1%.
Keep in mind, this is directly competing with 6-month returns from risk assets in equally uncertain sectors. SPDR KBW Banking (KBE) logged approximately 18%, Vanguard REIT (VNQ) proffered 16.5% and SPDR Retail (XRT) picked up about 10%.
Granted, one can make the argument that riskier assets garnered more attention throughout the cyclical bull. Yet we've seen several dramatic corrections in 2010, both in February and May. "Double-dip" seems to be a buzz word for both the housing market and consumer spending challenges. Meanwhile, regulatory reform threatens banks. So how is it that investors are still ignoring the apparent stability associated with a position in the health care sector?
Believe it or not, the reasons may not matter as much as the reality. Until the underlying price trend changes for broad-based health care, I wouldn't be a buyer.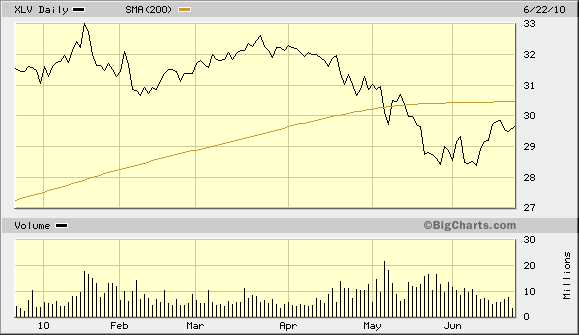 On the flip side, one of my favorites for a very long time has been iShares Medical Devices (IHI). Its uptrend has remained intact.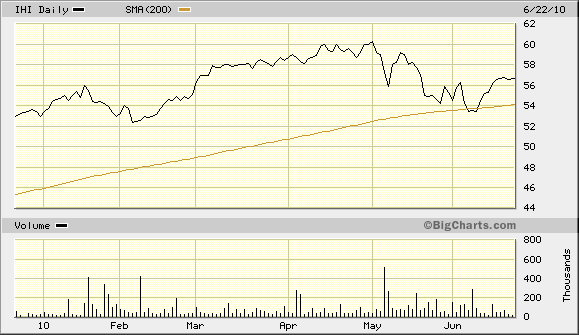 Disclosure Statement: Gary Gordon, MS, CFP is the president of Pacific Park Financial, Inc., a Registered Investment Adviser with the SEC. The company and/or its clients may hold positions in the ETFs, mutual funds and/or index funds mentioned above. The company receives advertising compensation at the ETF Expert web site from Invesco PowerShares Capital Management, LLC. The commentary does not constitute individualized investment advice. The opinions offered herein are not personalized recommendations to buy, sell or hold securities.