Flextronics International Ltd. (NASDAQ:FLEX), a leading designer and provider of electronics manufacturing services, signed a contract with clean energy technology company Petra Solar to construct SunWave smart energy modules that will be used worldwide.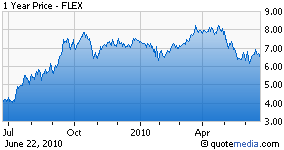 SunWave is an integrated utility grade solar, smart grid and power management solution primarily designed for deployment on utility distribution and streetlight poles. It is also suitable for commercial and residential rooftop installations.
Utilities using SunWave generally benefit from a smart grid communications system and grid reliability enhancement tools.
Petra's communication system provides three main facilities: comprising checking and reporting the operation and condition of the SunWave units, providing means for increasing power efficiency and enhanced control of the SunWave units, and lowering cost for advanced metering infrastructure, load management and demand response programs.
Specific terms of the contract were not disclosed; According to the Associated Press, the contract is for a three-year period and is worth multi-millions of dollars. The companies did not divulge the capacity level of the agreement, or where the solar panels will be made.
This contract will enable Petra Solar to fulfill its commitment of creating green jobs (clean technology) both in the U.S. and in international markets.
The contract is anticipated to meet growing demand for Petra Solar's products and will also help it to broaden its horizon and gain entry into new international markets.
Global warming and an increasing transition to a low carbon economy worldwide have highlighted the significance of clean technology as a growing sector with tremendous potential.
By signing this contract, Flextronics continues to maintain its strategy of diversifying its client base, while at the same time maintaining robust relationships with established clients.
Flextronics has allotted an area of 1 million square feet to create a Clean Tech Super Site at its established facility in Port of Tanjung Pelepas , Malaysia.
The company has a diverse range of solar photovoltaics module production facilities operational at the location with new development plans, which will increase its site capacity to support 1GW of module production over the next two years.
Flextronics expects the Clean Tech Super Site to technologically upgrade solar products and increase outsourcing among original equipment manufacturers (OEMs) due to cost and logistics advantages and overall supply chain optimization.
Flextronics further benefits from a huge client base as many leading OEMs such as Cree Lighting, Carmanah, Oerlikon, SolarEdge and Enphase are its primary customers.
Flextronics faces tough competition from Celestica Inc. (NYSE:CLS) and Jabil Circuit Inc. (NYSE:JBL).

We have a Neutral recommendation on Flextronics.