XO Group (NYSE:XOXO) delivered disappointing fourth quarter results on March 13. Since then, analysts have revised their estimates for both 2014 and 2015 significantly lower, sending the stock to a Zacks Rank #5 (Strong Sell).
Shares of XO Group have sold off considerably since the Q4 report, but the stock still does not look like a value at 45x forward earnings. Investors should consider avoiding the stock until its earnings momentum turns around.
XO Group owns websites focused on weddings, pregnancy, and everything in between. Its portfolio includes The Knot, The Nest, The Bump, and Ijie.com.
Fourth Quarter Results
XO Group reported its fourth quarter results on March 13. Adjusted earnings per share came in at a loss of 3 cents, which was well below the Zacks Consensus Estimate calling for earnings of 11 cents per share.
Total revenue inched up just 1% year-over-year to $32.6 million. Total online advertising revenue rose 1% to $20.1 million as growth in local online advertising more than offset a decline in national online advertising.
Gross profit increased from 82.4% to 83.3% of total revenue. However, significant increases in operating expenses - particularly product and content development, sales and marketing, and general and administrative expenses - led to the earnings loss.
Estimates Falling
Following the Q4 miss, analysts revised their estimates significantly lower for XO Group, sending the stock to a Zacks Rank #5 (Strong Sell). The 2014 Zacks Consensus Estimate is now $0.22, down from $0.65 before the report. The 2015 consensus has fallen from $0.98 to $0.35 over the same period.
You can see this dramatic drop in estimates in the company's 'Price & Consensus' chart.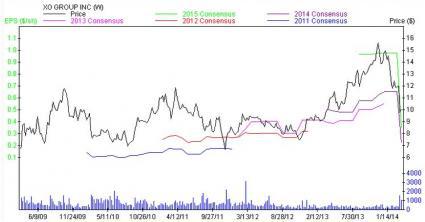 Pricey Valuation
Along with earnings estimates, shares of XO Group have plunged too. The stock is down nearly -20% since the disappointing Q4 report. But the stock still does not look cheap here. Shares trade at a lofty 45x the 2014 consensus estimate and 28x the 2015 consensus.
The Bottom Line
With falling earnings estimates and premium valuation, investors should consider avoiding this stock until its earnings momentum improves.
Todd Bunton, CFA is the Growth & Income Stock Strategist for Zacks Investment Research and Editor of the Income Plus Investor service.
XO GROUP INC. (XOXO): Free Stock Analysis Report (email registration required)