After reporting 6 earnings misses in the span of 7 quarters in 2012 and 2013, Kraton Performance Polymers (KRA) has delivered 2 straight earnings beats. This has prompted a significant turnaround in earnings momentum, sending the stock to a Zacks Rank #1 (Strong Buy).
The valuation picture looks attractive too with shares trading below their peers on almost every relative valuation multiple. This, combined with strong earnings momentum, could propel shares significantly higher over the next few months.
Kraton Performance Polymers produces styrenic block copolymers ("SBCs") and other engineered polymers and markets its products under the Kraton, Cariflex and NEXARTM brands.
Its products are found in many everyday applications including personal care products such as disposable diapers and the rubberized grips of toothbrushes, razor blades and power tools, as well as in adhesives, sealants and coatings and paving and roofing products. The company also produces Cariflex isoprene rubber and isoprene rubber latex, which are used as substitutes for natural rubber and natural rubber latex in products like surgical gloves and condoms.
In 2013, the revenue breakdown by end use market was as follows:
Adhesives, Sealants & Coatings: 37%
Advanced Materials: 27%
Paving & Roofing: 27%
Cariflex: 9%
The majority of its revenue comes from overseas.
Fourth Quarter Results
Kraton reported better-than-expected Q4 results on February 26. Adjusted earnings per share came in at 8 cents, beating the Zacks Consensus Estimate calling for a loss of 15 cents. It was also a significant increase from the 22 cent loss it reported in the same quarter last year.
Revenue declined 2% year-over-year to $290.4 million, but this was ahead of the consensus of $286.0 million. Revenue was driven by strong volume growth in the "Paving and Roofing" and "Cariflex" end uses.
Cash flow was strong. Cash provided by operating activities in Q4 increased 7% year-over-year to $47.4 million.
Turnaround Story
Throughout much of 2012 and 2013, Kraton saw a steady decline in consensus estimates as it reported six earnings misses in a span of seven quarters. But the company has now delivered two consecutive earnings beats and have seen consensus estimates - and its stock price - increase as a result.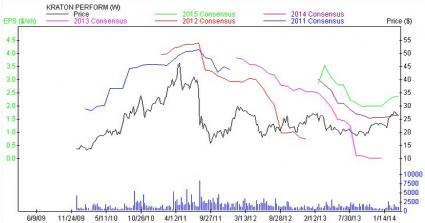 Following Kraton's Q4 results, analysts revised their estimates significantly higher for both 2014 and 2015, sending the stock to a Zacks Rank #1 (Strong Buy).
The 2014 Zacks Consensus Estimate increased from $1.59 before the Q4 report to $1.67 after. The 2015 consensus increased from $2.01 to $2.38 over the same period.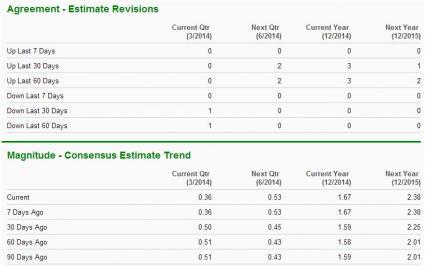 This represents tremendous growth from 2013 adjusted EPS of $0.26.
Reasonable Valuation
The valuation picture looks reasonable for Kraton. Shares trade at 14x 12-month forward earnings, which is below the S&P 500 multiple of 16x. Its price to tangible book ratio of 1.7 is also below the market's multiple and the industry median of 3.6.
Kraton's price to sales ratio is just 0.7, which is also well below the industry median of 1.3.
The Bottom Line
With rising earnings estimates, strong growth projections and reasonable valuation, Kraton offers investors attractive upside potential.

KRATON PERFORM (NYSE:KRA): Free Stock Analysis Report (email registration required)