Cyclacel (NASDAQ:CYCC) is a biopharmaceutical company developing oral therapies that target the various phases of cell cycle control for the treatment of cancer and other serious diseases. Its lead product candidate Sapacitabine, an oral nucleoside analogue prodrug, is in Phase III development for the treatment of acute myeloid leukemia (AML) in the elderly under a Special Protocol Assessment agreement (SEAMLESS trial) with the FDA and recently completed a Phase II study for myelodysplastic syndromes (MDS). It's also being studied in a Phase II for lung cancer and chronic lymphocytic leukemia. CYCC is also running a Phase I study of Sapacitabine in solid tumors, in combination with Seliciclib, its cyclin dependent kinase (CDK) inhibitor. The company has several other compounds in pre-clinical development that will be moving forward this year and should merit attention by investors. However, this article is taking into context only Sapacitabine in AML and MDS in regards to valuation.
CYCC has long been a thorn to many bio-tech investors. The company has struggled to garner significant interest since it's reverse merger with Xcyte Therapies in late 2005 and subsequent Nasdaq listing. As evident below, the stock has performed poorly, and reverse splits were eventually needed for continued Nasdaq compliance.
Click to enlarge image.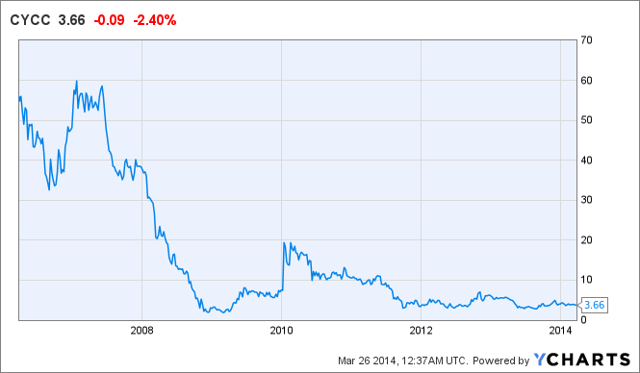 CYCC data by YCharts
I want to bring up a very interesting and unique fact about the company's valuation -- it is incredibly and unjustifiably low verse market peers such as Onconova (NASDAQ:ONTX) and Sunesis (NASDAQ:SNSS), who are in essentially the same development spot as CYCC.
The Market Comparables
ONTX, a high flyer after its IPO last summer, recently reported failed Phase III data with Rigosertib in high risk MDS back in February and came crashing back to earth. However, it's worth noting ONTX was sporting a lofty $300M-$600M market cap for some time before the data came out. Granted, at that time the company was farther along in development than CYCC in the MDS indication. It's also worth noting that CYCC's MDS data recently reported at ASH, where median overall survival was ~ 10 months in the best Sapacitabine arm in elderly patients who had failed hypomethylating agents, was substantially better than the similar subset reported in ONTX's recent Phase III data release. ONTX reported a MOS of only 8.5 months in these patients, but tried to spin it as a positive, as it was statistically-significant over the control arm.
Today ONTX sports a ~ $150M market cap and $100M in cash, for an enterprise value of $50M. This is rightfully justified, as ONTX experienced a pivotal failure. One could argue that CYCC should command a valuation higher than ONTX - somewhere equivalent to its pre-failure market cap of around $300M, as it has not failed it's AML/MDS trials, has released superior MDS data, and has passed all safety reviews (which do review efficacy to some extent) thus far.
SNSS, is in a similar spot to CYCC currently, though targeting a slightly different population in AML and is slightly father ahead. SNSS essentially has all its eggs in one basket with Vosaroxin, which is primarily being tested in combination with Cytarabine in patients with relapsed or refractory AML. It has pivotal Phase III data reading out later this year which will make or break the company. There are reasons to be skeptical of a positive outcome for SNSS (e.g., interim analysis caused the study to expand population size in order for a chance at statistical-significance), however I will leave it to someone else to write an article on that subject.
The company currently has a market cap of ~$400M and $82M in cash (including $42 million recently raised), for an enterprise value of ~$350M. This value is ~9x higher than CYCC's current enterprise value of ~ $40M. Like ONTX, based on SNSS's current valuation, one could argue that CYCC should be trading at 3-4x it's current level in order to be more in-line with SNSS. Both companies have Phase III AML products with pivotal upcoming data, and there is no reason for CYCC to be trading at a significant discount to SNSS, considering it has a shot on goal with AML as well.
| | | | | |
| --- | --- | --- | --- | --- |
| Company | Shares Outstanding | Current Price | Market Cap | Enterprise Value |
| SNSS1 | 60.09M | $6.78 | 407.52M | 354M2 |
| ONTX1 | 21.42M | $6.55 | 140.19M | 52.50M |
| CYCC13 | 19.82M3 | $3.49 | 65.07M | 38.17M3 |
1 - Taken from Yahoo Finance
2 - Correct SNSS EV due to recent cash raise of $42M
3 - Data updated with correct info from recent 10-k
Based on ONTX's previous valuation and SNSS's current valuation, CYCC should eventually be trading, in my opinion, at a market cap of $250-$350M or ~$12.50-$17.50 a share. This would put the valuation more in line with comparable peers. Also remember that the company has a broad pipeline of other indications and compounds in development. Essentially I'm placing no value on the rest of the pipeline, and focusing solely on the MDS and AML potential. I don't know when the time will come, but CYCC will eventually start appreciating considerably in light of its potential and miniscule valuation in relation to its peers who are targeting the same indications.
Why a Valuation Gap?
This is honestly still very much a mystery to me. There are several rational and irrational reasons that could be associated with CYCC's odd valuation. First, you obviously might have some investors who are not fully convinced in Sapacitabine. CYCC has not yet had it's futility analysis (scheduled for later this year) for the SEAMLESS trial. It appears that SNSS generated significant bullish interest/volume after it passed its futility analysis in September 2012. Perhaps, investors are waiting to see the futility outcome for CYCC before taking the company seriously.
Second, SNSS has a partnership arrangement with Royalty Pharma and ONTX has a large partnership agreement with Baxter. The fact that CYCC has not secured a partner, for whatever reasons, may add to the skepticism. Next, some suggest their is doubt along the underlying Phase III trial design. Lastly, you have some on social media sites that contend that management is to blame -- for not executing efficiently over the years, or that some rogue short hedge fund is manipulating the stock. Only time will answer this question.
Upcoming Catalysts
Value creating milestones taken from the recent fourth quarter/full-year 2013 earnings release:
Sapacitabine in SEAMLESS:

Continue enrollment and expand study into Europe to at least double enrolling sites
Report next interim periodic DSMB review at approximately 300 patients enrolled
Report DSMB interim analysis for futility after 212 events
Complete enrollment

Sapacitabine in MDS:

Announce registration-directed, clinical development plan in MDS following treatment failure after hypomethylating agents

Sapacitabine in solid tumors:

Report updated Phase I sapacitabine and seliciclib combination data in patients with solid tumors including those carrying the gBRCA mutation

Advance early pipeline
However, the most significant milestone will be the pivotal Phase III SEAMLESS data readout in 2015.
Partner Potential
This is a huge potential catalyst for tiny CYCC, as it would validate their business and science. The company has for the most part been mum on their intentions to either go at it alone or in partnership with a major pharmaceutical company in AML and/or MDS. CYCC does not have the resources to significantly fund large and long trials, nor a sales force to market any product that succeeds in these clinical trials. Management has hinted that their has been partnering interest in Sapacitabine through the investor conferences they have presented at. Speculation aside, their intentions are clear in the company's recent 10-K filing:
We currently retain virtually all marketing rights worldwide to the compounds associated with our drug programs. To optimize our commercial return, we intend to enter into selected partnering arrangements.
and
Historically, we have planned to develop compounds through the Phase II proof-of-efficacy stage before seeking a partner. We may enter into partnering arrangements earlier than Phase II proof-of-concept trials in connection with drug programs outside our core competency in oncology.
I expect them to enter into a significant value creating partnership agreement sometime over the next 12 months.
Current Financial Position
CYCC recently reported a strong 2013 year end cash balance of $31.1 million. The company is adamant that this balance can carry them through the completion, and data readout, of their SEAMLESS AML trial. This is based on a cash burn rate of ~ $5-6M/qtr. The company has an equity line with Aspire Capital with which it can raise an additional $18 million to fund ongoing operations such as their future Phase III MDS trial and their pre-clinical programs. CYCC has no debt. Based on this, I don't expect the company to do any more equity offerings until the data for AML has been released. They may, however, tap their Aspire agreement from time to time, but I can't see it being used at these extremely depressed levels. More than likely, the company will eventually raise funds by partnering with a large pharmaceutical company, as mentioned above.
Risk
CYCC, like all speculative and development stage bio-tech companies, comes with the risk of not meeting the data endpoints in its late stage clinical trials (e.g., AML). Usually any clinical failure will severely impact a company's stock price to the downside (e.g., ONTX). Does CYCC have a chance to fail in AML/MDS? Yes. However, this risk is inherit in all bio-tech, as data can not be predicted 100% accurately. And while this risk should be carefully observed, the risk/reward at this price level for CYCC is very compelling.
Conclusion
Cyclacel is an extremely misunderstood and overly discounted oncology company. The company, despite its ugly past performance, has reported promising data in various indications. There are several upcoming, and potentially transformational, catalysts that could finally turn the tide for CYCC. Regardless of what one thinks of Sapacitabine in AML or MDS, the company commands an absurd valuation when compared to the likes of Onconova and Sunesis. Like these two peers, CYCC has the potential to address serious diseases and reap the lucrative profits on any success(es). Accordingly, the time will come when CYCC will be taken seriously by the market, and by then, its stock price will be substantially higher to where it is now.
Disclosure: I am long CYCC. I wrote this article myself, and it expresses my own opinions. I am not receiving compensation for it. I have no business relationship with any company whose stock is mentioned in this article.
Editors' Note: This article covers a stock trading at less than $1 per share and/or with less than a $100 million market cap. Please be aware of the risks associated with these stocks.
Editor's Note: This article covers one or more stocks trading at less than $1 per share and/or with less than a $100 million market cap. Please be aware of the risks associated with these stocks.