As we all know, Global indices took a nose dive in May and the short-term bottom finally to hold May 25, roughly one month ago. Since the mild recovery the Vanguard Global Index ETF has gained 12% and the SPDR S&P500 6.7%. Both are solid moves in under a month but overall the S&P500 is lagging emerging markets. Even with a surprise change in currency policy (and a surge in equities) China has underperformed its BRIC peers like Russia (NYSEARCA:RSX), Brazil (NYSEARCA:EWZ) and India (NYSEARCA:EPI).

The true leader of the global rebound is Latin America. There are 20 countries that comprise Latin America, most of which are not revered for their economic prowess, however, a broad based trend has emerged giving this area the leg up in recent market performance. Let's take a look at the ETF leaders:
In the chart below we have the top 20 ETFs sorted by 1 month performance – to keep it true we do not include inverse or leveraged ETFs. 30% of the top ETF performers are Latin American ETFs providing the largest chunk of gains of any geographic location. Interestingly enough, another strong geo-location is South East Asia & Australia with Indonesia (NYSEARCA:EIDO), Australia (NYSEARCA:EWA) and Thailand (NYSEARCA:THD) with 15% share of the top 20.
Brazil is the clear leader of leaders with two ETFs in the top 5 performers, including Small-Caps (NYSEARCA:
BRF
) and large-caps (
EWZ
). (In case you cannot decide on BRF or EWZ, a new Brazil Mid-Cap ETF will start trading on Tuesday with ticker BRAZ.) Next are two diversified Latin American ETFs --
GML
and
ILF
– both are heavily invested in the top economies of Brazil, Mexico and Chile. Chile (NYSEARCA:
ECH
) and Mexico (NYSEARCA:
EWW
) round out the list of top performers.
Given the dependence on energy and basic materials in these economies it's no surprise to see the Coal and Steel ETF make an appearance, although Oil remains out of the picture. If the trend continues and leaders continue to lead (which they tend to do) then we could see oil (NYSEARCA:USO) outperform over the next month closing the performance gap.
Click to Enlarge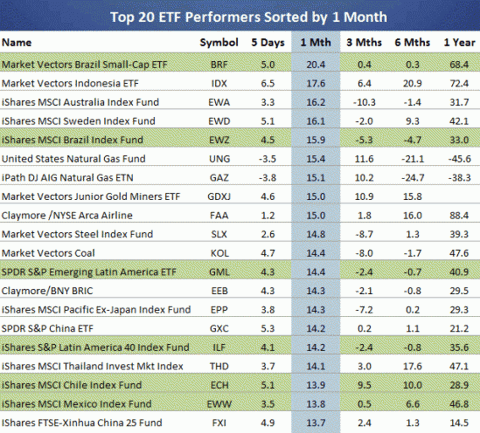 Disclosure: None at this time