I have been a Micron (NASDAQ:MU) bull for years. I want to get that out there right off the bat. Even so, I could not stay long into upcoming earnings. The exuberance of many regarding the stock makes me believe all the good news could be priced in at this point. In the following sections I will explain why I believe this earnings report could be a major buy the rumor sell the news event.
Micron's stock has been on a tear over the past 52 weeks
Micron's stock price has been on a tear over the past 52 weeks. The stock is up over 130% in that time with few pullbacks.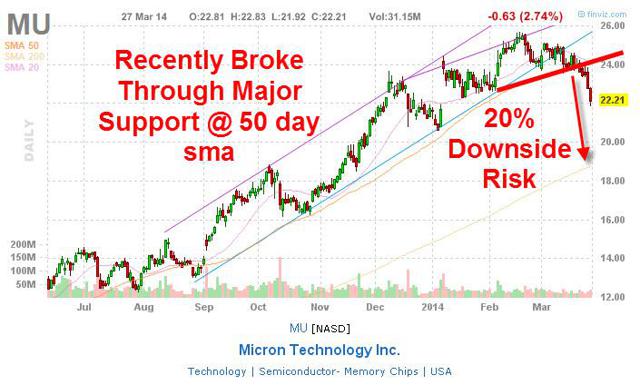 (Chart provided by Finviz.com)
Nevertheless, the stock is down 5% in just the past week. Further, it had broken through major support at the 50 day SMA. the next stop could be the 200 day SMA.
The stock is up for good reason. Yet, I posit it may have overshot the mark by a large margin at this point. The run in the stock has not exactly been a stealthy event either. News of a major hedge fund buying up shares has spotlighted the stock for investors. I feel this may have caused fast money to enter the fray in hopes of a quick trade. Look at the chart. The stock looks tired and appears to be rolling over right before an earnings event. This type of action is troubling.
Recent insider sales at the highs
There have been a significant amount of insider sales in the past three months. There were several major sales right at the peak when the stock was trading for $25 a share.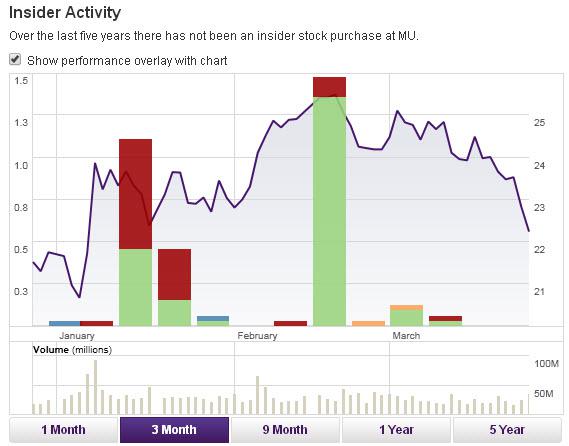 (Chart provided by Scottrade.com)
According to a report by CNBC contributor Herb Greenberg, insiders are exercising their options earlier than required as well. Insiders are the people who know best what lies ahead for the company and the stock. News that they are selling is a major red flag in my book.
DRAM spot prices are dropping while capacity may be growing
DRAM spot prices are falling while capacity may be growing. This is not good news for Micron and it never has been. History has shown major changes to the DRAM supply demand equation have been fatal for Micron's margins and therefore the stock's performance.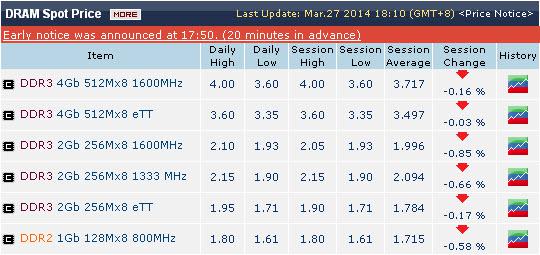 (Table provided by Dramexchange.com)
Now there are several bullish analysts who are saying this time it will be different. This time Micron's bottom line is not tethered to the spot price of DRAM. Well, that remains to be proven. I am taking a show me approach to that argument.
Another issue that concerns me is the DRAM segment accounts for 65% of Micron's business and they seem to be somewhat behind the curve in regards to converting to 20 nanometer mode rather than 30 nanometer mode. Samsung recently announced it has achieved mass production of 20nm 4Gb DDR3 memory modules. This means major improvements in energy efficiency for smartphones, tablets and PCs. Samsung stated,
"Samsung's modified double patterning technology marks a new milestone, by enabling 20nm DDR3 production using current photolithography equipment and establishing the core technology for the next generation of 10nm-class DRAM production. With the new 20nm DDR3 DRAM applying these technologies, Samsung also has improved manufacturing productivity, which is over 30 percent higher than that of the preceding 25 nanometer DDR3, and more than twice that of 30nm-class DDR3."
Seeking Alpha author Russ Fischer stated in a recent article Micron's DRAM segment is weak. Fischer states,
"virtually the whole DRAM segment of Micron is at a 30nm node, while much of the competition is at or moving to the 20nm node. Micron would have moved there as well, except the Elpida acquisition has been "something" of a distraction. The good news is that Micron has started the conversion to 20 nm DRAM. The conversion will take a year of ramping and qualification at major customers."
That is good news. Nonetheless, I am taking a wait and see approach. Currently, it seems Micron has some work to do in this regard.
The brighter side
Micron exceeds expectations.
Micron may very well exceed earnings expectations on April 3rd. This may cause the stock to soar even higher. This is why I am simply moving to the sidelines and not shorting the stock.
It really is different this time.
The semiconductor sector has always been subject to the inevitable supply and demand peaks and valleys associated with commoditized products. If this paradigm has truly shifted, this will benefit Micron's to no end.
Conclusion
Micron is a great company firing on all cylinders currently. The issue is I believe the stock has gotten ahead of itself. The fact insiders are selling prior to the earnings announcement coupled with lower DRAM pricing doesn't bode well for the stock. On top of that, even if Micron does beat estimates the stock may still sell off due to it being a sell the news event. It appears as though some have already started. Further, the entire tech sector has been under pressure with the high flyers taking the brunt of it. The NASDAQ is currently trading at six week lows.
Disclosure: I have no positions in any stocks mentioned, and no plans to initiate any positions within the next 72 hours. I wrote this article myself, and it expresses my own opinions. I am not receiving compensation for it (other than from Seeking Alpha). I have no business relationship with any company whose stock is mentioned in this article.