When the driver for a security move is an investment bank forecast, the move rests on a sort of superficial footing, because a forecast is a derivative of real driving factors. I believe the latest move lower in gold and the SPDR Gold Trust (NYSEARCA:GLD) is critically flawed because I see it lacking enough of an important weighting for geopolitical risk. The gold sell-off could not possibly have accounted for what I think Putin does next. So I'm suggesting investors reconsider the recent sell-off in gold and buy the SPDR Gold Trust, and other relative ETFs right here.
Goldman reiterated its call for gold to drop to $1050 in January 2014 after first making the call in November of 2013. Needless to say, it has thus far not played out this year. It is based on the U.S. economy picking up steam in 2014, but it seemed to have failed to account for the early 2014 catalyst that I saw driving gold higher to start the year, which was tax driven capital flows out of stocks into beaten down gold.
I was a little cautious to start the year as well, but saw my long gold call reinforced when monthly jobs numbers faltered through early winter. Then when new Federal Reserve Chair Janet Yellen testified before Congress for the first time, gold got a lift on signs of continuity of Fed dovish policy. Around that time, some Fed representatives began inexplicably talking about inflation as well, supporting the commodity further. And then at the end of February, on the day when the incursion into Crimea began, gold strangely softened. I recommended investors buy more because of what I saw as a flawed market perception of geopolitical events. That proved prescient, because despite the big gains in the SPDR Gold Trust up to that point, it climbed another 4.8% before the crisis ended with Russia's annexation of Crimea.
Once the crisis cooled about a week ago, Goldman reiterated its bearish opinion again and gold has been tanking ever since. At this point, the SPDR Gold Trust has driven right through the floor price level associated with the beginning of the Crimea Crisis, so this is far from representing an unwinding of that event. And yet, the Crimea Crisis continues to boil, with President Obama talking tough in Brussels yesterday. Stocks are so frazzled that they are falling with gold and relative securities, where you would expect gold to be drawing capital. A flight to quality is definitely underway, because the 10-Year Treasury Yield is down six basis points since March 21st. We would expect it to be higher given economic expectations and recent Fed Funds Rate forecasts published by the FOMC. Meanwhile, while the SPDR S&P 500 (NYSEARCA:SPY) has fallen 0.9%, the SPDR Gold Trust has dropped 3.0%. We would have expected it to rise in this environment.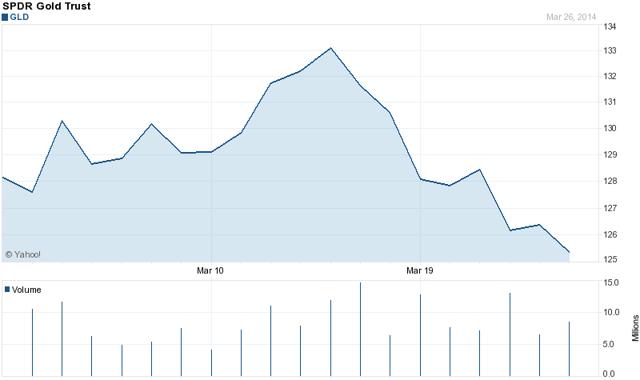 1-Month Chart of the GLD at Yahoo Finance
Putin signed the Crimea annexation into law on March 21st. By then the premium built into the price of the GLD on the Crimea Crisis had unwound. Since then, however, the price has fallen much further.
| | | | |
| --- | --- | --- | --- |
| Security | 03/21 - 03/27 | YTD | TTM |
| SPDR Gold Trust | -3.0% | +7.3% | -19.8% |
| SPDR S&P 500 | -0.9% | -0.1% | +18.2% |
| iShares Silver Trust (NYSEARCA:SLV) | -2.7% | +1.5% | -31.5% |
| Market Vectors Gold Miners (NYSEARCA:GDX) | -6.7% | +12.7% | -37.3% |
| Direxion Daily Gold Miners 3X Bull (NYSEARCA:NUGT) | -19.9% | +30% | -87.5% |
Goldman and other gold bears selling today would suggest that the decline is on the probability of economic growth in 2014. Such growth, along with Fed tapering of asset purchases, should support the dollar. It's a perfectly plausible argument, of course.
The safe haven factor for gold against a dovish Fed has not held for some time now, and is the reason the GLD was so damaged in 2013.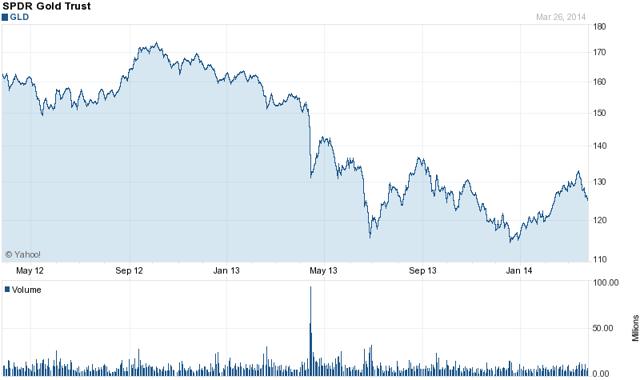 But is the economy really ready to roar? Today, the revision of Q4 2013 GDP marked +2.6%, up from the second estimate of 2.4%, but that's still down from Q3 2013 growth of 4.1%. Meanwhile, the Pending Home Sales Index produced yet another soft real estate data point, with the index dropping to 93.9 in February from 94.7 in January. Pending Home Sales measure contract signings on existing home sales. Weakness in housing has been partly blamed on weather, but it gets harder to make that argument with each new piece of data. We will not get another monthly Employment Situation Report measure until a week from Friday; every economist and FOMC member will be focused on that data for March. I have actually been looking for economic growth this year and even a nice burst for housing this spring, but I find myself scratching my head with each passing data point, and Goldman must be concerned as well.
Gold bugs often make the inflation argument for buying gold, and Goldman does not disregard it either. It's just that the firm does not see it picking up this year, and not until after the Fed is already raising interest rates. Inflation is not on the radar today anywhere, and this is a common institutional view. But inflation is not the only reason fiat currency depreciates and gold rises, and that's what I believe Goldman and most of the market are not giving enough weight to today.
Is it really a reach to give some weight to a modern day cold war affecting currencies, considering what has transpired this past month and what seems all too possible today? That's the least of my concerns after reading today's news. This article published today indicates that a Russian military buildup may be underway on all of Ukraine's borders with Russia. The article cites some confirmation from an undisclosed Republican Congressman, and it talks of serious military hardware, the sort of which was used when Russia invaded Georgia. This article offers a State Department Official's warning that Russia is now prepared to invade Eastern Ukraine at a moment's notice. We have to wonder if President Obama's harsh words were not aimed at stopping what may be further planned military aggression from Russia. Such action, if against greater Ukraine, will raise the stakes and give greater credence to calls for NATO intervention, though President Obama spoke of only heightened sanctions.
Whatever the case, the commodity and the SPDR Gold Trust, along with other precious metals ETFs mentioned here, would quickly regain ground on this scenario, which gold traders are currently not accounting for. I believe this is due to the Goldman forecast factor driving gold lower today. And, I warn that even if further military incursion does not occur, Russia could engage the West in modern day cold war tactics. Those, I believe, would involve attacks on the European economy via energy withholding, and damage the euro as a result. I also believe Russia could seek to counter the U.S. and to target the dollar by some means. In conclusion, I strongly suggest that gold deserves some weight in portfolios today, and the SPDR Gold Trust offers a vehicle for that.
Disclosure: I have no positions in any stocks mentioned, and no plans to initiate any positions within the next 72 hours. I wrote this article myself, and it expresses my own opinions. I am not receiving compensation for it (other than from Seeking Alpha). I have no business relationship with any company whose stock is mentioned in this article.