There is an increase in the usage of internet worldwide as more and more businesses are building websites and advertising and promoting their brands online. The table below shows that as net digital ad revenue grew from $104 billion in 2012 to $119 billion, at a rate of around 14%, Google (NASDAQ:GOOG) retained its strong position as the leader of this industry. Google captures around 32% of the market, with the second largest competitor, Facebook (NASDAQ:FB), sitting at 5.64% of the market. Per TechCrunch, "Gartner said it expects global mobile advertising spending to reach $18 billion this year, up from the estimated $13.1 billion in 2013. By 2017 it's projecting the market will have sized up to be worth $41.9 billion." The digital ad industry is forecasted to grow in the coming years, and as an industry leader, Google will have a mighty share in this growth.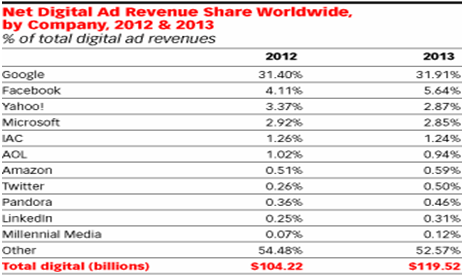 There is rapid growth in the use of mobile internet and e-retail, and this trend is expected to grow worldwide in the future. Google already takes up around half of the worldwide net mobile internet ad revenue. Facebook has grown rapidly in 2013 compared to 2012, but it is still far behind Google's share.

In this growth category of mobile ads, Google's share in the US market decreased from 49.8% in 2012 to 41.5% in 2013, but it is not expected to lose its share in the future, according to the forecast below. Facebook's gain in revenue share is forecast to decrease in 2014 and 2015.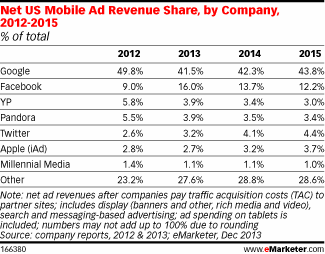 Google's stock price gained over 47% over the past year, and 261% over the past five years. The following graph compares the superior return made by investing $100 in Google on December 2008 with the return made by the same $100 invested (with the dividends reinvested) in the S&P index, NASDAQ composite and RDG Internet Composite.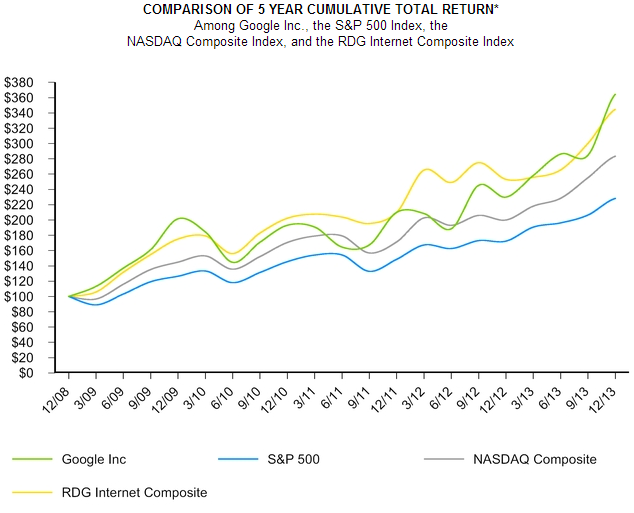 Growth slowed down

The revenue growth of Google in 2013 was 19%, lower than the 32% growth earned in 2012, 29% earned in 2011 and 23% earned in 2010. This revenue growth rate is much lower than the nine year CAGR of 38.5%. Google's operating margin decreased from around 35% in 2010 to around 23% in 2013.
There is growing pressure from the competition in the industry that is slowing down the fantastic revenue growth rate that Google has enjoyed.
In its 10-K, management talks about the growing competitive pressure and dynamic and fast evolving nature of the industry that is expected to reduce revenue growth and increase the cost of revenue in the coming years.
Google has a leading position in the industry, and it is expected to grow by double digit growth rates. Still, growth is expected to decelerate in coming years.
Most analysts are expecting a positive future outlook and maintain a price forecast with upward potential. The company is investing aggressively in the areas of strategic focus such as its data centers, corporate facilities, and information technology infrastructure to keep itself efficient and competitive.
Google is Continuously Looking for Growth Opportunities
Google is moving away from its core business through many of its new investments, but these investments are needed for the long-term prospects of the business. Google's investment in Motorola Mobility in 2012 worth over $12 billion has turned out to be a failure, and it is selling off Motorola for just $3 billion to Lenovo (OTCPK:LNVGY). Failures are not shifting Google's focus from tapping into new opportunities to drive future growth, however.
As an innovator in the IT industry, Google is continuously investing to develop new technologies that it can sell as a pioneer in the future. Acquisition is an important part of Google's strategy and Google uses its growing cash flow to acquire capabilities that can help it develop new products. Recent examples of Google's investment in developing technologies include its ventures in fast moving robotics and artificial intelligence. Google has acquired a few companies in robotics and artificial intelligence that will allow it to develop the technology. Google is working on entering the auto market to install technologies that would define key features of cars for the future. Google is working with leading car manufacturers for this venture.
The company is pursuing these opportunities using its financial strength to create new growth space before its current domain of internet advertising becomes too competitive to allow high growth.
Financial Strength

Google generated cash flows of around $18.66 billion from operations in 2013. Cash flows have grown by 12.28% in 2013 compare to 2012. Total cash, cash equivalents, and marketable securities of Google in 2013 were $58.72 billion. This is up by 22% from the 2012 level of $48 billion. Google has a huge amount of liquid assets that allows it the flexibility to invest in the opportunities that it comes across.
Conclusion
Competition is increasing with the passage of time, but Google is a leader in the industry and its dominance is expected to continue in the future. Utilizing its financial strength and capabilities, it is investing in many different ventures to continue its growth.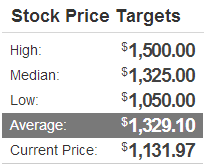 Source: Wall Street Journal Website
The mean and median analyst target price is around $1,325, and this presents an upward potential of 17% on current the price. Most optimistic analysts are expecting a price as high as $1500, which if it materializes, presents a return of over 32%. Most pessimistic analysts expect a target price as low as $1050, which translates to a loss of 7.24%. But in my view, with its strengths Google is going to grow and continue to add value for its investors. As such, I believe GOOG is a worthy long-term investment.
Disclosure: I have no positions in any stocks mentioned, and no plans to initiate any positions within the next 72 hours. I wrote this article myself, and it expresses my own opinions. I am not receiving compensation for it (other than from Seeking Alpha). I have no business relationship with any company whose stock is mentioned in this article.