Face-plant as defined by the Merriam-Webster dictionary is said to be "a sudden face-first fall." This pretty much is a good definition as to what has happened to Facebook, Inc. (NASDAQ:FB) since March 11, 2014. The stock was at an all-time high of $72.59 and has dropped a whopping 16% since that time since that day. Facebook is engaged in building products to create utility for users, developers, and advertisers. On January 29, 2014, the company reported fourth quarter earnings of $0.31 per share, which beat the consensus analysts' estimates by $0.04. In the past year, the company's stock price is up 136.96%, while the S&P 500 (NYSEARCA:SPY) has gained 18.76% in the same timeframe. I already purchased a batch of the stock back in early February for my growth portfolio and am down 3.06% on the batch. With all this in mind, I'd like to take a moment to evaluate the stock on a fundamental, financial and technical basis to see if right now is a good time to purchase more of the stock for my portfolio.
Fundamentals
The company currently trades at a trailing 12-month P/E ratio of 92.38, which is expensively priced, but I mainly like to purchase a stock based on where the company is going in the future as opposed to what it has done in the past. On that note, the 1-year forward-looking P/E ratio of 36.21 is currently expensively priced for the future in terms of the right here, right now. The 1-year PEG ratio (2.73), which measures the ratio of the price you're currently paying for the trailing 12-month earnings on the stock while dividing it by the earnings growth of the company for a specified amount of time (I like looking at a 1-year horizon), tells me that the company is expensively priced based on a 1-year EPS growth rate of 33.86%. The company has great near-term future earnings growth potential with a projected EPS growth rate of 33.86%. In addition, the company has great long-term future earnings growth potential with a projected EPS growth rate of 31.82%.
Financials
On a financial basis, the things I look for are the dividend payouts, return on assets, equity and investment. The company does not sport a dividend to speak of but is sporting return on assets, equity and investment values of 9.4%, 11.3% and 9.7%, respectively, which are all respectable values. In this particular instance, I will forego the dividend aspect of the financials because the stock is in my growth portfolio, and in the growth portfolio a stock does not have to have a dividend.
Technicals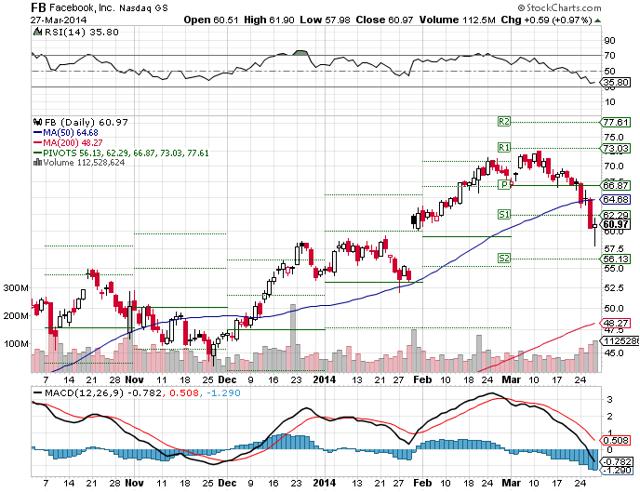 Looking first at the relative strength index chart [RSI] at the top, I see the stock near oversold territory with a current value of 35.8. I will look at the moving average convergence-divergence [MACD] chart next. I see that the black line is below the red line with the divergence bars decreasing in height, indicating bearish momentum. As for the stock price itself ($60.97), I'm looking at $62.29 to act as resistance and $56.13 to act as support for a risk/reward ratio which plays out to be -7.94% to 2.16%.
Recent News
Instagram user base goes over the 200 million mark. This feat was only after topping 150 million users six months earlier. This is important to note because as Facebook monetizes

Instagram,

it means more revenue will be coming into the company.
The company bought virtual reality headset maker Oculus for up to $2.3 billion. Oculus is widely known in the gaming community and the price tag included $400 million in cash, 23.1 million Facebook shares (equating to about $1.6 billion), and $300 million in performance earn-outs. What I find fascinating about this deal is Facebook's ability to use its stock as cash, which in this case I believe to be an excellent move. The reason I believe it's a great move to use the stock as currency is because the company knows the stock is worth a lot of money, and what the board is doing is "selling high" and "buying low." Just like when a company believes its shares are inexpensive they issue a stock buyback, this works exactly the same in the opposite way. They are taking an expensive stock and buying a company that is potentially extremely undervalued. The key is Facebook's ability to unlock the potential value of Oculus for future revenue, but if they end up having to write-off the entire purchase then it will be completely dilutive to a shareholder, which isn't good.
eMarketer, a private independent market research company, sees mobile ads growing 75% in 2014 to $31.45 billion. Facebook saw mobile ad sales quadruple year over year in the fourth quarter and is expected have 21.7% of the pie this year.
Conclusion
Facebook was definitely an earnings story at the beginning of the year. The day after the company reported earnings in January, we got seven analysts raising their price targets on the stock. With this plethora of down days from the middle of March, we haven't heard a peep from a single analyst. I take this to mean that Wall Street still believes in the earnings growth prospects of Facebook. Fundamentally, the stock is expensively priced on next year's earnings, expensively priced on earnings growth, and has great near-and long-term earnings growth potential. Financially, the efficiency ratios are solid. Technically, it appears the stock is oversold. I'm not concerned about the stock in the face of its nasty March tape. Due to the oversold technicals, high earnings growth expectations, and solid financial ratios, I will be pulling the trigger on this name at this price very soon.
Disclaimer: This article is meant to serve as a journal for myself as to the rationale of why I bought/sold this stock when I look back on it in the future. These are only my personal opinions and you should do your own homework. Only you are responsible for what you trade and happy investing!
Disclosure: I am long FB, SPY. I wrote this article myself, and it expresses my own opinions. I am not receiving compensation for it (other than from Seeking Alpha). I have no business relationship with any company whose stock is mentioned in this article.