The heavily covered Tesla (NASDAQ:TSLA) direct sales ban in New Jersey put a spotlight on the game of lobbying and politics and riled up enough consumers to show up and publicly blast the governor at very short notice.
Auto dealers have long been voted amongst the bottom of businesses in trustworthiness, along with lobbyists and the New Jersey decision seems to have been driven by auto dealer lobbyists - imagine them on the scale of trustworthiness.
After that, the battle continues in many states, the most important being those in Texas and Arizona. In addition to being states where direct sales of Teslas are prohibited, these are on the shortlist for a location for Tesla's battery Gigafactory. This is a clever ploy by Tesla to get their ban lifted from those states. Tesla's VP of business development, Diarmuid O'Connell, has hinted that:
"The issue of where we do business is in some ways inextricably linked to where we sell our cars. If Texas wants to reconsider its position on Tesla selling directly in Texas, it certainly couldn't hurt."
This might push Arizona and Texas to reconsider their direct sales bans and Tesla might still not build the factory there. If any bills supporting Tesla pass in either state, it will be hard for the states to retract them, for fear of a repeat of the public panning that happened in New Jersey. It might be a career killer for any politician. Arizona already has one such bill. And Rick Perry is changing his tune in Texas.
In other news, Ohio and Tesla reached a compromise on their direct sales model. New York might be on the other side attempting to ban sales.
In either case, Tesla, which was largely unknown outside of automotive and financial circles, is now quickly becoming a household name as the most innovative auto company in decades, that is fighting the good fight against auto dealers and government corruption. All coverage is negative about auto dealers:
Wired: Car Dealers Are Terrified of Tesla's Plan to Eliminate Oil Changes
Forbes: there's no pressing case to be made for protecting car dealerships
AutoBlog: I think it's be better, then, to buck up and improve oneself to take on the challenges of tomorrow while there's time, then be distracted by meaningless lobbying and lawsuits and get caught flat-footed by the future.
Comments on articles like those are overwhelmingly negative on car dealers. Auto dealers seem to have awoken a sleeping giant - public opinion against them - by putting the spotlight on Tesla.
Also, recent trends may indicate that the peak demand theory presented by Paulo Santos might be extremely overblown. In addition, the stellar publicity Tesla is getting from its battles with the states can only help sales.
Here is Tesla's stock performance for the last month: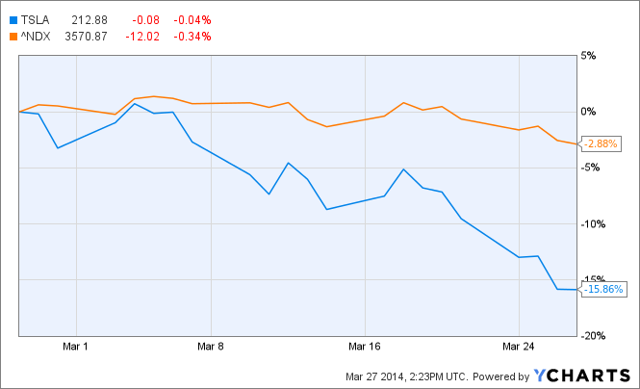 Unless the general direction of the market stays down, I expect Tesla to recover to previous highs and beyond, because I believe that the current negativity is overdone. I reiterate my end of year price target of $280 for the stock.
From recent rumblings at the Tesla Motor Club forum, it seems that a new Tesla firmware brings back automatic height lowering at highway speeds. This would indicate that NHTSA clearance in the fires is imminent.
Other positive indicators expected from Tesla in the near future are strong Chinese demand, more Supercharger corridors in the US and news on European superchargers in addition to Elon Musk's cross country road trip and China visit.
Personally, I don't expect any more Gigafactory related announcements until next quarter's earnings call but if any news turns up, it will be a positive catalyst for the stock.
In conclusion, all the news about battles with states and auto dealers is improving Tesla's brand image and awareness, the negativity in the stock is overdone and positive catalysts are expected. Buy low.
Disclosure: I am long TSLA. I wrote this article myself, and it expresses my own opinions. I am not receiving compensation for it (other than from Seeking Alpha). I have no business relationship with any company whose stock is mentioned in this article.