Over the last couple of days we have seen some interesting moves in the price of Himax Technologies (NASDAQ:HIMX). I will argue that most of what has been said about the company over the last couple of days should have had absolutely no effect on share price whatsoever. If my premise is true, this leaves us with one question: Is this a buying opportunity in Himax stock?
Through the looking Glass
For many investors a lot of the company's future was tied into the idea of Google (NASDAQ:GOOG) Glass. This may or may not be true, but the announcement this week certainly gave the shorts an opportunity to bash the stock. Himax stock immediately sold off on the announcement loosing almost 30% at the low of the session. I can see at least three reasons why this was flawed thinking and showed no real understanding of Himax the company, or the announcement made by Google.
The announcement this week that Luxottica Group (NYSE:LUX) was partnering with Google to make Glass more sexy, should be welcomed. SA contributor Tom Shaughnessy just released an article questioning BofA's role in the selloff. Apparently Bank of America sighted weaker projected LCoS margin projections this year. LCoS is Glass amongst other things, but it is no coincidence that the downgrade came on the back of the Luxottica story.
The Reasons this is just wrong;
To start with, nowhere in the announcement did it say they were no longer going to be using Himax products in the design. As far as I am aware Luxottica has not suddenly built some high-tech manufacturing facilities capable of taking over Himax's role in the agreement with Google.
Nowhere in the announcement did it say Google was not going to release Glass in its current from this year. Although sales may be slightly slower because consumers are willing to wait for the Oakley or Ray-Ban version; Glass sales are not currently built into the Himax stock price. In a previous article I had suggested that sales of Google glass could be worth as much as $0.03 EPS per million units.
It was the projected sales from Google Glass that led many analysts to upgrade Price Targets from $15-$16 to $19. Even without any Glass sales, at the current market price of $12, we should still be looking at 30% upside just based on the company's core growth. This is why the sell off makes no sense!
Facebook and Oculus Rift
So, after the sudden sell off Himax shares regained 8% on the announcement that Facebook (NASDAQ:FB) was going to buy Oculus Rift. According to Tom Shaughnessy,
"Shares were higher due to an increased interest in the virtual reality area. Although it may be misplaced, as Oculus doesn't utilize Himax's LCoS microdisplays"
This statement is almost correct. Himax does not supply LCoS screens for Oculus. The interest is not just pin action though. Himax supplies Oculus with two very important timing controllers. Himax is not a one trick pony. In my article last August, I discussed just how ubiquitous the company had become. The company supplies many different parts of the technology world with a range of devices. It is hard to go through a day without coming into contact with something Himax helped to make. The timing controllers that are being supplied to Oculus are just another example of this. In my previous valuation and price target of $19 I also had not attributed anything from the sales to Oculus.
At that time Oculus Rift was still in the developmental stage. Although we knew it was in the pipeline it seemed safe not to count our chickens before they had hatched. With the recent debut at SXSW, and the announcement by Facebook, it would seem that the chickens are hatching.
Himax Oversold and Undervalued.
From a technical point of view, Himax is verging on Oversold. Although it is not uncommon for shares to trade in this range for sometime the stock did bounce on support. The horizontal support established by the highs in October could be enough to hold the price above $11. A break here should lead to a test of the 200 day, currently around $10.25 and the base of a rising trend line.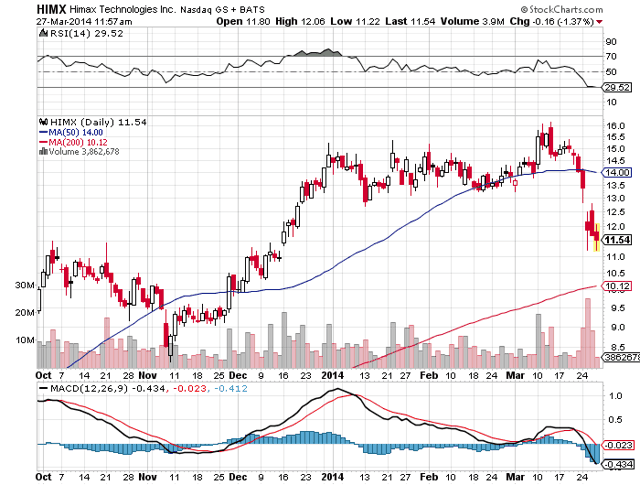 More important than the technical view, is value. As I point out in this article Himax should be valued around $15 -$16 for the core business. Using the $10.25 -$12 range to establish a position should provide 30-50% upside with about 10% downside risk. Longer term there could be more upside once we establish the value of Oculus and get clarification on exactly what is happening with Glass.
Another under covered story since my last article about Himax, was the sale on Motorola to Lenovo (OTCPK:LNVGF). Himax has always supplied flat panel screens to Lenovo. There is no reason to think that Lenovo will go shopping anywhere else when developing new product lines for Motorola. That could be just one more thing in the pipeline.
As we embark upon the second quarter, I will also take time to mention the dividend which is typically paid out early in the third quarter. Last year Himax paid out $0.25 per share in dividend compared to an EPS $0.36. A large percentage of the cash left on the balance sheet. The reasons for doing this has something to do with the way dividends are treated for tax purposes in Taiwan. With another bumper year under the company's belt, I would expect to see that dividend increase this time round. However even another $0.25 dividend would help to offset some of the 10% downside risk for those looking to enter a position now.
The main risks to the company stock at the moment remain market sentiment and volatility. This was clearly demonstrated this past week. I feel that this same issue has presented an opportunity at present. Even long term investors should be mindful of how quickly sentiment could turn against Himax if there are more delays announced for Glass, or Oculus Rift.
Disclosure: I have no positions in any stocks mentioned, but may initiate a long position in HIMX over the next 72 hours. I wrote this article myself, and it expresses my own opinions. I am not receiving compensation for it (other than from Seeking Alpha). I have no business relationship with any company whose stock is mentioned in this article.
Additional disclosure: This article may contain certain forward-looking statements. I have tried, whenever possible, to identify these forward-looking statements using words such as "anticipates," "believes," "estimates," "expects," "plans," "intends," "potential" and similar expressions. These statements reflect my current beliefs and are based on information currently available. Accordingly, such forward-looking statements involve known and unknown risks, uncertainties and other factors which could cause actual results, performance or achievements to differ materially from those expressed in or implied by such statements. I undertake no obligation to update or provide advice in the event of any change, addition or alteration to the information contained in this article, including such forward-looking statements.