In 2003, Cubist Pharmaceuticals (CBST) was granted approval for its novel antibiotic, Cubicin, for complicated skin and skin structure infections by Gram-positive bacteria, including drug-resistant strains. Over the next couple years, the stock doubled from about $10 to $20. The stock has languished in the $20 trading range for nearly five years now. There have been some pops and drops to be sure, but in general, the stock has barely budged.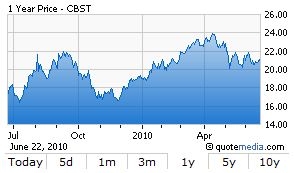 At the same time, revenues have grown quite nicely, exceeding even management's expectations. In 2009, sales reached $562 million; it is expected to reach up to $650 million in 2010 and peak at $1 billion. Net income for 2009 was about $80 million and in fact, the company has been profitable since the third quarter of 2006. Cash flow is strong; the company currently has nearly $500 million in cash, with $245 million in debt.
Why then is the company valued at a mere $1.2 billion? Cubist has the same problem that faces many small biotechs- almost all its revenue is derived from one source, in this case, Cubicin. Investors initially fretted about the onset of competition from Pfizer's (NYSE:PFE) Dalbavancin, J&J's (NYSE:JNJ) Ceftobiprole, and Theravance's (THRX) Telavancin. Only Telavancin received approval but is no longer considered competitive.
The larger problem is Cubicin's IP position. Though Cubicin has three patents listed in the FDA's Orange Book, (US Patent Nos. 6468967, 6852689) contain only method claims while the remaining patent (US Reissue Pat. No. 39071) contains compound, composition, formulation, and method claims. The first two expire in 2019 while the third expires in 2016. The gold-standard composition of matter patent has already expired. Also, Patent No. 39071 was reissued in 2006 because the original patent contained the incorrect structure. This left Cubist more vulnerable to challenges from generic drug companies. Sure enough, on February 9, 2009, Teva submitted an ANDA with the FDA for marketing approval of generic Cubicin.
This was made possible by the Hatch-Waxman Act, passed in 1984 as a way to promote generics while attempting to retain enough financial incentives for pharmaceutical R&D. Prior to this act, generic drug companies needed to perform clinical trials to prove their drugs' equivalence to brand name drugs before they could be marketed. The Act allowed for generic companies to file an ANDA whereby the FDA could grant marketing approval based solely on bioequivelence studies.
Because of the long time lag between the issuance of a compound's patent and its marketing approval, estimated to be 16 years by PhRMA, and a patent life of only 20 years, the Act granted a five extension of exclusivity to the patent holder to compensate for loss of revenue due to generic competition. After this period, the patent holder is open to challenges from generics. If the patent the drug has expired before it comes to market, all that is left is the five-year extension.
To any reasoned mind, this should sound like an incredibly short time to sell a drug that took 16 years and over $1 billion dollars to bring to market. According to a study by the Boston Consulting Group in 1996, "effective intellectual property protection for U.S. pharmaceuticals has deteriorated significantly since passage of the Hatch-Waxman Act" and have "eroded the incentives for pharmaceutical innovation." The study also noted that prior to the passage of the Act innovator companies held market exclusivity of between 14 to 17 years, decreasing to an average of 11.7 years after its passage. Europe, Canada, and Japan have patent extensions of ten years. Making this change to the Act would significantly enhance the incentives for innovative drug discovery.
It is estimated that the cost of filing an ANDA is $5 million- a far cry from developing a drug. One of four certifications must be made when someone files an ANDA:
that the drug has not been patented;
that the patent has already expired;
the date on which the patent will expire, and that the generic drug will not go on the market until that date passes;
that the patent is not infringed or is invalid.
Those certifications are now referred to as the paragraphs I, II, III, and IV certifications.
The ANDA filed against Cubist by Teva is a paragraph IV filing. According to an article by Matthew J. Higgins of the Georgia Institute of Technology and Stuart J.H. Graham of the University of California, Berkeley Law School, between 1992 and 2000, 72% of paragraph IV filings resulted in litigation, with generic companies winning 42% of the cases. Those are pretty good odds for relatively little money spend. After all, the first generic company to receive approval for an ANDA gets 180 days of sales exclusivity on the drug. Not surprisingly, Teva had 92 pending paragraph IV filings in 2007 alone.
Under the Hatch-Waxman Act, Cubist filed suit against Teva (NYSE:TEVA) for patent infringement, resulting in a 30-month stay, preventing Teva from selling generic Cubicin. It is now awaiting a Markman hearing before a US District Court, a pre-trial hearing where a judge will examine the evidence and decide what will appear before the jury at the actual trial. This hearing may be more important than the trial itself, as its results may determine the strength of each side's arguments at trial. These hearings often determine whether the lawsuits get settled or go into litigation. Originally scheduled for June 9, the hearing was canceled and has yet to be rescheduled.
Most analysts believe Cubist has a solid case and will settle with Teva in order to delay entry of generic Cubicin, perhaps until 2018. Teva is expected to attack the reissued Patent No. 39071. Experts are divided on the effectiveness of this stragedy, though it has received considerable attention.
The two remaining patents cover methods of use for Cubicin. These types of patents are often considered relatively weak. In this case, however, I believe they may be the strongest patents and most likely to be upheld.
According to the USPTO's evidence of nonobviousness is a major factor in determining whether a patent is granted. Several factors that can be used to demonstrate this are:
Commercial success- success may demonstrate the invention is an important advance in the field that was not obvious to others.

Long-felt need - if the need had been there for a long time without this invention, it must have been nonobvious.

The necessity for a Nexus - demonstrates that commercial success is directly related to the innovative aspect of the patent and not merely marketing.
This plays into Cubist's hand if one follows the history of Cubicin. The drug was originally developed by Eli Lilly. It had good antibacterial activity, but also skeletal muscle toxicity- leading Lilly to give up on the project. Cubist decided to license to compound in 1996 and worked to reduce its toxicity levels. This is where scientists at Cubist succeeded where giant Lilly had failed. They discovered a dosing regimen at which Cubicin was safe and efficacious, getting the drug approved as the first antibiotic in a class called lipopeptides. The drug was added to pharmaceutical formularies in 2004 and studies found that its usage helped limit the occurrence of certain drug resistant bacteria. In 2006, additional indications were approved for Cubicin, further increasing its sales potential. To date 500,000 patients have been treated with Cubicin, with less than 4000 patients reporting side effects. Because of the discoveries by Cubist scientists, half a million patients have benefited, directly resulting in the Cubicin's commercial success.
With the success of Cubicin, and Cubist's lack of a pipeline, speculation of acquisitions swirled. It has been suggested Cubist even shopped itself around. Pharma was interested, but there were no takers. They were too risk-adverse to pick up a company with patent issues. They had enough of their own patent problems to deal with.
Cubist did not sit around waiting for an acquirer. Using the strong cash flow from Cubicin, it has slowly built up a pipeline through internal research and strategic deals. From its own labs it now has a Phase I drug for Gram-negative bacteria and a Phase II drug for CDAD infections. Externally, it had licensed a drug from Dyax, but the clinical trial failed and the program was quickly dropped. An RNAi program started with Alnylan that went into the clinic is now back in preclinical studies.
In December 2009, Cubist acquired privately held Calixa for $92.5 million up front and $310 million in milestones. This could be a potential blockbuster. Calixa's compound, CXA-201, is designed to treat a broad range of Gram-negative infections, including urinary tract infections and nosocomial pneumonia. It is now in Phase II trials; Cubists has very high hopes for it and expects to file an NDA for the drug in 2013.
Cubist's patent problems have held down its stock for a very long time. Much of the uncertainty should be lifted after the rescheduled Markman hearing. If it goes into litigation, the trial date will be April 25, 2011. Except in the very unlikely event Cubist loses at trial, I expect that within one year's time, it will be far from a $20 stock, and certainly will not need to shop itself around.
In summary, Cubist's story makes the perfect case for reform of the Hatch-Waxman Act. Drug development is expensive, risky, and time-consuming. As noted earlier, Cubist was the only company in recent years to develop a financially successful antibiotic. And even in its own studies, it has had multiple failures. The Act hands too much power to generic companies without thoughtfully and adequately compensating the original inventors. It has accomplished half its goal in developing a flourishing generics industry- now it needs to fulfill its other half with the promise to maintain the financial incentives for original research and development. It needs to do this by adding greater protection to pharmaceutical patents, the lifeblood of the industry.
Disclosure: No positions