Up until now, Russia's takeover of Crimea has been bloodless. The same might be impossible to repeat with Eastern Ukraine. Still, for Russian stocks the blood is already flowing.
Russian stocks, even before the Crimea standoff, were already cheap. Now, with all the geopolitical fears, both the stocks and the Russian Ruble took a further beating.
As Baron Rothschild is once believed to have said, "The time to buy is when there's blood in the streets." And nowhere does the blood flow more freely today than in Russian stocks. The time should thus be right to establish a position in these stocks. My own favorite vehicle to establish this position is the Market Vectors Russia Small-Cap ETF (NYSEARCA:RSXJ).
Reasons to choose RSXJ
Some less enamored with risk would probably favor Market Vectors Russia ETF (NYSEARCA:RSX), a large capitalization ETF, over RSXJ, a small cap ETF. However, I prefer RSXJ for the following reasons:
It's a small cap fund, thus usually exposed to higher-growth companies;
It's not as exposed to petrochemicals and mining, which dominate RSX, though companies such as Gazprom are extraordinarily cheap as well;
It shouldn't be as politically exposed given that the companies are smaller and thus less strategic.
On the other hand, it should be mentioned that RSX is much larger (around 48 times more AUM) and much more liquid (trades 163 times more shares per day, on average).
RSXJ Holdings
As of March 4, 2014, these were the main RSXJ holdings (Source: ETFDB.COM):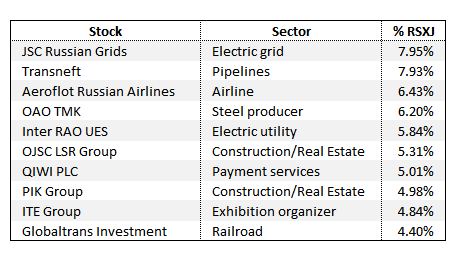 Only the exposure to construction/real estate seems somewhat worrying. Still, the fund seems remarkably diversified: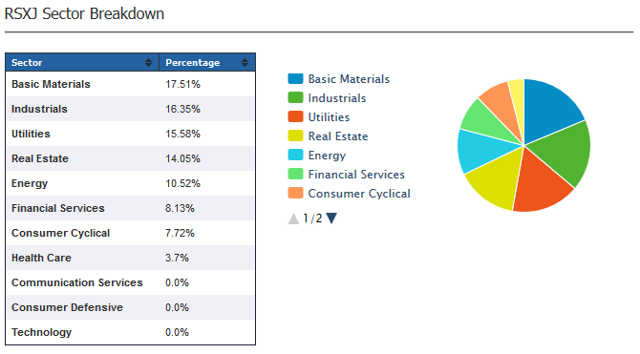 Valuation and prospects
Russia's economy is tremendously healthy, with a massive trade surplus, low unemployment and low public indebtedness. There is perhaps an excessive reliance on petrochemicals to achieve this health, and inflation is somewhat elevated. GDP growth at the moment is somewhat sluggish. The following economic snapshot contains the most important variables (Source: Cushman & Wakefield):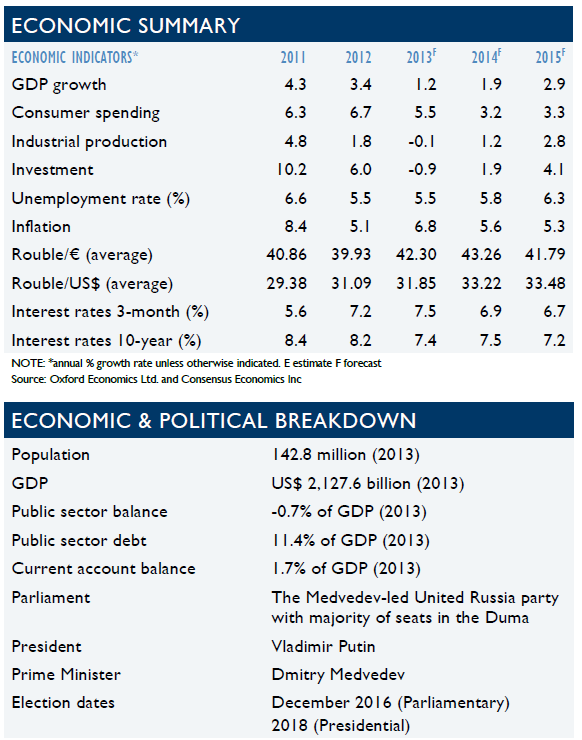 This picture is certainly healthier than most developed markets, which are presently riddled with debt and elevated budget deficits. Yet, Russia's market is available at a much lower valuation - around 4.9 times earnings for the RSXJ.
Starting from this valuation for a diversified group of equities in a healthy economy, the returns going forward should be decent.
Short-term risk
There's the chance that Russia will annex more of Ukraine, and such might be the result of a hot war. In that instance, it wouldn't be hard for Russian equities to trade lower still. It would still be a buying opportunity, just as long as some black swan such as World War III or the nationalization of ETF assets doesn't happen.
Anyway, in the short term there are indications Russian troops are building up near Ukraine and might enter action, and this presents some short-term risk for the present idea of going long Russian stocks.
Conclusion
Russian stocks are extremely cheap, have had a capitulation brought about by the Crimea situation and the Russian economy is healthy. This seems like a good place to establish long-term equity positions in Russian stocks. A practical way to establish such positions is using the RSXJ small-cap ETF.
Disclosure: I am long RSXJ. I wrote this article myself, and it expresses my own opinions. I am not receiving compensation for it (other than from Seeking Alpha). I have no business relationship with any company whose stock is mentioned in this article.