Executive Overview
Patterson-UTI Energy, Inc. (NASDAQ:PTEN) is currently trading at about $30.25 and is valued at $4.4B. I remain bullish on Patterson as compared to its peers because of its beta of 1.8 and price-to-earnings ratio of about 23 as of Q1 2014. I do not normally go out of my way for a dividend play, but its yield is 1.32% (steadily increasing Q/Q). Its total long-term debt has been decreasing Q/Q as well, giving it a debt-to-equity ratio of 0.30 (a level Patterson has proved it can maintain). On top of this, Patterson has demonstrated itself to be a long-term growth play by continuing to beat earnings, while increasing its total revenues Q/Q.
Subsidiaries and Location
Patterson is sub-divided into two different subsidiaries; its drilling company and Universal, its pressure pumping company. Its drilling company fully owns and operates land-based drilling rigs throughout the US, and can be found in 14 different states and various parts of western Canada. In total, Patterson owns over 325 fully marketable land-based drilling rigs in North America. Below is a map of Patterson's current drilling locations.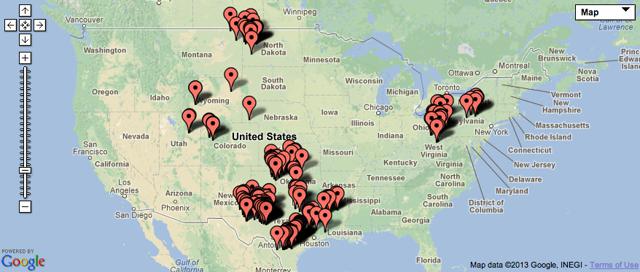 Click to enlarge
Patterson-UTI Drilling Company, LLC
Patterson-UTI Drilling Company, LLC uses advanced technology to help reduce its customers' costs and increase its efficiency, as mentioned in the executive summary above. Its newest available rig is the APEX-XK 1500, which is its most efficient. Patterson also has 5 other rig options available to best fit its customers' needs. As a whole, Patterson stands by its choice to promote health, safety, the environment, as well as ethics and diversity amongst the workplace.
Patterson Pressure Pumping & Well Services, Inc.
Patterson's other subsidiary, Patterson Pressure Pumping & Well Services, Inc., performs three specific services for its customers. The first of these three services is its hydraulic fracturing, which is done using natural gas in order to further reduce costs and emissions on top of its advanced technology. The second is cementing, which is the most common well completion method used throughout the industry to date. By doing this, Patterson provides a variety of innovative services in order to optimize and fully increase the efficiency of well strength and performance for its customers. The last of the three services is its nitrogen and acidizing service, which unlike many of its competitors throughout the industry, is very cost-efficient and much safer due to its technological advantage. Its pressure pumping is mainly located throughout the state of Texas in three specific basins: Permian, Barnett, and the Eagle Ford. Its well services are mainly located in the Appalachian Basin, more formally, the Utica and Marcellus Shale formations.
Most Recent ER (Q4 2013)
Patterson's most recent earnings were reported on February 6th, 2014 for Q4 of 2013. It announced an earnings per share of $0.28, beating analysts' estimates by $0.06, and a revenue of $659mm (+0.90% Y/Y), beating estimates by nearly $4.4mm. It has continued to outperform its 5-year EPS growth rate, and is expected to continue this growth trend going into the future, one of the main reasons why I remain bullish even with Patterson trading at a price-to-earnings ratio of about 23x. Its next earnings report is expected to be announced on April 24th, 2014 before the open.
Peer & Industry Comparison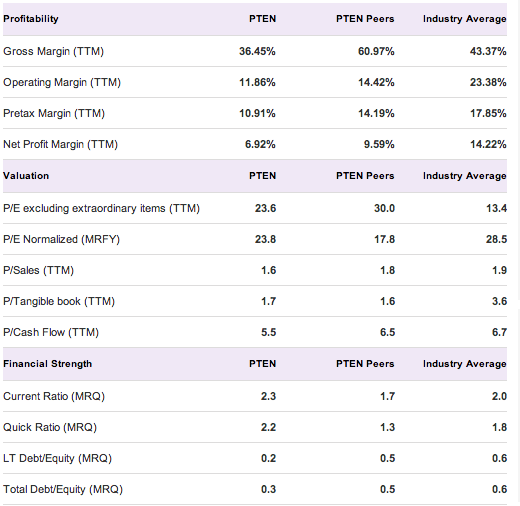 Although Patterson appears less profitable than its peers, I find that this peer average is made of companies slightly larger than Patterson. It is, however, undervalued compared to its peer average, therefore, once Patterson becomes more fairly valued, it will be able to maintain a strong growth rate Y/Y for its profitability ratios, more specifically its Net Profit Margin, which has been increasing steadily due to its new and advanced rig technology.
Macroeconomic Perspective
Lately, environmental-friendliness has grown to be very popular and favorable throughout the industry as a whole, regardless of the market capitalization of the equity. Luckily, Patterson has already been more than supportive of health, safety, and environmental issues throughout North America. On top of this, oil and natural gas prices have been increasing, and are expected to continue to increase based on historical levels of support, resistance, and stochastics. Patterson is able to hedge against this with its advanced technology and drilling rigs, which remain cost-efficient when relatively compared to the industry and sector.
Brief Technical Analysis
A few specific risks which I am worried about in terms of Patterson's long-term growth are its debt of $693mm, as it reported for the 2013 FY. It is, however, increasing its revenues and profit margins Y/Y in order to further reduce its debt. From the vantage point of a trader, it has just had broken its 52-week high, meaning it may struggle to continue to break resistance in the future. In contrast to this, it has a short interest of only 3.13%. Incredibly low compared absolutely to any company out there. In terms of options, there has been an increasing amount of open interest for January 2015 in in-the-money and at-the-money calls as of late. The importance of the technical risks and advantages are, however, miniscule when compared to the fundamental advantages, but from my past experiences, technicality is always something to keep in mind.
Disclosure: I have no positions in any stocks mentioned, but may initiate a long position in PTEN over the next 72 hours. I wrote this article myself, and it expresses my own opinions. I am not receiving compensation for it (other than from Seeking Alpha). I have no business relationship with any company whose stock is mentioned in this article.
Additional disclosure: Although I currently have no position, I may initiate a net long options position over the next 72 hours.