Intel is doing its thing - bouncing around the $25 range, as it's been doing for months, while the company tries to figure out what it's going to do with itself.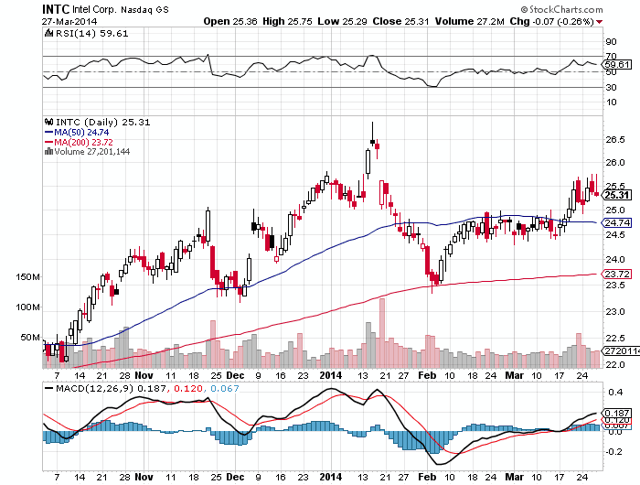 With Intel (NASDAQ:INTC), it's been concerns over missed opportunities in mobile and tablet, changing decisions, and trying to pull the company out of the muck it's currently in.
The company has been trying to do this by changing compensation plans based on stock for employees, sticking to its processor roadmap, and continuing development of its Quark processor for use in smaller devices.
One of my bullish theories behind the company was its effective rolling out of its processor roadmap thus far in 2014, including the company's Xeon E7 v2 family:
One of the areas that hasn't been focused on of late is Intel's foray into trying to dethrone RISC server vendors like IBM. Intel's Xeon has been poking at RISC market share for the last couple of years. Both IBM and Oracle are looking to keep their chip lineup fresh to compete with Intel, as well.

Intel has recently rolled out its Xeon E7 v2 family, based on the chipmaker's Ivy Bridge platform and Seeking Alpha has noted that the initial reviews have been positive. This is a good step in the right direction for the company, although not a massive one.

The CPUs provide up to 50% more cores and four times I/O bandwidth. In short, they're beasts that run at nearly twice the speed as their predecessors.

I pointed that out in my last article and showed that Intel was moving in accordance a recently leaked processor rollout roadmap.
Now, Intel is discontinuing its own Hadoop distribution in the U.S., and is throwing a major investment behind Cloudera's distribution of Hadoop. The hopes are that Intel will be able to provide Cloudera with capital, and will be the preferred chipset for use with Hadoop hardware. This will overwhelmingly be Intel's Xeon chip.
This was technology that Intel was trying to develop internally, but has now decided it wants to invest in externally.
Who is Cloudera? From Cloudera.com:
Cloudera Inc. is an American-based software company that provides Apache Hadoop-based software, support and services, and training to business customers.

Cloudera's open-source Apache Hadoop distribution, CDH (Cloudera Distribution Including Apache Hadoop), targets enterprise-class deployments of that technology. Cloudera says that more than 50% of its engineering output is donated upstream to the various Apache-licensed open source projects (Apache Hive, Apache Avro, Apache HBase, and so on) that combine to form the Hadoop platform. Cloudera is also a sponsor of the Apache Software Foundation.
Seeking Alpha reported:
A year after unveiling its own software distribution for the very popular Hadoop framework (widely used to handle big data analytics projects), Intel is abandoning its offering, and throwing its money and resources behind market leader Cloudera.
The chip giant calls the deal the "single largest data center technology investment in its history." Cloudera just raised $160M after filing to sell shares at a valuation as high as $1.84B.
The startup offers proprietary management software to go with its open-source Hadoop distribution. Competition is provided by private Hortonworks and EMC's Greenplum unit (part of its Pivotal spinoff).
As part of the deal, Cloudera will make Intel's CPUs its "preferred platform," and optimize its Hadoop distribution for them. Cloudera will also support Intel's data center fabric, flash memory, and security tech.
As always, Intel's primary goal is to drive CPU sales - Hadoop projects often make use of Xeon server CPUs, and Intel is hoping relatively few projects rely on rival architectures such as ARM, SPARC, and Power. Data center chief Diane Bryant predicts "Hadoop will be the application that is deployed across more servers than any other enterprise application."
Immediately, I was reminded of an article I wrote just a couple of days ago about Cisco (NASDAQ:CSCO) and its $1 billion foray into cloud computing. The theme of that article was whether or not Cisco was doing too little, too late - for too much capex.
Which leads us to believe, with Intel, is this yet another "too little, too late" move on management's part?
The bullish case behind this move is obviously that Intel is getting in on the ground floor with Cloudera, and potentially forging the next "Wintel" type of partnership. If this bears fruit by large numbers of Xeon purchases in the future, it'll be well worth it.
The bearish cash on this news is that it's Intel abandoning yet another project, which comes with wasted resources and financing. It gives the appearance that Intel has no real vision internally, and it's just throwing cash at its problems - similar to the bearish argument on Cisco days back.
What Cloudera will do to optimize its software for Intel chips is beside me. From the geeks I've talked to yesterday night, the best of my understanding is that Cloudera is based on top of Linux, which isn't an Intel-specific platform. So, I'm all ears to see what it does.
As an Intel long, I'm ambivalent about the news, to be honest. It's going to take a substantial amount of time to find out whether or not this investment is going to pay dividends for Intel. Barring the company coming out and abandoning this foray before it gets started, we're likely not to get much news on it for a couple of months. Thus, I'm predicting this is basically a non-event for the short term with traders.
Intel closed at $25.31 on Thursday.
I remain long Intel for the long term, and reserve the right to add on any dips or modify my position at any time.
Disclosure: I am long INTC. I wrote this article myself, and it expresses my own opinions. I am not receiving compensation for it (other than from Seeking Alpha). I have no business relationship with any company whose stock is mentioned in this article.