CBS Outdoor Americas Inc (CBSO), a lessor of advertising space on out-of-home structures including billboards and transit systems, plans to raise $540.0 million in its upcoming IPO.
The New York, New York-based firm will offer 20.0 million shares at an expected price range of $26-$28 per share. If the IPO can find the midpoint of that range at $27 per share, CBSO will command a market value of $3.2 billion.
CBSO filed on June 27, 2013.
Lead Underwriters: BofA Merrill Lynch, Goldman Sachs & Co, JP Morgan Securities LLC, Morgan Stanley & Co LLC, TD Securities (USA) LLC
Underwriters: Barrington Research Associates Inc, BNP Paribas Securities Corp, BNY Mellon Capital Markets LLC, Citigroup Global Markets Inc, Credit Suisse Securities LLC, Deutsche Bank Securities Inc, Drexel Hamilton LLC, Evercore Group LLC, Guggenheim Securities LLC, Lebenthal & Co LLC, Loop Capital Markets LLC, Mizuho Securities USA Inc, Nomura Securities International Inc, RBC Capital Markets LLC, RBS Securities Inc, Samuel A Ramirez & Company Inc, SMBC Nikko Securities America Inc, The Williams Capital Group LP, UBS Investment Bank, Wells Fargo Securities LLC
Summary
CBSO is amongst the largest lessors of advertising space on out-of-home structures in the United States, Canada, and Latin America. The firm's ad spaces are mainly comprised of billboard displays in major metropolitan areas and along high-traffic roads and highways, including highly desirable displays on the Bay Bridge in San Francisco, Sunset Boulevard in Los Angeles, and Times Square in New York City. The firm also operates displays in municipal transit systems.
As of December 31, 2013, the firm had approximately 330,000 displays in the U.S. along with 26,200 displays in Canada and Latin America.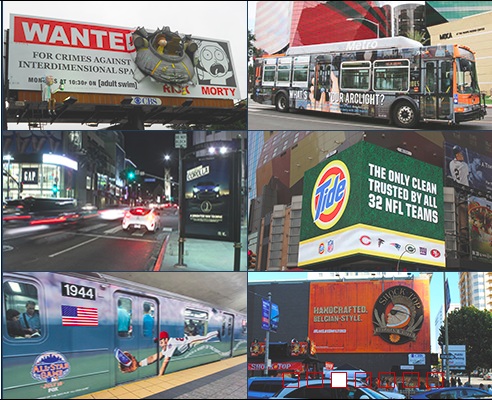 (Photo credit: http://cbsoutdoor.com/)
CBSO has a widely varied customer base; in 2013, the firm served nearly 20,000 customers and no single industry contributed more than 10% of the firm's revenues for the year.
Valuation
CBSO offers the following figures in its S-11 balance sheet for the year ended December 31, 2013:
Revenue: $1,294,000,000.00
Net Income: $143,500,000.00
Total Assets: $3,355,500.00
Total Liabilities: $601,100,000.00
Stockholders' Equity: ($2,754,400,000.00)
Business
CBSO is in the process of converting many of its billboard displays into digital billboard displays, which allow for both enhanced advertisements and the display of more total ads. The firm added 70 digital billboards in 2011 and 110 digital billboards in both 2012 and 2013 at a total cost of $73.1 million.
CBSO faces competitors of every size in the outdoor advertising industry for both customers and display locations. National competitors include the likes of Clear Channel Outdoor Holdings Inc (NYSE:CCO), JCDecaux SA and Lamar Advertising Company (NASDAQ:LAMR).
Management
CEO Jeremy J. Male has held his current position since September 2013. He previously served as the CEO, UK, Northern Europe and Australia for JCDecaux SA and as CEO, Europe, of TDI Worldwide Inc.
Conclusion
We rate this IPO a buy in the proposed price range.
CBSO is a leader in an industry that is making a comeback with the declining effectiveness of television and internet ads, which are much more easily skipped or ignored than billboards.
The firm has shown commendable foresight by taking advantage of decreasing prices for digital billboards to upgrade its equipment, and is led by a highly experienced executive team.
For 2013, CBSO earnings rose 27% on a modest increase in revenues. Net income came in at $143M which is impressive and separates this IPO from the pack of IPOs that are being brought to market with huge losses.
We are also impressed with the line up of underwriters which includes Goldman Sachs and J.P. Morgan.
The name recognition of CBS is also a big plus for this IPO this morning.
Disclosure: I have no positions in any stocks mentioned, but may initiate a long position in CBSO over the next 72 hours. I wrote this article myself, and it expresses my own opinions. I am not receiving compensation for it (other than from Seeking Alpha). I have no business relationship with any company whose stock is mentioned in this article.