This is my fourth North American and European Bank Rankings. Previous rankings can be seen here.
All data is converted in US$ based on the June 14 exchange rates. To facilitate reading the charts, US banks are in blue, Canadian banks in red and European banks in yellow.
MARKET CAPITALIZATIONS
Total market caps have declined 9.4% in US$ since March 10, 2010. US banks have lost 6.0%, Canadian banks 4.2% and European banks 23.5%. Citigroup (NYSE:C) has overtaken Santander's (NYSE:SAN) 5th spot as the latter's market cap has declined 26% while Citi's has gained 15%.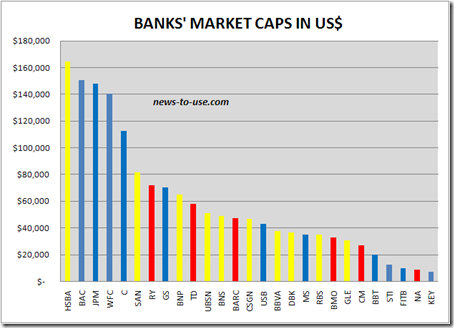 Incredibly, Citigroup's market cap has jumped from $21B in May 2009 to its current $112B, while its share price declined marginally from $4.00 to $3.88. Shares outstanding skyrocketed from 5.5B to 29B shares. Investors must be seeing a lot of earnings potential considering the humongous number of shares!
RETURNS ON EQUITY
Canadian banks continue to dominate the ROE rankings with ROEs on 2010 consensus estimates ranging from 14.6% to 21.6%. US banks' ROEs have improved but remain below average as they dominate the tail end of the ranking.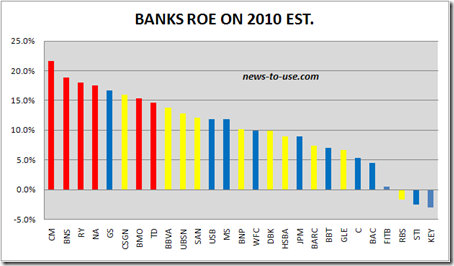 PRICE TO BOOK VALUES
Price / Book Values average 1.2x. All six Canadian banks trade above 1.6x BV with an average of 2.0x, unchanged from March. Only 4 of the 11 US banks in the universe trade above book value while 3 of the 10 European banks surveyed do, compared with 5 last March.
PRICE TO TANGIBLE BOOK VALUES
Price / Tangible BV average 1.65x, down from 1.75 in March. There are 4 banks trading below tangible book, down from 8 in May 2009 and 5 last March as Key Corp now trades at TBV. All six Canadian banks trade above 2x TBV. Only US Bancorp (NYSE:USB) (3.0x) trades above 2x TBV among all other banks.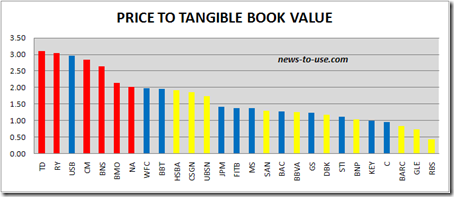 THE PRICE OF GROWTH
Price to book value ratios are not very meaningful valuation tools unless considered along with returns on BV, or ROEs. How much are investors paying for growth?
The European crisis and the subsequent recent market decline have made investors nervous. European bank valuations have declined and all but one European bank is trading below the group regression line. Spanish banks, unsurprisingly, have seen a meaningful decline in their relative valuation levels.
Canadian banks continue to benefit from their conservative management style ,which trades at a good but stable premium.
In the US, Goldman Sachs' (NYSE:GS) valuation has taken a big hit: its PB has dropped from 1.32x to 1.12x in 3 months while its expected 2010 ROE has risen from 15.6% to 16.7%. Is it wariness on the estimates or a change in valuation patterns?
Click to enlarge