BlackBerry (NASDAQ:BBRY) reported Q4/14 and fiscal 2014 earnings this morning. The company reported GAAP loss from continuing operations of -$0.80, but this number contained a lot of one-time items investors should know. The company took a $148 million pre-tax charge for its CORE program (cost cutting), $382 million pre-tax charge due to fair value adjustment on its convertible bond and a pre-tax inventory recovery of $149 million. The core charges are expected to level off after Q1/15 and the fair value adjustment of its debt is mere noise since BlackBerry decided to record the debt at fair value. The inventory recovery is interesting given it shows that the big inventory charge ($1.6 billion in Q3/14 and $934 million in Q2/14) was clearly excessive and devices are selling better than anticipated. Quoting the press release: "During the fourth quarter of fiscal 2014, the Company recorded a recovery of previous charges against inventory and supply commitments of approximately $149 million, or $106 million after tax, to reflect increased sell through rates, relative to the estimates and assumptions previously considered, resulting from discounted pricing and revised orders on hand for devices and components of BlackBerry 10 products."
Overall, after adjusting for those one-time items, BlackBerry lost only $0.08 vs. expected $0.57 loss. The adjusted gross margin of 43% is extremely positive as it shows that Chen is executing his strategy of focusing on higher margin (even if it means lower revenues) services and software.
I will review BlackBerry's operating and financial results in more detail below. Readers should note that Q4/14 data were taken from the earnings press statement released this morning while historical financial and operating taken were taken from prior reports found on BlackBerry's investor relations website.
Table 1: Revenues By Geography

Segments:
The hardware business continues to struggle although the higher ASP of $277 vs. $251 is clearly encouraging. The ASP this quarter was the highest since Q1/14 when BB10 products first launched.
Table 2: Device Shipments (in MM units) and ASP

Service revenue of $547 million is lower than previous quarter of $632 million, a 13.5% quarter-over-quarter (Q/Q) decrease. The decrease is in line with management's guidance although better than the mid-teens percentage decline expected.
The Income Statement:
The income statement shows significant progress. Backing out the $149 million inventory recovery and $17 million CORE charge in gross profit, the adjusted gross profit of $421 million implies a gross margin of 43%, highest since Q1/12. Operating expenses are leveling off with R&D expense falling $76 million Q/Q and SG&A falling $188 million Q/Q. Excluding the one-time charges I mentioned above, the income statement is showing signs of improvement.
Table 3: Consolidated Statement of Earnings (in $MM)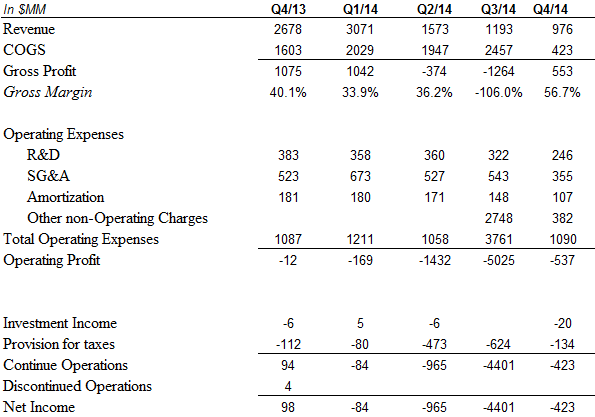 Working Capital:
I like to look at working capital ratios which measure efficiency and productivity. DIO increased slightly to 53 days from the average 40 days in prior quarters (Q3/14 was artificially low because of the $1.6 billion inventory write-down). DPO increased significantly due to lower accounts payable balance (decrease $276 million Q/Q). Overall, the increase in DPO has lowered the Cash Conversion Cycle to about 39 days, which shows that the company is more efficient at managing its working capital.
Table 4: Working Capital Ratios

Note: DSO = Days Sales Outstanding, DIO = Days Inventory Outstanding and DPO= Days Payable Outstanding
The Cash Flow Statement:
The cash flow statement does paint a more negative picture. Cash flow from operations was -$564 million due to lower amortization add back and large negative adjustment from working capital. As table 6 shows, FCF was -$800 million as lower Cash Flow From Operations also implied lower FCF. The cash burn is higher than expected but will level off as CORE charges are out of the picture by Q1/15. Total Cash & Investments was $2.7 billion, lower than the $3.2 billion in the prior quarter.
Table 5: Consolidated Quarterly Cash Flow Statement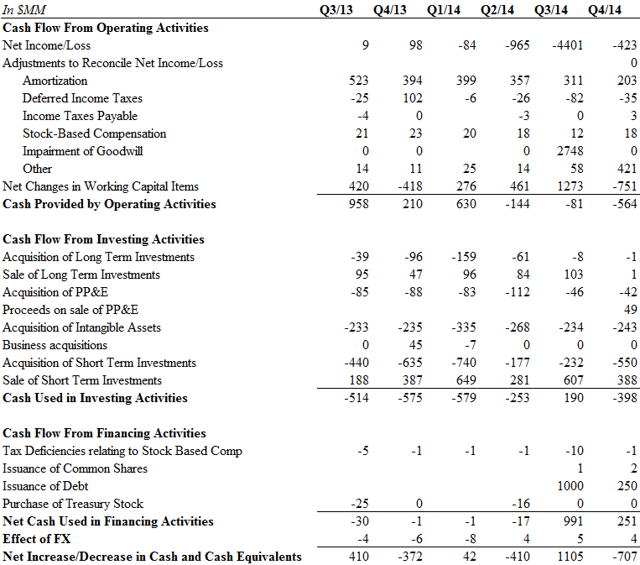 Note: BlackBerry's press statement does not show Q4/14 figures separately. I calculated the figure by subtracting the 12 month figures by the 9 month figures provided in the Q4/13 report.
Table 6: Free Cash Flow

The Bottom Line:
The Q4/14 result was generally positive despite the revenue miss. The higher gross margin and narrower core loss were positives. Although I am not a day trader, I do expect the stock to rise around 5% today, perhaps even rally by 10% or more if Chen gives more clues on his roadmap to break-even cash flow by fiscal 2015.
Readers will note that this commentary was written prior to the 8am EDT conference call. I may provide more analysis later after the conference call and the release of its fiscal 2014 40-F (Annual Report).
Disclosure: I am long BBRY. I wrote this article myself, and it expresses my own opinions. I am not receiving compensation for it (other than from Seeking Alpha). I have no business relationship with any company whose stock is mentioned in this article.
Additional disclosure: This article is for informational purposes only and does not constitute an offer to buy or sell any securities discussed in the article. The stock mentioned in this article does not represent financial advice. The target price presented in this article is based on current information and are subject to change without further notice. Investors are recommended to conduct further due diligence before committing capital to any investment.