In an article we published on September 30, 2013, "Is It Time To Sell LinkedIn And Buy Facebook", we concluded that although we had previously predicted in February 2012 that LinkedIn (NYSE:LNKD) shares would appreciate from $90 to over $200, LinkedIn shares, which had reached $246.72 on 9/28/2013, could face some potential downward risk, while Facebook (NASDAQ:FB) shares could trade higher.
Since the publication of our September 30, 2013 article, LinkedIn shares have indeed depreciated by 23.58%, from $246.72 on 9/28/2013 to $188.54 on 3/27/2014, while Facebook shares have appreciated by 19%, from $51.24 on 9/28/2013 to $60.97 on 3/27/2014.
With Facebook shares having outperformed LinkedIn by about 42.6% since the publication of our article, in line with our September 30, 2013 prediction, is such trend likely to continue, or is it time to buy LinkedIn and sell Facebook?
Facebook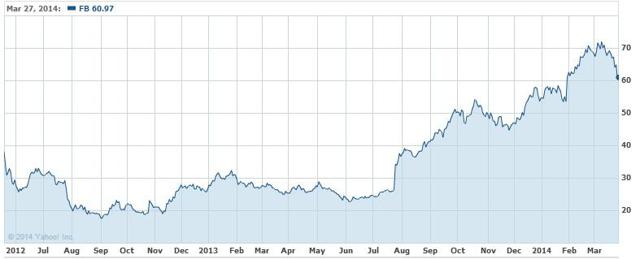 Facebook stock price 5/21/2012 to 3/27/2014 - Source: Yahoo Finance
Facebook shares reached their all-time high of $72.60 on March 11, 2014. In our September 30, 2013 article, we had established a share price target for Facebook of about $76 within 2 to 3 years of such date. With Facebook share price having actually approached such target within about 4% in less than 6 months, we believe this is a good opportunity to sell Facebook and buy LinkedIn, despite the current pullback in excess of 16% (from their recent record high levels) in the value of Facebook shares.
As per our September 30, 2013 article, Facebook shares had appreciated as a result of monetization of rising online and mobile expenditures, in addition to a build-up in the buying momentum that ensued following the IPO-related share price retreat. In addition, Facebook shares caught additional momentum following its February 19 announcement of its acquisition of WhatsApp for $19 billion.
With a current market capitalization of about $155.46 billion, and average analysts' earnings estimates of $1.26 for the year ending December 2014 and $1.68 for the year ending December 2015, Facebook shares are currently trading at respective P/E ratios of 48.4 and 36.3. Although such P/E ratios seem less exuberant than Facebook's twelve-month trailing P/E ratio of 100, such P/E ratios can still limit potential future share price gains given Facebook's sizeable market capitalization and potential diminishing growth rate in mobile monetization. According to a Gartner report, the growth rate in the mobile ad market is expected to slow during the next three years due to inventory outpacing demand, despite expectations for global mobile advertising spending to grow to $18 billion in 2014 from $13.1 billion in 2013 (37.4% growth rate), and reach $41.9 billion by 2017 (average annual compound growth rate of about 32.5% for 2015 to 2017).
In addition, Facebook's most recent acquisitions of WhatsApp for $19 billion and Occulus for $2 billion were paid for with Facebook's own stock ($1.6 billion in Facebook stock for Occulus, and $15 billion in Facebook stock and stock grants for WhatsApp). Remember the days when AOL bought out Time Warner for over $160 billion in an all-stock deal in January 2000 (in addition to assuming over $17 billion of Time Warner's debt)? AOL certainly made the right deal, as it used its inflated share price as a currency to make a major acquisition. However, the result was soon an implosion in the share price of AOL-Time Warner (NYSE:TWX), as per the below chart, with Time Warner shares dropping by 85%, from $227.61 in December 1999 to $34.50 in July 2002.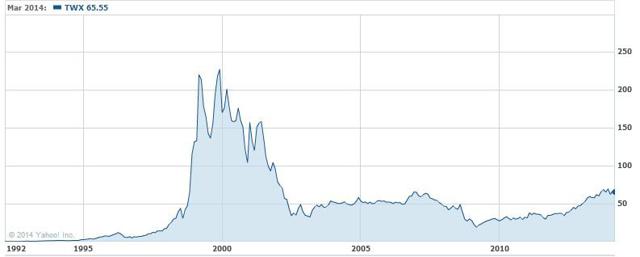 Time Warner stock price 1992 to 2014 - Source: Yahoo Finance
Certainly, there are major differences between AOL-Time Warner and Facebook, whereby AOL had about 20 million customers at the time of its Time Warner buyout announcement, while Facebook has over 1 billion users, and AOL had revenues of about $4.8 billion at the time of its acquisition of Time Warner, while Facebook is expected to have about $11.37 billion in revenues in 2014. However, the use of Facebook stock to make major multi-billion dollar acquisitions is also an indication that perhaps Facebook itself feels that its share price is a "rich" currency. It is highly unlikely that Facebook shares will implode, as occurred with AOL-Time Warner, however, until such acquisitions result in concrete monetization, Facebook share price can face some headwinds in the near future.
LinkedIn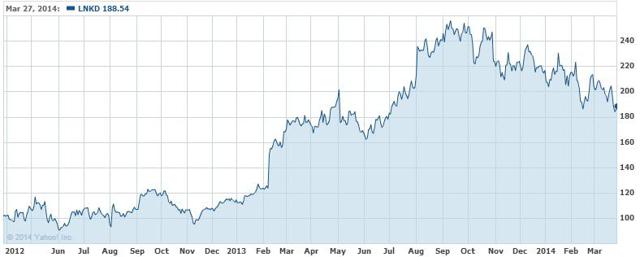 LinkedIn stock price 5/18/2012 to 3/25/2014 - Source: Yahoo Finance
LinkedIn shares closed at record highs of $256.14 on September 11, 2013, in line with our expectations from our article of February 24, 2012, "LinkedIn: 3 Social Media Advantages That Could Boost Shares, whereby we expected such shares to trade from about $90 in 2012 to over $200 within a few years. Currently, LinkedIn shares have retreated by over 26% from such highs to $188.4, again in line with our follow-up article of September 30, 2013.
The LinkedIn bullish fundamentals referenced in our 2012 article were still valid in September 2013. Such fundamentals were based on LinkedIn's unique position as a professional networking company, enabling it to monetize its subscriber base, driven by LinkedIn's unique subscribers' motivations, as well as their advantageous demographics relating to their average income, age, and employment position. However, despite such positive fundamentals, LinkedIn's valuations by September 2013 had become quite high, and as a result, we recommended selling LinkedIn and buying Facebook.
Most recently at this time, there are two factors that have moved into LinkedIn's favor: LinkedIn share price has retreated by over 26% from its record highs, hence providing a cheaper purchase entry point, while LinkedIn has become more aggressive about its global growth, as illustrated in its recent push into China. LinkedIn announced on February 24, 2014, the launch of a Simplified Chinese website to target China's estimated 140 million professionals "representing one in five of the world's knowledge workers".
According to Re/Code, prior to its announcement, LinkedIn had approximately 4 million users in China using its English-version website. LinkedIn's Chinese expansion plans also enlisted both China Broadband Capital and Sequoia Capital China. Such strategic partnerships could further enhance LinkedIn's potential to achieve success in adding to its existing base of over 270 million users, about half of which are mobile users.
LinkedIn shares currently boast a total market capitalization of $22.72 billion. With average analysts' earnings estimates of $1.58 per share for the year ending December 2014 and $2.51 per share for the year ending December 2015, LinkedIn's P/E ratios stand at 119 and 75, respectively. Although such P/E ratios seem quite hefty, we believe LinkedIn provides better value relative to Facebook shares at current levels. LinkedIn's user base of over 270 million is currently about 1/5th of Facebook's user base of about 1.3 billion users. Meanwhile, LinkedIn's current market capitalization of $22.72 billion is about 1/7th of Facebook's market capitalization of $155.46 billion.
Furthermore, while Facebook faces the law of large numbers in terms of both its market capitalization and user base, LinkedIn is better positioned to grow such numbers, especially with its most recent push into the Chinese market. Furthermore, it can be argued that LinkedIn's user base is of higher quality for monetization purposes, primarily due to the associated demographics of its users, as well as the purpose of its services, as outlined in our article of 2012.
Conclusion
Despite expected continued growth in mobile advertising expenditures during the next several years, Facebook shares can face headwinds due to the expected slowdown in such growth rate, in addition to Facebook's continued usage of stock issuance to fund major acquisitions (while monetization of revenues related to such acquisitions lags).
Meanwhile, LinkedIn shares can possibly outperform Facebook shares due to recent pullback in the value of LinkedIn shares, in addition to the potential of accelerated growth relating to international expansion in China and elsewhere.
Most importantly, Facebook faces the challenge of large numbers associated with its market capitalization and user base, while LinkedIn is better positioned in such regard.
Investors who share our outlook could benefit by buying LinkedIn shares at current levels and selling Facebook shares, or otherwise establishing a related option strategy, such as buying LinkedIn January 2016 calls with a strike of $200 for a premium of $37.60, and buying Facebook January 2016 puts with a strike of $55 for a premium of $10.70.
Disclosure: I have no positions in any stocks mentioned, and no plans to initiate any positions within the next 72 hours. I wrote this article myself, and it expresses my own opinions. I am not receiving compensation for it (other than from Seeking Alpha). I have no business relationship with any company whose stock is mentioned in this article.