Hartford Financial Services Group (NYSE:HIG) is keeping a low profile, despite its near $16 billion market capitalization, and manages to largely fly below the radar. Core earnings in Hartford's dominant commercial P&C business unit have increased from $511 million in 2012 to $827 million in 2013 -- an increase of 62% y-o-y. At the same time, the combined ratio -- an insurance metric to determine underlying insurance pricing discipline -- decreased from 96.6 in 2012 to 93.0 in 2013, according to Hartford's 2013 results presentation. Hartford Financial Services Group also projects a commercial P&C combined ratio of 90.0-92.0 in 2014, which would be another material y-o-y improvement.
Total core earnings increased from $1,386 million ($2.85 per share) in 2012 to $1,742 million ($3.55 per share) in 2013 -- a whopping y-o-y increase of 26% (25%), driven largely by margin improvements in Hartford's commercial P&C unit.
Share performance
Hartford Financial Services Group returned 34% in the last twelve month and has outperformed a variety of insurance businesses in the last year.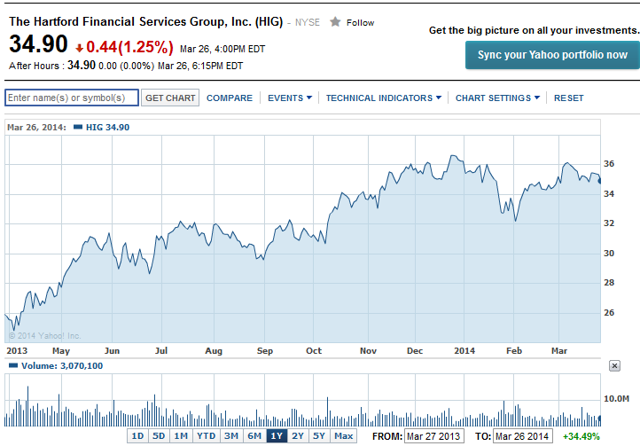 (Source: Yahoo Finance)
Hartford gained a solid 299% over the last five years while CNA Financial (NYSE:CNA) returned 306%, The Allstate Corporation (NYSE:ALL) 162% and American International Group (NYSE:AIG) 118%.
American International Group also makes a highly attractive long-term value proposition based on its relative underperformance during/after the bailout and an eye-popping discount from book value (see valuation section below).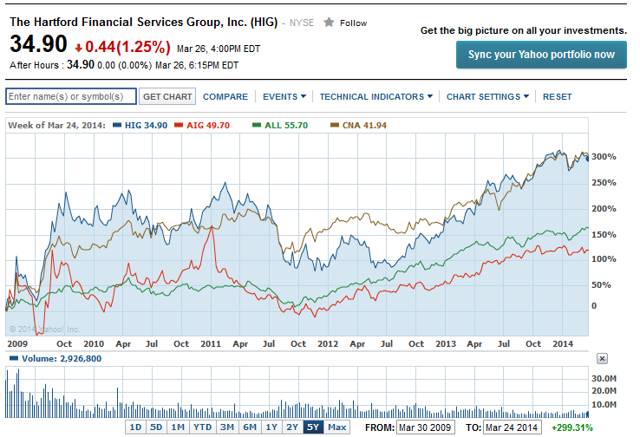 (Source: Yahoo Finance)
Business background
I cannot help but like insurance companies, both Property- and Casualty and Life businesses. It often helps to take a step back from daily or weekly investing activities and determine where we are in the business cycle. I am sure that a high unemployment rate in the U.S. and low/zero interest rates signal quite unambiguously that we haven't reached a normalized business environment yet.
I think that insurance companies, right next to bank holding companies, make excellent cyclical bets on a forceful resurgence of the U.S. economy. Like Warren Buffett said in his 2010 shareholder letter:
Money will always flow toward opportunity.
I see a lot of opportunity in the United States in 2014 and beyond, especially in the financial sector.
Low interest rates temporarily puts insurance companies at a disadvantage because low fixed income returns hurt investment income. With higher interest rates down the road (I don't know or care whether interest rates increase in Q3 2014 or Q2 2015), insurance companies will benefit from higher investment income. At the same time, higher interest rates signal that the economy is strong enough to grow without artificial life support from the Federal Reserve. A stronger economy favors the demand side of the business and leads to higher insurance volumes.
With cyclical tailwinds waiting around the corner, I believe insurance companies -- both P&C and Life -- are good bets on above-average EPS growth and multiple expansion.
Market valuation
Hartford Financial Services Group exhibits a forward Price/Earnings ratio of just around nine (equivalent to an earnings yield of 11%), while other insurance companies in the peer group trade at slightly higher multiples. Hartford Financial Services Group presently trades at a 9% discount to the peer group average P/E ratio of 9.89 -- which already indicates the low valuation of the insurance sector.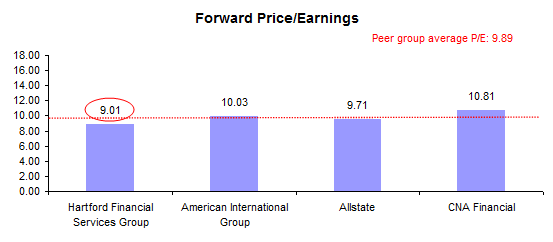 (Source: Achilles Research, Finviz.com)
Book value multiples
I think that insurance companies (P&C and Life) will trade at about 1.2x book value on average over the next two to three years, while companies with better combined ratios might see even higher book value multiples. The chart below compares the P/B ratios of the firms in the peer group: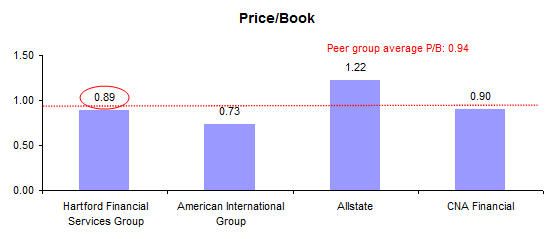 (Source: Achilles Research, Finviz.com)
Dividends
Hartford Financial Services Group pays investors a quarterly dividend of $0.15 per share ($0.60 annually), which translates into an annualized forward dividend yield of 1.72%. The majority of total returns will likely come from capital gains -- in particular from closing the gap between book and market value.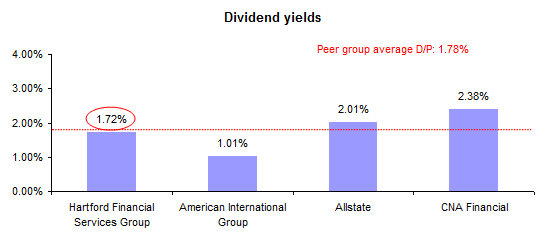 (Source: Achilles Research, Finviz.com)
A summary valuation table which includes Hartford Financial Services Group's discounts to the respective peer group average ratios is provided below:

(Source: Achilles Research, Finviz.com)
Conclusion
Little has happened in terms of valuation since I last wrote about Hartford Financial Services Group nearly four month ago. However, I am long-term oriented investor and I am never buying stocks for a quick bounce. I am a value investor trying to play convincing cyclical- and secular trends. Given the low valuations in the insurance industry, the sector surely is fair value hunting ground.
Hartford Financial Services Group trades at just nine times earnings and at an 11% discount from book value while posting strong y-o-y core earnings growth at the same time. Investors who want to get exposure to a less visible insurance company with a competitive Property & Casualty business could consider Hartford Financial Services Group. Long-term BUY.
Disclosure: I am long AIG. I wrote this article myself, and it expresses my own opinions. I am not receiving compensation for it (other than from Seeking Alpha). I have no business relationship with any company whose stock is mentioned in this article.