Emerald Oil (NYSEMKT:EOX) is a junior oil and natural gas exploration and production company with approximately 85,000 net acres (about 75% operated) in the Williston Basin of North Dakota the Bakken/Three Forks. In 2013, it sold some of its operated acreage (for $123 million -- a good price for the 27,962 net non-operated acres in the Williston Basin), and it bought more non-operated acreage. This left it with a net gain of about 67,100 net acres in the Williston Basin in the core areas of the McKenzie, Richland, and Williams counties. The 85,000 net acres have about 435 current net operated horizontal drilling locations (about 6 years worth). 91% of this is in North Dakota (69,170 net acres in McKenzie county); and 9% is in Montana. One might think this would have left the company with a significant debt burden, but the opposite is true. As of March 14, 2014 Emerald had $207 million in cash and $75 million of revolver availability. In addition to this, it closed a 2% yield convertible note (convertible in 2019) offering for net proceeds of approximately $166.8 million. The shares are convertible at $8.78 per share. This should give Emerald about $373.8 million in cash and $75 million in revolver credit for total liquidity of $448.8 million. All this is more than enough to fund its capital budget ($182 million for drilling and completion) through 2014. On top of that it has $0.00 in debt. Plus it has a Price/Book ratio of 1.30. For a new company with largely undeveloped resources, this Price/Book is a great ratio; and it speaks well of the future for Emerald Oil.
Through March 12, 2014, EOX had drilled and completed 17 wells with an average 30 IP (initial production) rate of 767 Boe/d. The table and map below show how well EOX has done relative to other companies drilling in roughly the same area of McKenzie county.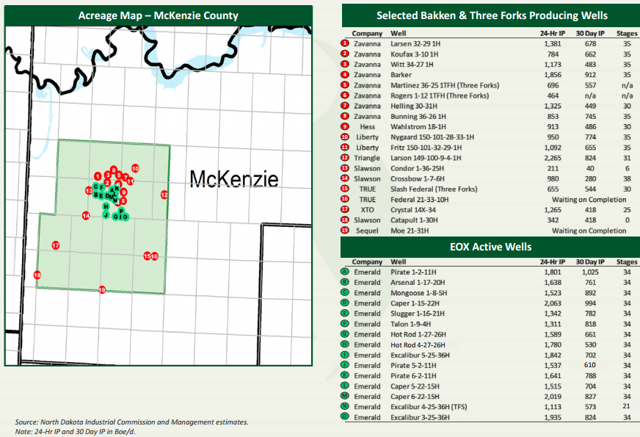 In the map on the right, EOX's wells are shown in green; and other companies' wells are shown in red. EOX's results appear to be overall superior. EOX is drilling in other fields too. All told, it had 92 gross wells and 49.22 net wells as of December 31, 2013.
For Q4 2013, EOX had total production of 220,793 Boe, which was an average of approximately 2,430 Boe/d. This was an increase of 29% sequentially and 101% year over year. FY2013 production was 616,065 Boe or an average of 1,688 Boe/d. This was an increase of 80% year over year. Total proved reserves increased to 13.2 MMBoe or 147% year over year. Adjusted EBITDA for Q4 2013 was $5.0 million or $0.08 per share. For FY2013 it was $20.2 million or $0.49 per share. Net loss attributable to common shareholders was $10.9 million or -$0.17 per share for Q4 2013. It was $31.2 million or -$0.75 per share for FY2013. Revenues for FY2013 were $54.0 million (not considering the effects of derivatives) compared to $28.1 million for FY2012.
In a bit of bad news, expenses went up year over year in FY2013. On a per unit basis, production expenses increased from $7.98 per Boe in FY2012 to $13.83 per Boe in FY2013. Increased costs were primarily related to workovers, electronic submersible pump installation, and gas lift installation. All of the above improved operational performance, and they reduced downtime in EOX's wells. For FY2014, EOX believes it can bring the production costs down to $11.00 per Boe.
General and administrative expenses were $12.9 million in FY2013 compared to $7.2 million for FY2012. This is to be expected in a growing company, especially one switching to an "operated" strategy; and it is probably not a significant negative. EOX also had an unrealized non-cash loss on its warrant liability of $7.1 million for FY2013. The mark-to-market charge relates to the warrants attached to the preferred stock issued to White Deer Energy in February 2013.
FY2014 production guidance is for 3,550 Boe/d. EOX expects the 2014E exit rate to be 4,250 Boe/d. It plans to hedge up to 80% of its proved developed production with swaps. Much of this is already hedged for 2014. This should lead to stable income. The company has an experienced management team with knowledge in the Williston Basin. It has the operational expertise to implement the best drilling and completion practices. It is hard to find much to knock about EOX.
Emerald appears to be a good to great value. The chart below of Enterprise Value per net Bakken acre is demonstrative of this.

EOX has the best ratio among its junior Bakken peers except for Northern Oil Gas (NYSEMKT:NOG); and NOG's ratio is almost identical to EOX's. In contrast Kodiak Oil & Gas' (NYSE:KOG) ratio is almost 6 times higher than EOX's. This makes EOX look like a great bargain at its current price. Not surprisingly insiders are indicating this. They have bought an additional 2,389,093 net shares in the last six months to increase their holdings by 24.2%. The average analyst likes EOX too with a next 5 years EPS growth estimate per annum of +40.00% and a mean recommendation of 1.9 (a buy). The estimated EPS growth rates for 2014 and 2015 are much higher at 122.70% and 147.10% respectively. The FPE is 15.95.
EOX had the same problem with the Q4 2013 weather as many other oil and natural gas E&P companies. Hence it got knocked down a bit on earnings (released March 12, 2014). However, its management insists that there has been little if any change to its FY2014 plans. EOX's stock may be just that much better a buy due to the above.
The two year chart of EOX provides some technical direction for this trade.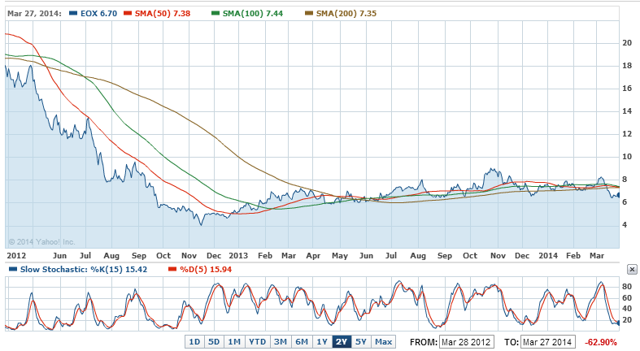 The slow stochastic sub chart shows that EOX is oversold. The main chart is confusing at best given the recent data. However, EOX in general seems to have bottomed in late 2012; and it has been in a slow uptrend since then. There doesn't seem to be sufficient fundamental reason to expect the slow, steady uptrend will be broken, although some damage has been done recently. Rather it appears that this may be a good buying opportunity. Alternatively some may wish to wait until after the Q1 2014 earnings report. With the bad January and February 2014 winter weather, EOX seems likely to have suffered some minor setbacks. However, it should be in great shape longer term; and it does have good to great assets. It appears to be a buy, and analysts' give it an average recommendation of 1.9 (a buy).
One caveat is that the overall market is showing significant signs of weakness. It may roll over at any time. The predictions range from a continued up movement, to another 3%-5% down, to another 10%-13% down, to the beginning of a bear market. This means an average down movement of -38% over two years. With these scenarios in mind, it may be best to average into EOX, especially since it has a Beta of 2.18.
NOTE: Some of the above fundamental financial data is from Yahoo Finance.
Good Luck Trading.
Disclosure: I have no positions in any stocks mentioned, but may initiate a long position in EOX over the next 72 hours. I wrote this article myself, and it expresses my own opinions. I am not receiving compensation for it (other than from Seeking Alpha). I have no business relationship with any company whose stock is mentioned in this article.