In only ten years, digital music has gone from being a bit of a novelty to a major business.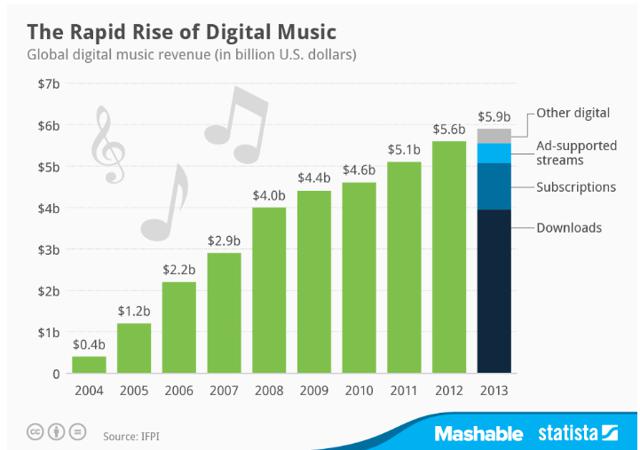 American consumers led the way with US adoption of digital music running well ahead of other countries.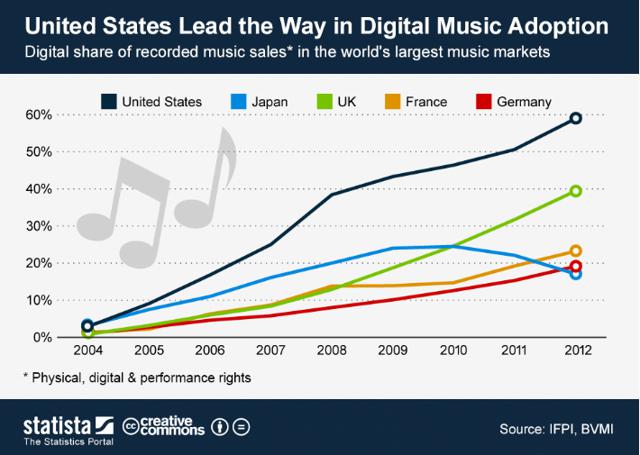 Since 2008 music downloads have been the biggest source of digital music.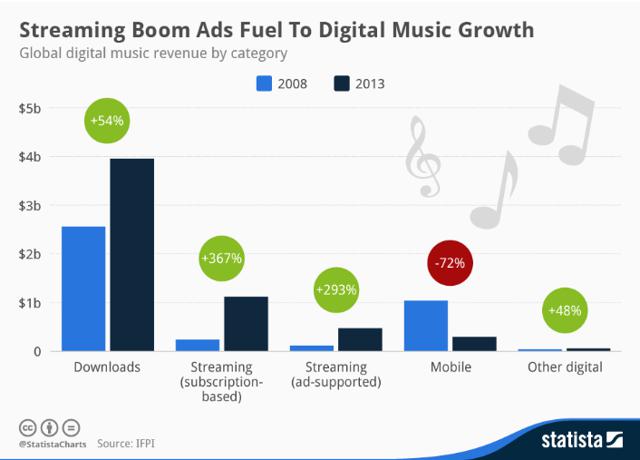 Apple (NASDAQ:AAPL) has been the big player in the music download space, with a commanding share of market.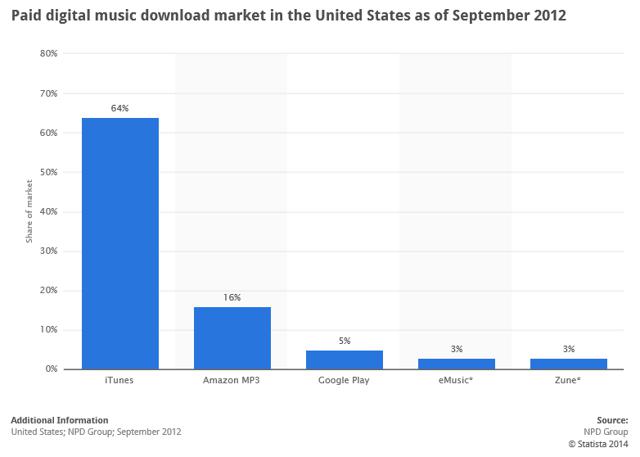 The sands of competition are shifting and the data suggest that streaming music is displacing both physical music sales and music downloads at a pretty rapid pace.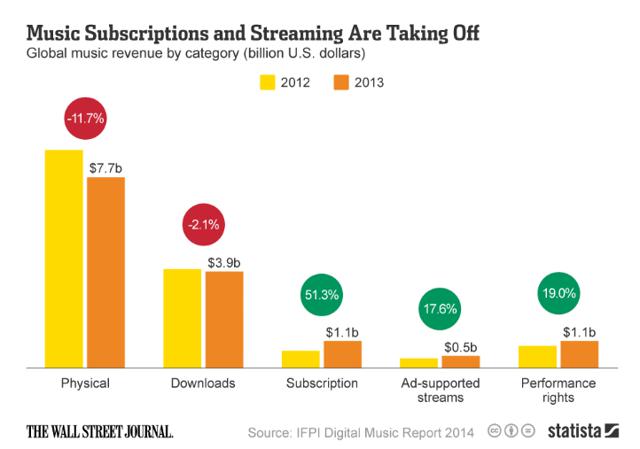 With downloads on the decline, Apple has reacted with its fast growing iTunes Radio streaming service.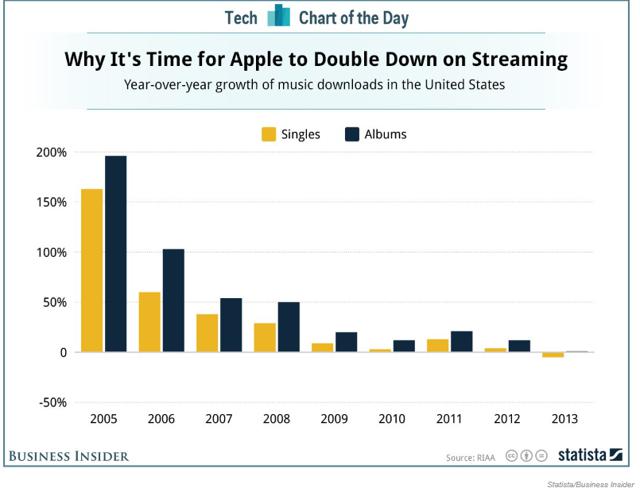 Early mover Pandora (NYSE:P) has the pole position in terms of popularity with American listeners.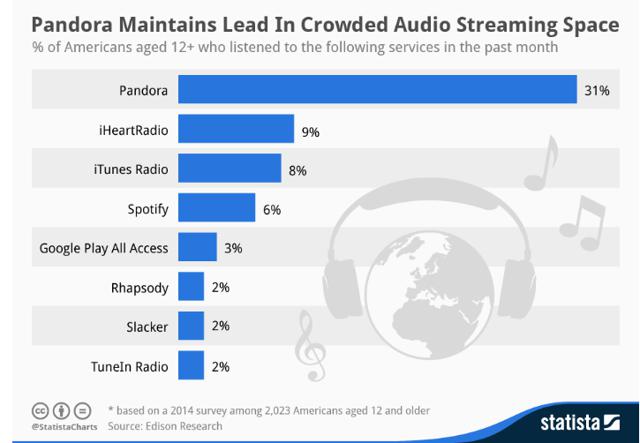 Fast growing Spotify has also carved out a meaningful base of users.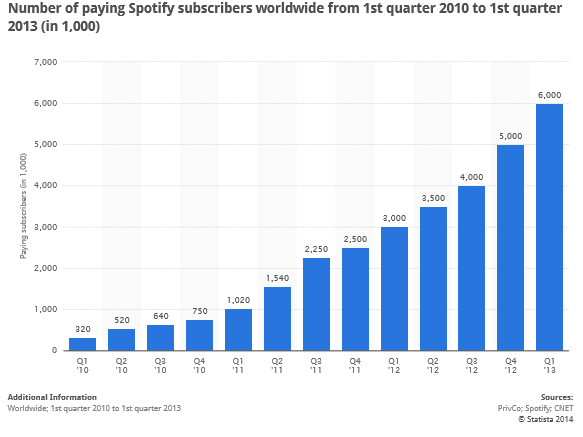 While not visible in the lists of biggest providers, Microsoft (NASDAQ:MSFT) Xbox music subscription service is in the game and provides an excellent service which I use regularly.
The field is interesting and will be a battleground. Digital music is not materially different from digital content of any kind - software, movies, music, books, and so on. Each of these players is building an infrastructure capable of delivering digital content to consumers who increasingly find online and streaming preferable to physical or downloaded content.
That suggests the services will merge into broadly based content providers including all digital content distribution businesses converging into areas like movies served by Netflix (NASDAQ:NFLX), Hulu and so on.
Investors have to place their bets on the industry at a time when it is in flux. For my money, the winners are likely to be those with the resources to make it happen at all levels - the list of winners is likely to include Apple, Amazon (AMZN) and Microsoft.
Those most vulnerable may be the smaller players with marginal economics or even unprofitable. That list could include Pandora which might be in the cross hairs of the larger well capitalized providers. Netflix stock price may be vulnerable given its very high price but it has a strong brand and a growing and seemingly loyal user base. Time will tell whether it can sustain its momentum as competition for content heats up.
One likely casualty longer term is Sirius XM (NASDAQ:SIRI) as the car industry becomes "connected" and satellite distribution of music and radio channels runs into the richer and broader content available over the internet. Online radio (read digital content) has yet to make inroads into vehicles but that cannot be too far away.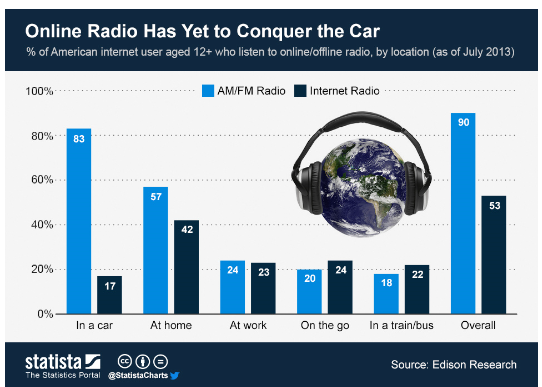 My investments that will be affected by changes in this space are limited to my occasional long positions in Microsoft (no holding at present), frequent short trades in Netflix (no holding at present), and short position in Apple (which while it is likely a winner in this area I have shorted for other reasons).
Disclosure: I am short AAPL. I wrote this article myself, and it expresses my own opinions. I am not receiving compensation for it (other than from Seeking Alpha). I have no business relationship with any company whose stock is mentioned in this article.