Google (NASDAQ:GOOG) is down some 8% from its highs earlier in the month. Some of this decline is probably due to some "throw the baby out with bathwater" syndrome as other high flyers like Tesla Motors (NASDAQ:TSLA), 3D Systems (NYSE:DDD) and Netflix (NASDAQ:NFLX) have declined more than 15% for the month as investors shift away from the momentum stocks that drove so much of the rally in 2013.
I think this tech giant has been unfairly lumped into this category in some part. The company is dominant in its space, sports reasonable valuations given its growth, has some technical support near current levels and has a fortress balance sheet.
Growth at a reasonable price:
Google is priced at just under 22x this year's expected earnings, a third higher than the overall market multiple of approximately 16x forward earnings. However, the company continues to deliver annual revenue growth in the high teens. This is four times more than the 4% Y/Y sales growth expected out of the S&P 500 in 2014. The stock has a reasonable five year expected PEG (1.25) for a market share leader.
Market Dominance:
Google continues to dominate both regular and mobile search. It has over two-thirds of the domestic online search market. Google is even more dominant in Europe and in mobile. It also dominates in the online ad market. Google is the major player the mobile ad market as well. This space is expected to grow some 75% in 2014 and Google is expected to get over 45% market share in this fast growing area.
The company continues to invest in developing technologies, recently buying Nest for just over $3B in cash. It should be a major player in the wearable technology space with its Google Glass offerings and is increasingly becoming a broadband player through its expanding fiber business.
Balance Sheet:
The company has over $50B of net cash and marketable securities on the books. This is approximately 15% of its market capitalization and continues to give the company the wherewithal to continue to buy startups or new technology to continue its market dominance in its core businesses and/or be a player in emerging technology trends. Taking out its net cash, Google goes for just over 18x forward earnings.
Summary:
One always has to pay up some to own the "Best of Breed" plays. After the stock's 8% decline, GOOG is offering a good entry point here. Its valuation seems very reasonable given its revenue and earnings growth and dominance in its core markets. The stock is downright cheap compared with the astronomical valuations seen in other leaders in the market such as Amazon (NASDAQ:AMZN) or Salesforce.com (NYSE:CRM). Finally the stock looks like it has some short-term technical support just under current levels. Buy.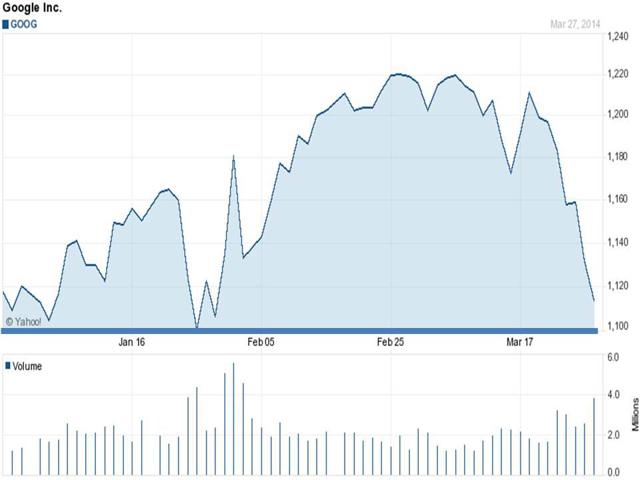 Click to enlarge
Disclosure: I am long GOOG. I wrote this article myself, and it expresses my own opinions. I am not receiving compensation for it (other than from Seeking Alpha). I have no business relationship with any company whose stock is mentioned in this article.