Buckeye Partners (NYSE:BPL) is on the short list of the best investments that you could have made over the past two decades. By electing to reinvest distributions, Buckeye owners could have almost quadrupled their unit count over the past twenty years.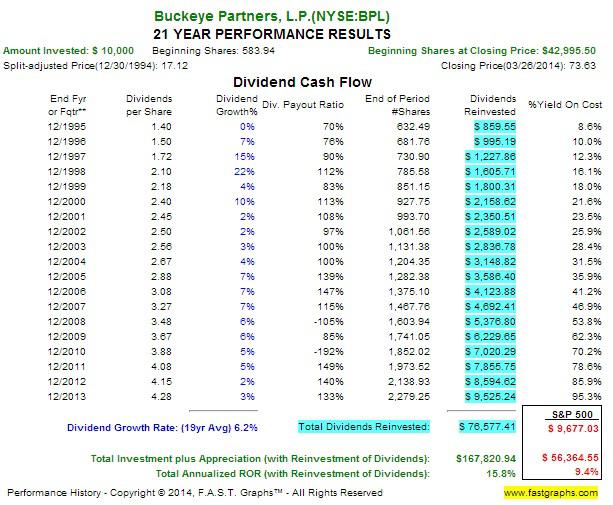 I showed you this chart for two reasons. First of all, I wanted to give you a visual documentation of how Buckeye Partners is one of those companies that is truly an income investor's dream; people who have been holding Buckeye for the past two decades are only a year or two away from receiving annual distributions that exceed the amount of the original investment.
And secondly, I wanted to show you that immense success with Buckeye Partners is possible even in the absence of high growth. Buckeye's owners only received a distribution growth rate above 10% in three years: 1997, 1998, and 2000. In other words, Buckeye owners have been able to build significant wealth with distribution rates in the range of 2-5% annually.
This is an important consideration to keep in mind because it looks like Buckeye investments is going to have to offer its owners low distribution growth in the coming five year period.
I reached this conclusion based on two facts: the company has been making significant capital expenditures (this is good because it will lead to meaningful growth down the line) to the point where its cash flow does not currently support both its distribution and the capital investments, and the company is currently increasing its commitment to the storage business which is at a difficult point in its business cycle (this should be good news for investors, because it means that Buckeye management actually understands what it means to "buy low").
Buckeye is split up into 117 million units. Each of those units generates $5.10 in cash flow for owners. In other words, Buckeye is currently working with $596 million in cash flow. Of that, its unitholders receive $4.35 per unit in annual cash. In other words, unitholders in aggregate receive $408 million per year. But the company is also making large capital investments to the tune of $400 million this year, meaning that debt, increasing unit count, and return of capital is necessary to maintain both capital investments and distributions. This likely means that the distribution should grow between 3-6% annually over the medium term.
The next thing Buckeye unitholders need to keep in mind is that Buckeye has been making big investments in the storage industry, as this article summarizes:
Buckeye Partners closed the acquisition of 20 liquid petroleum products terminals with a total storage capacity of approximately 39 million barrels for $850 million from Hess Corporation in the fourth quarter. This acquisition increased Buckeye's total liquid petroleum storage capacity by approximately 53% to over 110 million barrels and will contribute to earnings growth going forward.
In the long term, this is good news for Buckeye unitholders because the company got a good deal, but we should also remember that the reason why Buckeye got a good deal is because the liquid storage capacity business is facing strong headwinds. It is probably going to take a couple of years before we start to see this influence Buckeye's cash flow figure, simply because lower prices for liquid petroleum often lead to less storage and transportation demand, meaning it will require patience of several years before the acquisitions from Hess start to propel growth in distributable cash flow.
In other words, the articles pointing out that Buckeye is going to have trouble achieving meaningful distributable cash flow growth in the next couple of years are true. This is not the firm's optimal business environment. My argument, however, is that despite suboptimal business conditions, Buckeye can still make a good investment because you can still building significant wealth when you are reinvesting distribution payouts of nearly 6% that are annually growing in the 3-6% range. The company still has 5,400 miles of pipelines that will be producing more cash flow this year than last, and that should be enough to allow Buckeye's owners to build by reinvesting a high distribution that is not done growing.
Disclosure: I have no positions in any stocks mentioned, and no plans to initiate any positions within the next 72 hours. I wrote this article myself, and it expresses my own opinions. I am not receiving compensation for it (other than from Seeking Alpha). I have no business relationship with any company whose stock is mentioned in this article.