While the Arena (NASDAQ:ARNA) equity may not have been too exciting of late, there are some interesting developments about to begin. The key here is understanding how they will impact the equity as well as in what time-frame those impacts happen. In the near term, marketing partner Eisai has indicated that direct to consumer television advertising will start in mid April. These television ads will be the first from the either Arena or Vivus (NASDAQ:VVUS) since Belviq and Qsymia entered the market.
The prescription anti-obesity sector has had its challenges. Qsymia, the anti-obesity drug from Vivus, has been on the market well over a year and has stalled at about 11,000 prescriptions a week. Belviq, from Arena, has been on the market for about 10 months and typically shows week over week sales growth but has yet to eclipse the 10,000 weekly sales mark according to industry trackers IMS Health and Symphony Health. Will television ads shift the dynamic and accelerate prescriptions?
Television ads are typically a process. Very few ads have an instant and viral impact on consumers, even if they are good. Advertising takes time to take hold. Consumers may need to see advertising several times before acting on the information that they saw. What I have been seeing over the past week is what I would consider overenthusiastic investors thinking that the impact of advertising will propel sales to massive numbers in a short time-frame. I believe we will continue to see sales growth, but I am not anticipating a massive impact in short order from television ads alone. I have been projecting about $150 million in sales for 2014 and that is considering television advertising. Some analysts are projecting Belviq Sales revenue to be about $20 million for this year. For perspective, that translates to about $125 million in gross sales.
While television ads may seem like a major catalyst, it is insurance that remains the biggest driver in my opinion. Right now somewhere between 50% and 60% of covered lives have a prescription anti-obesity benefit. Covered lives is defined as the number of people insured. Beyond getting an insurance company to cover the drug, we have to consider what tier the drug is covered under. Typically insurance companies have several tiers of coverage. Drugs on tier 1 get the maximum coverage, while drugs on tier 3 or 4 may have very modest coverage. What we want to see is covered lives increase as well as improved tier levels. Over time this will happen, but it is a long process.
Another way to drive growth is having sales reps "detail" doctors. In essence this means that the sales reps make call on doctors and offer informational sessions and seminars to educate them about the attributes of a drug. When Belviq launched there were 200 sales reps dedicated to this task. In December of last year an additional 200 were contracted through Quintiles. By July 1st, the number of contracted reps should double to just over 400. This means that some 600 reps will be on board to detail the over 80,000 health care professionals in the market.
The concept here is simple. Detail doctors, seek better insurance coverage and bring up consumer awareness. Doctors and insurance have been in the works since launch. Direct to consumer print ads started in the Fall. Television ads are, in theory, just a couple of weeks away. The ingredients are now in place to see if growth will happen. How this impacts the equity is what investors want to assess.
In the short term I see television ads hitting the air as being capable of creating a spike in the price of the stock. Why? Because its is a positive step in what has been a tough period for Arena investors. Unless the ads are followed by another catalyst such as approval in Mexico, Canada, or another nation, the adrenaline rush of new television ads that will spike the equity will subside and settle down. Active traders will play these moves because they are pretty obvious to those that look at this with an objective eye. Take a moment to think about this. If weekly scripts can get to double the current level (over time) by the end of the year we will be looking at $100 million in gross sales. If weekly scripts can triple the current level (over time), gross sales will be at $150 million for 2014. Is it reasonable to assume that a television ad campaign will deliver 4, 5, or 9 times the current sales numbers? Probably not. For some perspective, let's look at the Eisai (OTCPK:ESALY) blockbuster Aricept:
We can all agree that Aricept was advertised on television. There were a few different ads that ran over about a decade. Below are the annual sales figures:
1999 - $ 563,000,000
2000 - $ 695,000,000 +23.3% (television ads start)
2001 - $ 936,000,000 +34%%
2002 - $1,130,000,000 +20.4%
2003 - $1,380,000,000 +22.8%
2004 - $1,590,000,000 +15%
2005 - $1,920,000,000 +20.6%
2006 - $2,470,000,000 +28.7%
2007 - $2,840,000,000 +15.1%
2008 - $2,970,000,000 +4.4%
2009 - $3,150,000,000 +6.3% (FDA Critical Of New Ads)
2010 - $2,840,000,000 (10.1%)
2011 - $1,440,000,000 (49.4%)
2012 - $ 921,000,000 (35.9%)
Source - Eisai Annual Meeting documents
It took 3 years to see sales double and 5 years to see them triple. A quadruple took 7 years. This all happened with television ads in place. You can see that the drug had impressive growth, but you can also see that it took time to happen. This is exactly the reason why tempered expectations are warranted. Getting to sales of $125 million this year would be great. Getting to $150 million would be even better. Getting to $200 million is likely not in the cards. Arena investors went down the path and suffered the high expectation game twice already. Sales goals were very lofty when Belviq was approved, and as it was getting ready to launch the sales expectations were lofty. The equity has suffered because of high expectations not being met. It was 11 months ago that the CEO of Eisai told investors at the annual meeting that gross sales of Belviq would be about $200 million by March 31st of 2014. Actual gross sales will be more along the lines of $45 to $50 million. If investors set themselves up for expecting television ads to drive sales by big factor in a short time-frame, they are setting themselves up for disappointment. Let's remember that Eisai did not project $1 billion in sales until 2017 or beyond. In my opinion, a reasonable expectation level even with added reps, and television ads is between $125 million for those that want to be conservative, and $150 million for those that want to be slightly aggressive.
Now to the weekly sales data. This week we saw script sales improve by less than 1% week over week (essentially flat). My adjusted script number for industry tracker IMS Health is a bit over 7,800. As has been the case for a few months now, Belviq is seeing better percentage gains than competitor Qsymia. One interesting dynamic is that for the first time this year new scripts saw a slight decline. What we want to see is growth continue to accelerate in a positive trend and to monitor the pace vs. reasonable expectations. The first chart below tracks adjust scripts since launch.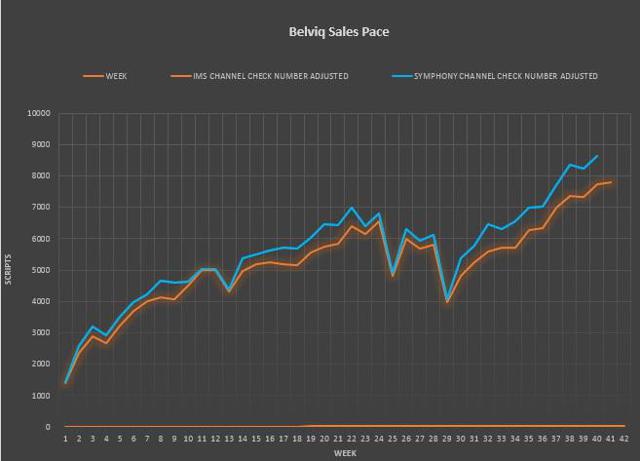 Chart Source - Spencer Osborne
In tracking 2014 sales, I have charted adjusted prescription numbers vs. a pace for $100 million in gross sales (this represents extrapolated "guidance" from Arena based on statements about anticipated revenue from sales) as well as tracking for the $150 million in sales that I feel is a reasonable goal given the weekly action. In my opinion the company needs to accomplish $100 million. If the company can pace to $150 million it would be viewed as a good positive. I estimate that $100 million in gross sales would bring Arena about $17 million in sales revenue. If the company can see gross sales of $150 million, the Arena share would be upward of $25 million. The chart below represents script sales that would be required to garner these sales goals with tracking of adjusted data.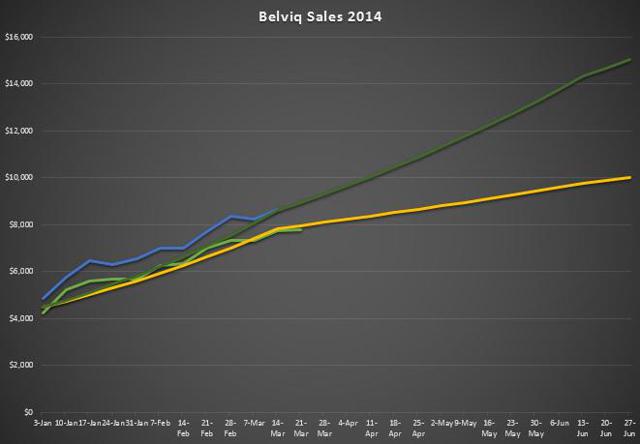 Cumulative sales are still trending in a positive direction with a decent upward trajectory. What we want to see is this trajectory continue up at a steep angle. I have cumulative sales (to consumers) since launch at about $42.3 million.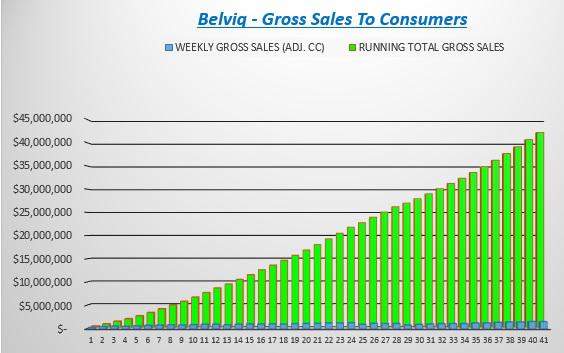 On a quarter over quarter basis Belviq sales are looking robust. This should be expected because the previous quarter had several holidays that impacted sales. Belviq sales are pacing about 26% ahead of Q4 of 2013.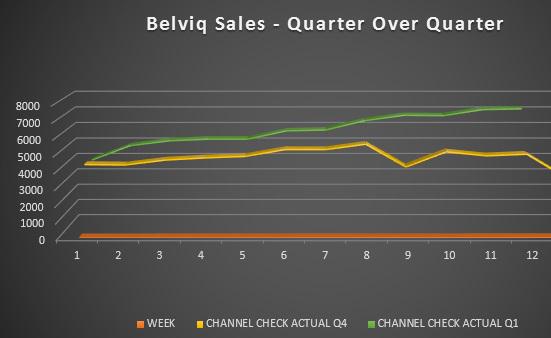 Looking at 2014 specifically, we see that current sales are indeed tracking between the $100 million and $150 million pace. As time passes we can begin to better assess where sales will be in the quarters ahead, and ultimately for the year. What we want to see is the Arena share eclipse the $500,000 per week line sometime about 6 months from now. If that can happen, the pace will be somewhere in the neighborhood of $150 million in gross sales.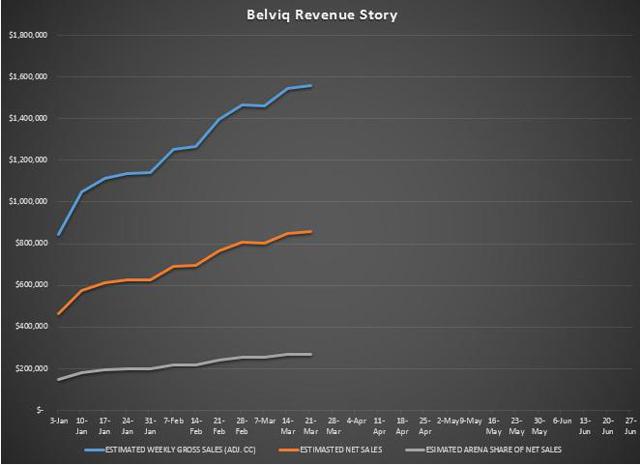 Overall the Arena story is in tact with decent potential. Added reps and television ads bolster the progress made to date. Do not get too far ahead of yourself. The Arena equity has had a tough time of late. The bottom could well be in with brighter days ahead in the longer term. Remember, investors do not make money because they want an equity to do well. They make money by correctly assessing what an equity will do. Stay Tuned!
Disclosure: I am long ARNA. I wrote this article myself, and it expresses my own opinions. I am not receiving compensation for it (other than from Seeking Alpha). I have no business relationship with any company whose stock is mentioned in this article.
Additional disclosure: I added more stock to my Arena position on March 25. I have no position in Vivus or Eisai