We previewed the valuation of Chinese e-commerce giant Alibaba (ABABA) in October 2013. This week, we've updated our analysis of the company in the table below and have raised our intrinsic value estimate to approximately $100 billion from $75 billion previously. This revision has had a relatively large per-share upward re-valuation of the shares of 24%-owner Yahoo (NASDAQ:YHOO) in its 16-page report. Softbank, which owns more than 35% of Alibaba, will also see a more optimistic slant toward its own valuation in coming periods. Our updated valuation details of Alibaba are shown below.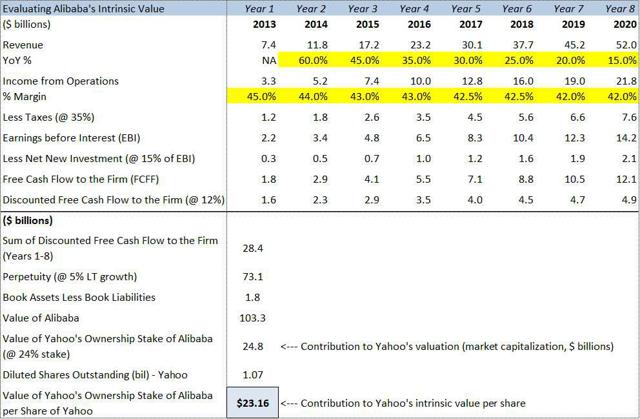 The previous table had a typo regarding the long-term growth rate of the perpetuity calculation, which has been corrected in the table above.
Though we think our forecasts are very optimistic (~$100 billion fair value estimate), even more-optimistic analysts suggest that Alibaba could fetch an initial valuation of over $130 billion. We fully admit that $130 billion is within the range of probable outcomes for Alibaba's valuation as even small tweaks in the long-term growth potential can have large implications, and we're not ruling out the strong likelihood that its market capitalization (aggregate market price) may reach those levels shortly after going public. The recent profit-taking in other Chinese shares such as Baidu (NASDAQ:BIDU) and Tencent (OTCPK:TCEHY) has indicated to us that a rotation to Alibaba's new offering may be in the cards, even if said rotation is only for a short time. In any case, we still like the Best Ideas portfolio's position in Baidu, though we do note its technicals have soured as of late amid concerns about the prospects of the Chinese economy.
The Wall Street Journal recently released a primer on Alibaba, calling it "a mix of Amazon, eBay, PayPal with a Dash of Google." One can imagine how this description might cause some excitement, especially since we alone include three out of the four "comparisons" in the Best Ideas portfolio, excluding only Amazon for its lack of a profit focus. We direct you to continue reading the WSJ article at the end of this piece (intro shown below).
Alibaba Group Holding Ltd. - which is preparing to launch perhaps the largest U.S. stock listing ever of a Chinese company - dominates China's e-commerce market. But not everybody in the U.S. has a grasp of its scope...
Our Take
We expect the Alibaba initial public offering to make a splash, as it will likely be one of the largest offerings since Facebook (NASDAQ:FB). You won't see us participating in it, however, as the firm will likely open at levels far beyond our $100 billion point fair value estimate of its intrinsic market valuation. Alibaba is expected to raise as much as $15 billion in the offering, and the IPO could happen as early as April. In the meantime, we would not be surprised to see a few of the existing publicly-trading Chinese Internet stocks face some modest pressure as portfolio managers look to allocate new capital to the idea.
Given the near-monetization of its Alibaba stake, we no longer think a discount of Alibaba's valuation is warranted within the Yahoo "conglomerate" and now value Yahoo at $38 per share, with Alibaba ($23 per Yahoo share) and Yahoo Japan ($7 per share of Yahoo) accounting for $30 of the value. We could see upside to Yahoo's price at the high end of its fair value range should Alibaba's pricing become euphoric. We'll be watching developments closely.
To continue reading WSJ article >>
Disclosure: I have no positions in any stocks mentioned, and no plans to initiate any positions within the next 72 hours. I wrote this article myself, and it expresses my own opinions. I am not receiving compensation for it (other than from Seeking Alpha). I have no business relationship with any company whose stock is mentioned in this article.