At a time of rapid development for electric vehicles, Nissan's (OTCPK:NSANF) success in this area is encouraging even greater momentum. While Tesla (NASDAQ:TSLA) is the electric carmaker most-headlined, Nissan is quietly doing a great deal to push electric cars into the mainstream of automotive culture as well.
Nissan vs. Tesla
Tesla's influence far exceeds its market penetration. In contrast, Nissan has already moved over 100,000 units of its all-electric Leaf. Though perhaps not a flashy conversation-starter as Tesla's Model S, the Leaf has built a reputation as a solid commuter vehicle with broad appeal.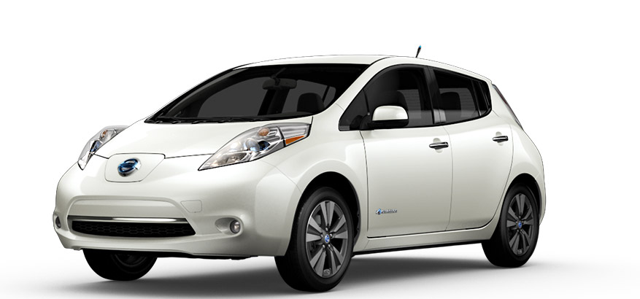 Click to enlarge
(Source)
It is likely the design team at Tesla learned a significant amount from Nissan's experiences. As the first mass-produced all-electric car, the Leaf suffered many growing pains, with owners complaining about shorter-than-advertised driving ranges.
With the 2013 Leaf, Nissan remedied many of the problems that dogged the vehicle's launch. Critically, the new model featured improvements that cut charging time in half. With an expanded range and newly affordable pricing, the 2013 Leaf cemented Nissan's place as an innovative industry leader.
Positive Estimates For Nissan
On March 15, Nissan announced more positive estimates for its projected sales. The Japanese company plans to sell around 1.5 million electric cars by the end of the decade.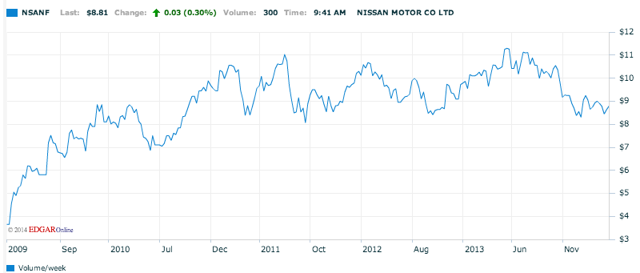 Click to enlarge
(Nasdaq.com)
The Leaf's bright future is mainly driven by Nissan's refinements in marketing and technology. At the same time, public-sector initiatives, such as carbon taxes and alternative fuel subsidies, are boosting worldwide demand for alternative-powered vehicles.
Risks For Nissan
There is much ground to cover before electric cars can compete commercially with gas-powered vehicles. In most of the world, electric car owners have few options for refueling outside of their homes. This lack of infrastructure is a stumbling block for motorists, used to more convenience. Though starting prices for the Leaf have dropped considerably, the car is relatively expensive, when stacked up against comparable gas-powered models.
Nissan Poised For a Strong Future Globally
In spite of these challenges, the future looks bright for Nissan's stockholders, who stand to reap rewards as infrastructure, policies, and consumer demand are likely to facilitate electric car dispersion. Additionally, Nissan's broad-based efforts could pave the way for a larger electric car industry overall.
Risk for Tesla Shareholders After Huge Run Up
As Tesla develops more affordable cars, the company will continue to face increased competition from companies like Nissan.
It may be prudent for Tesla shareholders to take some modest profits in their Tesla holdings after the stock's huge run up over the past year.
Disclosure: I have no positions in any stocks mentioned, and no plans to initiate any positions within the next 72 hours. I wrote this article myself, and it expresses my own opinions. I am not receiving compensation for it (other than from Seeking Alpha). I have no business relationship with any company whose stock is mentioned in this article.