Since John Chen took over as CEO, the impending turnaround of BlackBerry (NASDAQ:BBRY) has been a popular theme among financial writers and investors, and BBRY is up over 20% year to date. Today, BlackBerry posted a smaller than expected GAAP loss of $423 million, which will probably be cited as a sign of progress. There is no progress on the hardware front, however, as the BlackBerry handset sales continue to implode.
Falling Off a Cliff
Hardware sales and total revenue started to fall precipitously after a brief uptick in calendar 2013 Q2 as the Z10 handset was released with BB10 OS. In the chart below, I show percent change normalized to starting conditions as of calendar 2012 Q4:
Smartphone Unit Sales: 7.3 million
Smartphone Market Share: 3.5%
Total Revenue: $2.7 billion
Note: BlackBerry's fiscal quarters end a month ahead of the end of the calendar quarter, but for simplicity, fiscal revenue is charted for the calendar quarter in which the fiscal quarter ends. Smartphone unit sales and market share are from Gartner and IDC data.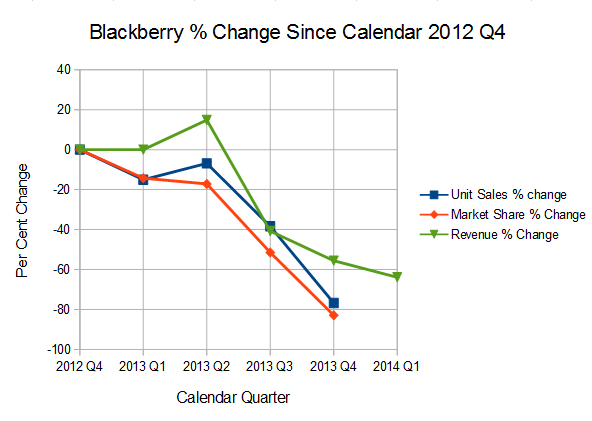 I don't bother charting GAAP net income, since last quarter's loss of $4.4 billion would completely skew the chart.
Phone unit sales are plunging rapidly towards zero. Despite a renewed focus on commercial and governmental customers, I don't really see anything to catalyze a turnaround. The Z30 isn't going to make any difference. It's a nice phone from a hardware standpoint, and the 5" AMOLED screen is attractive, but not remarkable. But then, the Z10 was nice hardware too.
The problem with BlackBerry phones isn't the hardware, it's the OS and the app ecosystem. Even with the long delay in releasing the BB10, the OS has been found wanting by customers. And for all practical purposes, there is no app ecosystem. No developer, looking at the sales trajectory of BlackBerry, is going to bother developing for it going forward.
Beyond the OS and apps ecosystem, BlackBerry's main problem is Windows Phone. Released slightly ahead of BB10, Windows Phone 8 was always gunning for BlackBerry's third place slot in global market share. By 2013 Q2, Microsoft (NASDAQ:MSFT) had pulled ahead of BlackBerry. Ever the darling of corporate IT, Microsoft can make an ironclad case for Windows Phone corporate adoption based on a simple assertion: Microsoft will still be around five years from now.
Again, it's the Ecosystem
Any turnaround scenario for BlackBerry has to assume the lack of a handset business, and there is some talk of BlackBerry becoming a mobile software and services company. It's conceivable.
QNX, the automotive embedded OS company that BlackBerry bought, provides the basis for BB10. QNX got a boost recently when Apple (NASDAQ:AAPL) demonstrated its in-car CarPlay system running on a QNX in-dash infotainment system. CarPlay allows Apple iOS devices to connect wirelessly to the QNX system. Drivers can make and receive calls through iPhone, access Siri, view maps and get navigation directions, and listen to music from their iPhone or iPad.
BlackBerry Messenger and BlackBerry Enterprise Services provide software that is platform agnostic, which is starting to look more and more like a really good thing. Will it be enough? I doubt it. Increasingly, consumers, whether corporate or individual, don't just buy devices, they buy ecosystems. In the consumer space, the iOS and Android ecosystems are much stronger, and here, the battle is all but over.
In the enterprise space, Microsoft offers a very complete ecosystem of services spanning servers, desktops, tablets and phones. Their cloud services will support messaging and email synchronization throughout all of Microsoft's OS offerings.
Microsoft can offer just about every system or service that corporate IT could wish for, including in-house cloud servers, desktop PCs, laptops and 2-in-1 convertibles, to Windows Phones. Being a one-stop shop for corporate IT gives Microsoft an insurmountable advantage over BlackBerry.
Force of Personality
Much of the optimism for a turnaround has been fueled by John Chen's well deserved reputation as a turnaround expert. His turnaround of Sybase is a textbook example of a successful corporate recovery, which will probably be studied in management schools for decades. But even the force of his personality and business acumen will not be enough to save BlackBerry. A handset company without a handset business is just not enough for him to work with.
Is a turnaround possible? Yes, but the most likely outcome is that BlackBerry is deconstructed into various pieces that are spun off or sold. QNX might make a viable stand-alone business. Someone might want to buy BlackBerry's software. And I'm sure there will be someone to take BlackBerry's patents. I doubt this is the outcome that has propelled the recovery in BlackBerry's stock price, which is why I say: Sell Now.
Disclosure: I have no positions in any stocks mentioned, and no plans to initiate any positions within the next 72 hours. I wrote this article myself, and it expresses my own opinions. I am not receiving compensation for it (other than from Seeking Alpha). I have no business relationship with any company whose stock is mentioned in this article.