The globe's population continues to grow, resulting in an increased demand for more and better food - particularly in Asian regions, Latin America, Australia and other developing nations. This increased demand for food enhances the demand for agricultural fertilizers, such as phosphate and potash. Potash is vital because it improves yield, water retention, nutrient value, color, taste and disease-resistance of food crops. Phosphate rock is equally vital for crop nutrition because crops need phosphorus, which performs a main role in plant photosynthesis, energy transfer and nutrient transport. However, the industry that produces these two fertilizers is facing some headwinds from the low prices of potash and phosphate over the past few quarters.
Also, soft demand from the Indian region added to the decreasing price of potash as the country has been producing sufficient inventory for its own use. This uncertainty in the market has put agricultural insiders - particularly potash and phosphate producers - under pressure. Consequently, the stock prices tumbled significantly during the middle part of 2013. After looking at the circumstances, I picked two leading giants in this industry, Potash Corporation of Saskatchewan (NYSE:POT) and The Mosaic Company (NYSE:MOS), to see where they stand amid the headwinds.
Where Does Potash Stand?
PotashCorp is an integrated fertilizer and other industrial and feed products company. Potash owns and operates five potash mines in Saskatchewan and one in New Brunswick. The company has struggled from instability in the prices of three key nutrients: potash, nitrogen and phosphate. Consequently, its revenues and earnings fell compared with 2012's. However, Potash is a well-diversified company with a strong business model and can bear uncertain blows. Its product diversification and additional nitrogen capacity partially offset the blow of lower prices. Further, the company restarted its ammonia capacity at the Geismar facility, which led the company to lower its per tonne production and increase sales volumes by nearly 20% over the past year. Phosphate prices are also compressed, but the company's diversity in phosphate provides relief from unrest. Its feed and industrial business also helps it overcome pricing pressure.
Nevertheless, after experiencing a difficult year, most of the indicators show stability in demand for nutrients. Farm economics are supportive, and the fundamentals of crop nutrition create an ongoing need to reinstate nutrients in farmers' soils. This helps lead to the stability in potash prices. China, Latin America and Asian countries should lead the demand for nutrients. PotashCorp's recently signed contracts with China can lead to record shipments of 55 million tonnes in 2014. China has limited potential to meet its domestic demand, which creates demand-imported agronomics. India has the potential to meet domestic demands, but the increasing need of food will force the country to engage in agronomic imports. Latin America and other Asian countries besides India will create substantial demand for all of Potash's key nutrients because these regions are aggressively pursuing a new supply to meet the needs of growers. In North America, the company has a strong order book in place, and it is expecting additional product needs to appear as the season opens.
Amid all this, Potash expects its earnings to go down again this year, somewhere between $1.40 and $1.80 per share. The downward trend in earnings raises questions on its dividend stability. Its payout ratio based on income has gone up over the past three years. Its payout ratio increased to 58% in the last year from only 6.9% in 2011. However, its cash generating potential remains strong as free cash flows are providing cover to the dividend payments. This year, I expect its cash flows might go down, mainly from a constant decrease in earnings. Looking at the circumstances, the company has reduced its capital expenditures to only $1.1 billion compared to the past year of $1.6 billion. The company also reduced its capital expenditure in 2013, which is down from the earlier year of $2.2 billion. The reduced capital spending is stabilizing its free cash flows to keep covering dividend payments.
Where Does Mosaic Stand?
Mosaic was also hit by the instability in phosphate and potash crop nutrient prices. Its earnings came down to $1.1 billion in 2013 from $1.9 billion in 2012 and from $2.5 billion in 2011. The prices have been lowering over the past two years, but still it managed record phosphate and potash volumes. Mosaic is in a good position to blossom again as the business cycle continues to recover. The company has rebalanced and has grown its business portfolio with recent agreements with CF Industries, including Florida-based phosphate facilities, for $1.4 billion, and has started to make a more proficient balance sheet by escalating leverage and returning capital to investors.
Its phosphate business has set record healthy shipments globally for the latest quarter. Prices of phosphate and potash also started to move because of a strong demand from North America. The company is further lowering its production costs to support margins. Further, it has recently announced $1 billion buyback programs to help stabilize earnings per share. Its cash flows came down significantly this year to $1.9 billion from $2.7 billion in the past year. Its capital expenditure was at $1.6 billion, and free cash flows were at $299 million. Its free cash flows are not covering the dividend payments of $427 million. The company wants to reduce its capital spending to support cash flows in 2014. It is expected that the company might invest around $1 billion in growth opportunities this year, which will enhance cash flows.
Are Potash and Mosaic Good Investments?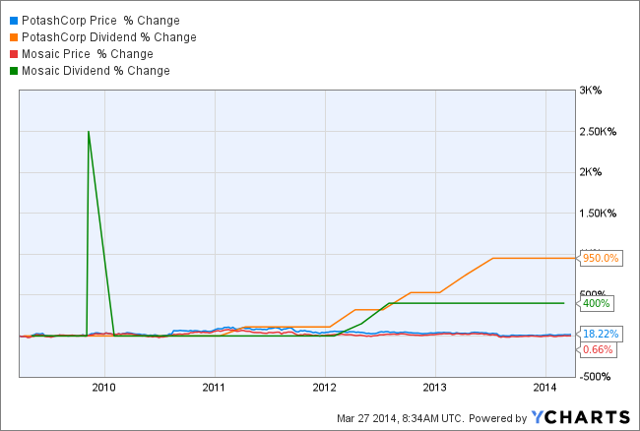 Both companies have returned significant cash to investors over the years in the form of dividend and price appreciation. Their dividend growth remains excellent. However, we have seen that both companies' business models depend on the pricing of potash, phosphate and nitrogen, which have kept falling over the past two years. This resulted in a continued downturn in their earnings and cash flows. It is expected that the downturn in earnings will keep going down this year as well, which will definitely impact their cash flows.
Nevertheless, these companies are taking measures to give support to their margins and earnings per share. They are strongly working on cost cuttings and buybacks to support earnings. Though the number of shipments and volumes are expected to increase this year, I'm not expecting a big movement in the pricing of products. Thus, these companies' earnings will likely keep falling this year as well. Though both companies are trading at attractive multiples, I don't recommend initiating a position in either company when their product prices are unstable. This puts red flags on their dividend stability. I believe investors should not put their money in companies when the rate of risk is too high.
Disclosure: I have no positions in any stocks mentioned, and no plans to initiate any positions within the next 72 hours. I wrote this article myself, and it expresses my own opinions. I am not receiving compensation for it (other than from Seeking Alpha). I have no business relationship with any company whose stock is mentioned in this article.