The energy companies continue to rally, with some of the market's favorite names doing quite well today. Our portfolios are being helped greatly by the moves in Gulfport Energy (NASDAQ:GPOR) and Halcon Resources (NYSE:HK), among others. As the year progresses, we think that investors should watch for periods to take profits in order to take some risk off of the table. We still like the idea of investing in only the best names, but also believe that one needs to diversify out among these names and search for value.
China has lit a fire under some of the commodity names, and although that is all good and well, it is merely a short-term trading move until something of substance is actually announced. In short, we are not placing trades today in an effort to benefit from this speculation but rather sticking to our belief that we need to take a longer view of how we deploy our capital.
Chart of the Day:
We made it through the closing and then subsequent restrictions on the Houston Shipping Channel this week after the oil spill without any serious supply disruptions. That is a win in our book and good for markets. After five days of either being closed or having restrictions in place for ships, the area has once again been opened up to all traffic.
After finding support and now having broken through the $100/barrel level we have to wonder whether WTI Crude is going to test its recent highs.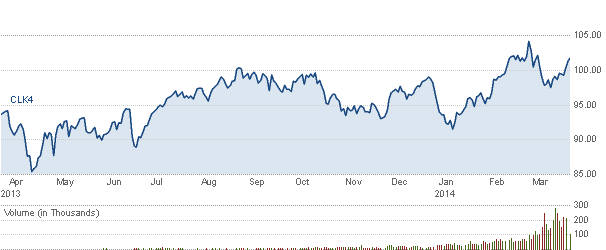 Source: CNBC
Commodity prices this morning are as follows:
Gold: $1,292.00/ounce, down by $2.70/ounce
Silver: $19.79/ounce, up by $0.082/ounce
Oil: $101.68/barrel, up by $0.40/barrel
RBOB Gas: $2.9302/gallon, down by $0.0124/gallon
Natural Gas: $4.498/MMbtu, down by $0.04/MMbtu
Copper: $3.0395/pound, up by $0.0465/pound
Platinum: $1,404.30/ounce, up by $7.10/ounce
Iron Ore/Coal Names Rising On China
There is a lot of speculation right now that China is going to do some sort of economic stimulus program after comments made in the last 24 hours. With that speculation we are seeing some of the iron ore names rise, with Cliffs Natural Resources (NYSE:CLF) grabbing our attention. It is the type of name that the day-traders latch onto during times like these and it should do well in the short term on any positive announcement. Sticking to the big names would be our game plan here, but the volatility will rise here as China makes big decisions regarding its economy.
Also benefiting from this news is Walter Energy (NYSE:WLT), which has a big metallurgical coal business and could see an uptick in orders if China's economy picked up once again. This is also a short-term trade on any news that the day-traders are latching on to at the earliest hint that something is up.
We would recommend that readers be careful when looking at these two names and thinking about trading them in hopes that China takes action to spur economic activity. The recent moves by China to spur their economy have worked at home but not necessarily led to resource stocks being impacted.
A Hawk Rising?
Halcon Resources is a name many readers know that we have been watching due to its underperformance in some of our portfolios. The idea was that we would evaluate the name to decide in the near term whether the company still had a spot in our portfolios or whether it was time to take our losses and walk away.
There is a lot of resistance around $4/share for Halcon, so although we are bullish we are still aware of the current situation with the technicals.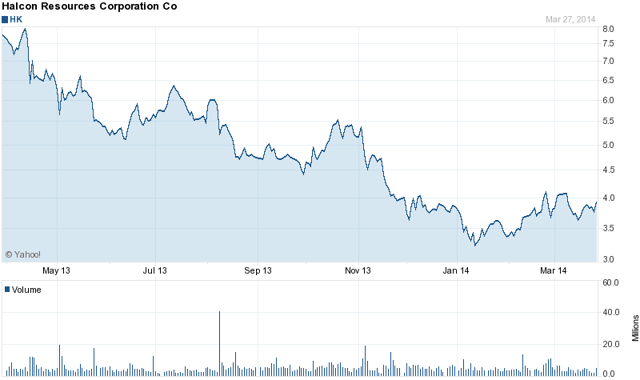 Click to enlarge
Source: Yahoo Finance
With their recent well results and the news out of the TMS, it seems to us that the narrative is changing... the momentum most certainly is. Halcon has deployed some new drilling techniques across their plays and the early results indicate that initial production from those wells is coming in above previous estimates. Taking all of this into consideration, along with their acreage positions they are developing, we think we shall stay for a while longer rather than pulling the cord now.
Breakout Continues
It is a very real possibility that EOG Resources (NYSE:EOG) could take out $200/share by the end of the week. Although we doubt that the move takes place during today's session, it seems imminent. Expect to see strong resistance at the $200/share level, not because the stock has been here before but rather because it has not and $200/share is an important psychological benchmark for investors. This stock has been on a run since finding support at the $160/share level earlier in the year, and with the results that the company has posted the past few quarters, it seems to us that $200/share will not be a high water mark should the first attempt at taking it out fail.
Disclosure: I am long GPOR, HK. I wrote this article myself, and it expresses my own opinions. I am not receiving compensation for it (other than from Seeking Alpha). I have no business relationship with any company whose stock is mentioned in this article.