ConocoPhillips (NYSE:COP) is a core long-term holding of mine. With the spin-off of Phillips 66 (NYSE:PSX) and the vast majority of asset dispositions in the rear view mirror, the major catalysts for total returns going forward are now:
A compelling dividend yield
3-5% production growth
3-5% margin growth
At 4.1%, the dividend yield is indeed compelling as it compares to Chevron (NYSE:CVX) at 3.5% and industry peer group laggard Exxon Mobil (NYSE:XOM) at 2.7%. I've written quite often in past articles about COP's production growth strategy. However, what about management's guidance for 3-5% margin expansion: is it realistic going forward? The answer is a definite "yes," and here's why.
A slide from this week's Howard Weil Energy Conference presentation shows graphically why COP's margin expansion story is such a realistic and strong catalyst moving forward: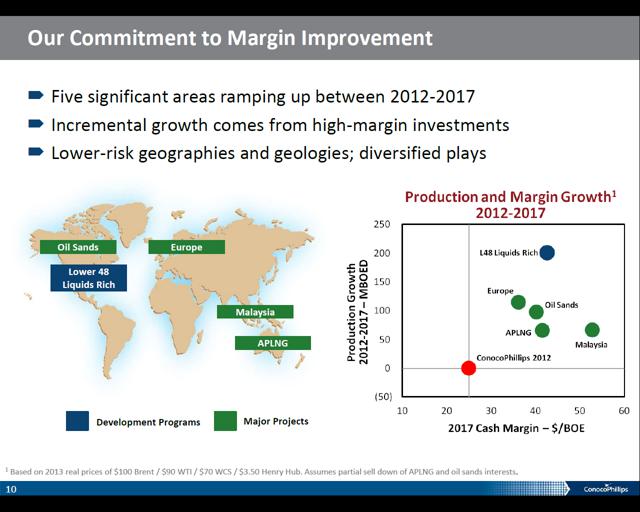 Looking at the chart above, the first takeaway is that lower-48 liquids rich development programs (blue dot in figure above) will add ~200,000 boe/day of production through 2017. The production will come from low-risk drilling projects primarily in the Eagle Ford, Bakken, and Permian Basin. Note the cash margins in $/boe for these projects are north of $40, roughly $15/boe higher than COP's 2012 $/boe (shown by the red dot on the graphic). That is 60% cash margin expansion per boe (in this operating region) in new production expected over the 5-year time frame.
New major projects coming online over the next 5 years will also deliver much higher cash margins/boe, including 50,000+ boe/day coming out of Malaysia at $50+ margins. Combined, the company will add ~500,000 boe/day of new production from these projects - all of which have significantly higher cash margins than the company's current average $/boe.
Much of the increase in margins is due to a production volume mix that is increasingly liquids based. In addition, the biggest gas production increases will come from LNG projects leveraged to higher international gas prices as compared to domestic dry gas. In 2013, ConocoPhillips sold liquids at an average price of over $85/barrel while natural gas realized an average price of ~$37/boe. Looking at slide 23 of the previously referenced Howard Weil presentation, we can see that the company expects ~95% of incremental volume additions out to 2017 will come from liquids: crude oil, oil sands, LNG, and natural gas liquids ("NGLs").
Indeed, a good indication this strategy is already working is evidenced by this slide: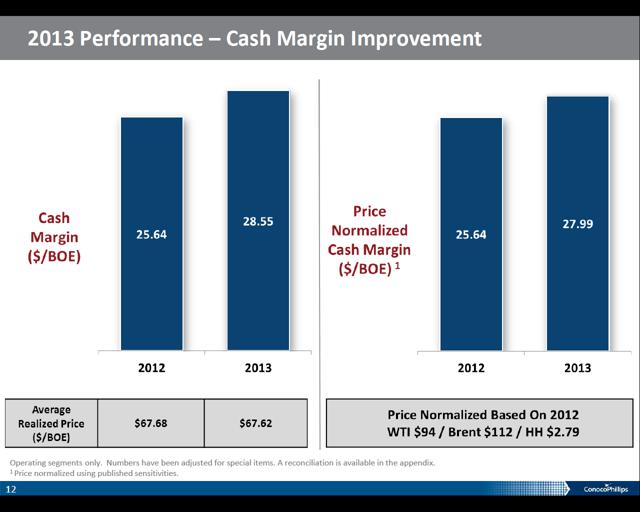 Note that cash margins per boe were up 11.4% YOY despite the fact that the realized prices were flat. Imagine the profit potential if realized prices (in particular dry gas) were actually to improve at the same time $/boe margins expand.
A subsequent slide in the presentation (not shown) predicts the company will generate ~$6 billion of incremental cash flow by 2017 from liquids production growth coming from regions with lower tax rates yielding cash margins of $40-45/boe.
Potential Financial Impact of Cash Margin Expansion
Here is some financial highlights from COP's 2013 annual report: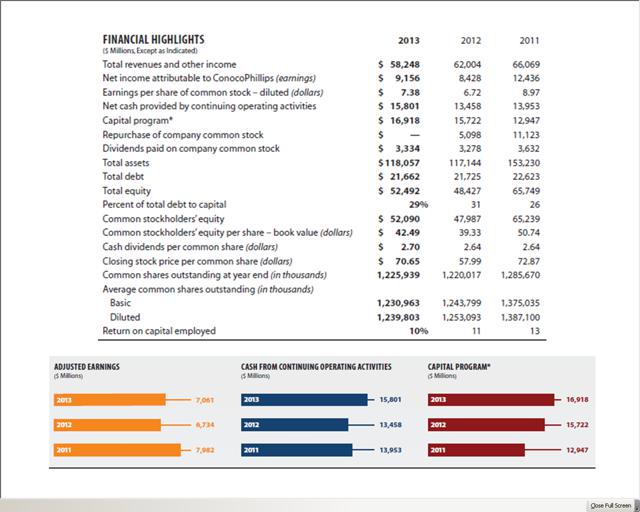 Annually, $6 billion in incremental cash flow from 2012-2017 is ~$1.2 billion per year. Comparing that to the fiscal year-end 2013 data shown above, the estimated impact would be:
~$1/share of incremental cash flow.
An overall CFO increase of ~7.6%.
Considering the shareholder friendly management at COP, it would not be unthinkable for the Board to allocate at least half of this increase in cash flow to shareholders in the form of dividends. Adding $0.50/share to the company's current $2.76 yearly payout gets us to $3.26/share, which would equate to a 4.7% yield at the stock's current level ($69.50). But remember, this is just from the increase in margins alone and does not take into account predicted production increases of 3-5%/year out to 2017. Nor does it take into account any share buybacks during the interim years. The point is this: COP's plan to increase cash margins/boe is not only achievable, but will have a very significant impact on CFO and ultimately on dividends for shareholders.
Conoco Phillips: Lower-48 Centric?
Before wrapping up, I would like to comment on the impression by some investors that ConocoPhillips has become a domestic centric company. Nothing could be further from the truth. Although I would agree the company's primary driver of production growth over the next several years will be led by the liquids production in the lower-48 (and Canadian oil sands), a look at the annualized net income sensitivities slide below shows that COP is almost twice as sensitive to a $1/barrel change in Brent prices versus WTI and over three times as compared to WCS: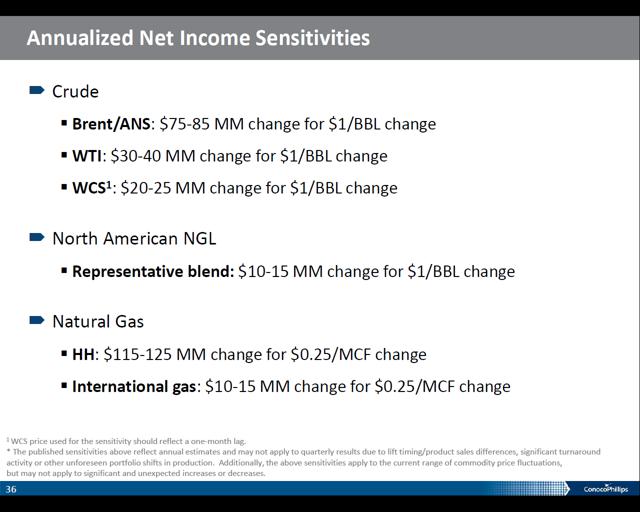 However, note the company is highly levered to domestic dry gas prices. COP is still the 7th largest natural gas producer in the US despite dry gas production growth being a non-priority. However, this is not necessarily a bad thing at this point. Natural gas prices have seen their trough in my opinion, and with LNG exports looming large on the horizon, COP is excellently positioned to benefit from that game changing development. A $1 increase in Henry Hub prices would be an increase of $480 million in additional net income ($0.39/share).
Summary & Conclusion
ConocoPhillips' plan to increase cash margins by 3-5% out to 2017 looks solid and achievable. This is evidenced by the company's ability to increase cash margins per boe by 11.4% in fiscal 2013 even as overall realized prices declined by $0.06/boe. Increased margins alone are predicted to increase incremental cash flow by $6 billion through 2017, or an average annualized ~$1.2 billion/year. That equates to ~$1/share. Considering the shareholder friendly management at COP, investors can expect at least half the increase in CFO ($0.50) to be returned in the way of increased dividends. That figure is the amount due from increased cash margins alone and does not take into account the 3-5% expected production growth. In addition, the company is in an excellent position to profit from firming domestic natural gas prices and the tremendous upside potential as the US moves toward exporting LNG.
I am sticking with my 2014 prediction as laid out in this year's first article on COP (5 Reasons To Own COP For The Long Haul), it should deliver a yearly total return of ~20%. With a P/E=9.4 and a dividend yield of 4.1%, the market appears either skeptical of the company's ability to execute its production and cash margin expansion plans, or is underestimating the powerful impact the plan can have on net income, dividends, and the effect these will have on the stock's ultimate valuation.
COP is a STRONG BUY and should be considered a long-term core holding for investors looking for dividend growth and exposure to the oil and gas space.
| | |
| --- | --- |
| Market Cap: | 85.39B |
| P/E (ttm): | 9.41 |
| EPS (ttm): | $7.38 |
| Div & Yield: | $2.76 (4.10%) |
click to enlarge)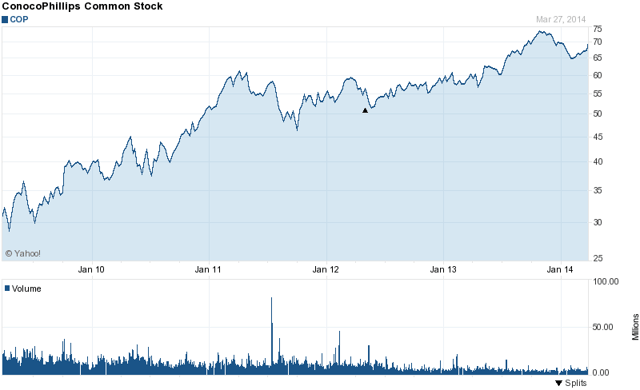 Disclosure: I am long COP, CVX, PSX, XOM. I wrote this article myself, and it expresses my own opinions. I am not receiving compensation for it (other than from Seeking Alpha). I have no business relationship with any company whose stock is mentioned in this article.
Additional disclosure: I am an engineer, not a CFA. The information and data presented in this article was obtained from company documents and/or sources believed to be reliable, but has not been independently verified. Therefore, the author cannot guarantee its accuracy. Please do your own research and contact a qualified investment advisor. I am not responsible for investment decisions you make. Thanks for reading and good luck!