Duke Energy Corporation (DUK) raised the quarterly cash dividend on its common stock by .5 cents to 24.5 cents per share. This action increases the annualized dividend from 96 cents to 98 cents. The dividend is payable on September 16, 2010 to shareholders of record at the close of business on August 13, 2010. This is the 84th consecutive year that Duke Energy has paid a quarterly cash dividend on its common stock.

Duke Energy had cash and cash equivalents of $1.1 billion at the end of the first quarter of 2010, compared with $1.2 billion at the end of the year-ago quarter. At the end of the first quarter, total debt stood at $17.2 billion with a debt-to-capitalization ratio of 44%. Total debt, however, was only $15.5 billion at the end of the first quarter of 2009 (debt-to-capitalization was 42%). A higher debt balance increased the interest expense to $210 million in the reported quarter from $184 million in the first quarter of 2009.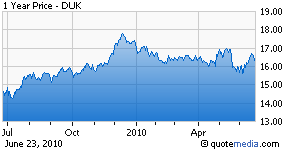 Duke Energy, a Zacks #2 Rank ('buy') stock, is one of the largest electric power holding companies in the United States. Its regulated utility operations serve approximately 4 million customers located in five states in the Southeast and Midwest, comprising a population of approximately 11 million. Its commercial power and international business segments own and operate diverse power generation assets in North America and Latin America, including a growing portfolio of renewable energy assets in the United States.

Duke Energy's stable U.S. electricity and gas operations, spread over the five states of North Carolina, South Carolina, Indiana, Ohio and Kentucky, generate a relatively stable and growing earnings stream. Looking ahead, our bullish outlook for the company is supported by higher rates, its strong balance sheet, ongoing capital expansion projects and an above average dividend yield for the industry.

Based on forward earnings estimates, Duke Energy is trading at a discount compared with peers such as ITC Holdings Corporation (ITC) and Northwestern Corporation (NWE).

The present unfavorable macro backdrop, fossil-fuel based generation assets, lower demand for electricity, foreign currency exchange volatility and pending regulatory cases continue to restrain valuation. Thus, we maintain our long-term market Neutral recommendation.