I've been following the solar industry since early 2013, and have also been paying close attention to several companies within the sector. In my previous report "Solar Is Hot Right Now; See What Stocks Are On The Rise", I cited several key points of interest as to why I thought solar was gaining an increased amount of exposure and popularity within the investment community. This included a Research and Markets Report depicting the growing demand for solar PV and other applications, as well as increasing investment in the modernization of relevant infrastructure, which would drive the global solar encapsulation market to more than $1.35 billion by 2018. So, as we approach the end of the first quarter in 2014, how has solar stacked up since the beginning of Q4 2013, and who are the leaders and laggards? Additionally, where do you feel this market is headed?
Representing a consistent gainer in my group of solar companies was second-largest U.S. solar manufacturer, SunPower Corporation (NASDAQ:SPWR). This didn't see massive highs as some of the next stocks did, but it did not see any pullback either. After starting at a price of $27.285 as of its October 1 close, SPWR has run up as high as 36% ($37.14, 3/5/2014), and closed the Thursday session out at $31.925. Earlier this month, SunPower's Price Target was raised from $38 to $42 by Baird, and it maintained an "outperform" rating for the stock. In an article published on Bloomberg.com, the company expects to sell nearly 300MW of systems this year from a factory in China, where SunPower now looks to capture a strong foothold in what has become the world's largest solar market. Sentiment remains positive, as the stock has risen 17% since Q4 of 2014.
While SPWR maintains a consistent uptrend, there are 3 other standouts that have continued to show percentage gains over the last 6 months. First Solar (NASDAQ:FSLR) recently presented an updated roadmap for its thin-film panels. This indicates that conversion efficiencies could improve significantly (as high as 19.5% in 2017), and illustrates that it will aim to focus on more commercial or utility-scale projects. FSLR has now moved up nearly 70% since the beginning of the fourth quarter in 2013, going from an October 1 closing price of $42.14 to a March 27 '14 close of $69.75.
Real Goods Solar Inc. (NASDAQ:RGSE) has also been found to be incredibly bullish over the last 6 months. After closing the first day of Q4 2014 at $2.67, this stock has come up as much as 111% after a March 11 intra-day high of $5.65. Undoubtedly, there has been something to be seen from the company's recent announcement to acquire Sunetric (a solar company in Hawaii) that's expected to close sometime in the second quarter of this year, as share price has come down 32% since hitting this month's high. Many are looking for a buying opportunity on this pullback, so I'll continue to watch RGSE closely through this acquisition process to find out how investors and traders will react.
Ellen Musk's Solar City (NASDAQ:SCTY), even though it took a hit recently, has still maintained a strong uptrend compared to Q4 2013. October 1 saw a closing price of $35.78, and as of today (3/27/2014), SCTY is up nearly 70%, going as high as $88.35 this year (148% increase over October's PPS) when it hit this PPS during an intra-day move on February 26. Despite the increase in price over the last 6 months, there are still some skeptics out there. CNBC contributor Herb Greenberg finds SolarCity's valuation to be "complicated". Mr. Greenberg expressed that SCTY's "retained value" is for projected years of 21-30, assuming there will be a 90% renewal rate, and the company has a forecast on the year for the end of 2014 of 475 to 525MW.
Rounding out my list of Top 5 Solar companies, I had to find a small cap (because that's what I do) that has continued to impress me time and time again. XsunX, Inc. (OTCPK:XSNX) announced late last year that the company would be moving into solar installation for commercial clients, and would also be offering the company's extensive background in the industry through additional consulting services. Since this announcement, the company has continued to focus on building sales and brand recognition in the Southern California region. In a January release, the company expressed that it has set a goal to reach 1MW per month in commercial PV installations. Since then, I actually had the pleasure of sitting down with the CEO, Mr. Tom Djokovich, to discuss his plans for the year ahead.
Of note, Mr. Djokovich stated that the surface has barely been scratched regarding the market for solar energy, and that he will be directing the company toward building its foothold in the commercial space, as compared to the more competitive residential or solar farm segments, mainly because of the overall market opportunity. XSNX has realized an increase of 250% from the beginning of Q4 2013 to today's closing price (3/27/14) of $0.014, with highs this year of $0.0182, or a 6-month increase in price of 355%. Obviously, small caps hold higher risk, but the overall sentiment in the market seems to have echoed into this space as well.
Who's lagging in this market?
As for the laggards, I'm seeing a trend for China, and leading the list are 3 companies that I started to watch right at the beginning of October last year. China Sunergy Co. (NASDAQ:CSUN), which has declined more than 25% since the beginning of 2013's 4th quarter. Though the company recently announced that it will be putting out its fourth-quarter and full-year 2013 results on April 4 of this year, there's really no telling what could happen between now and then. Today's closing price marks the stock's lowest PPS for the 2014 year, so whether this could be a buying opportunity on a dip is still meant to be seen, in my personal opinion.
Continuing on with the bears of solar is another China-based company, JA Solar Holdings (NASDAQ:JASO). I thought it showed some promise when I first reported it as a watchlist company, and though it hasn't dipped as low as CSUN (only about 5% overall since October), this stock has dropped to lows of $8.345 (February 5). On the company's most recent conference call, JA President, Mr. Jian Xie stated that JASO had favorable results from operations in the fourth quarter, as well as throughout the entire 2013 year. Notable achievements were and increase in the shipment of megawatts by 115.5MW, improving from 550 to 665.5MW. Additionally, the company's gross margin exceeded 15% and returned a net income of $23m, and Mr. Xie expects this momentum to carry into 2014. Results like these keep JASO on the fence for me, but for purposes of this article, this stock is still slightly red, but still worthy of the watchlist, in my own opinion.
Finally, closing out the list of solar stocks that have lost their heat is China-based Trina Solar Limited (NYSE:TSL). After closing Thursday's (3/27/14) session at $13.16, TSL not only hit its low of the year so far, but has also found itself down nearly 20% since the beginning of Q4 '13. In a recent report from Zacks Investment Research, the firm still gives TSL a "Zacks Rank #2 (Buy)", which may be based in part on "expected earnings growth". It's hard to really say at this point, but as for the time being, TSL has seen a sharp decline over the past 20 days, and will remain on cautious watch for me while we wait for Q1 results to come in.
Where is the Market Headed?
As for the industry itself, a report published by Portland-based Clean Edge shows that the landscape for alternatives has begun to change, with solar moving up in the rankings.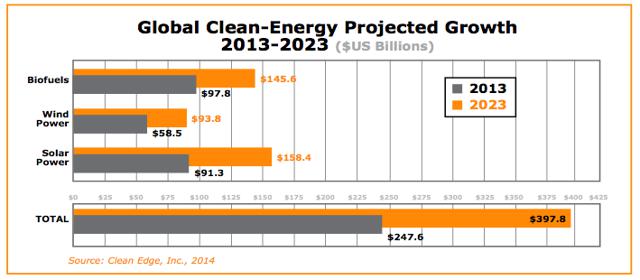 The report shows that for the first time since 2000, when Clean Edge first began reporting, the world installed more new solar PV generating capacity than wind power (36.5GW vs. 35.5GW); the global solar market continued double-digit growth of 18%, and increased to $91.3 billion. With the installed cost of solar expected to fall, Clean Edge projects that by 2023, the global cumulative installed solar PV capacity will surpass that of both wind power and biofuels. Additionally, the report found that the U.S. installed an estimated 4.2 GW of new solar PV in 2013, deploying more than Germany (an estimated 3.3 GW) for the first time in more than a decade.
In conjunction with these findings, a new study conducted by Eclareon has found that in 3 countries, commercial solar power hit grid parity in 2013; these countries include Spain, Italy, and Germany. Italy and Germany have largely cut solar feed-in tariffs, which has made solar policies much more stable, as noted in the study. Based on levelized cost of energy (LCOE) calculations, commercial solar now competes with retail electricity in these European countries. Grid parity occurs when an alternative energy source can generate electricity at a levelized cost that is less than or equal to the price of purchasing power from the electricity grid.
Certainly, the growth of solar has become noticeable over the last 5 years, and in my opinion, these last 3 (2011-2013) have been paramount. Beyond the cost advantages over traditional "Edison" energy, state and federal governments have also begun to implement tax advantages. The Iowa senate, for example, advanced a pair of proposals that would move the state forward with solar power and other forms of clean energy. The first and most notable bill would triple the amount of solar energy tax credits available to Iowa residents, farmers, and businesses.
Conclusion:
Based on the companies I've followed over the past 6 months or more within the solar industry, I would say that there might be a paradigm shift in the works, with the solar PV market leading the charge for alternative energy evolution. SPWR, FSLR, RGSE, SCTY and even small caps like XSNX are leading the way for growth, while a few of the laggards mentioned above continue to work toward advancement. More importantly, results continue to show that the market for solar grows year over year, and proponents go on to emphasize that the surface has yet to be scratched. As countries find power parity between solar and traditional energy, I feel that this may be just the beginning for the true emergence of a real alternative energy marketplace for the 21st century.
Disclosure: I have no positions in any stocks mentioned, and no plans to initiate any positions within the next 72 hours. I wrote this article myself, and it expresses my own opinions. I am not receiving compensation for it (other than from Seeking Alpha). I have no business relationship with any company whose stock is mentioned in this article.
Editor's Note: This article covers one or more stocks trading at less than $1 per share and/or with less than a $100 million market cap. Please be aware of the risks associated with these stocks.