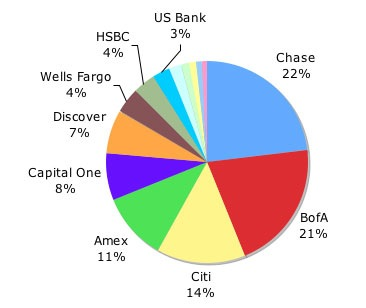 We all love the Overnight Trades, so on this down and out day, I though we should try another…
Overnight Trade: Discover Financial Services Inc. (NYSE:DFS)
Analysis: The credit card industry has been one of the toughest hit by the Great Recession. Credit card delinquencies and changes to credit card regulations. One such company, Discover Financial Services (DFS), the maker of the acclaimed Discover card, has seen its stock dip 50% over the past three years throughout the recession. The company, tomorrow, will be reporting quarterly earnings that should show the company turning to a profit in its Q3 of 2010 versus one year prior and sequentially. The company is projected to earn profits per share at 0.09. Last year, the company for Q3 earned profits per share at -0.18. A move to profit would be yet another great sign for the economy and DFS.
There is good reason to believe that Discover can have some great movement tomorrow out of earnings. The data coming out for the credit card industry is outstanding. Credit card delinquencies saw a decline for the fifth straight month as 2010 has seen more and more citizens being able to pay off their credit cards. In May, credit card delinequencies fell to 4.95% from 5.2% in April for Discover Financial Services. The company was second in delinquencies behind American Express for the month. The company will be reporting on the results of March - May. The company in March and April also saw their write-offs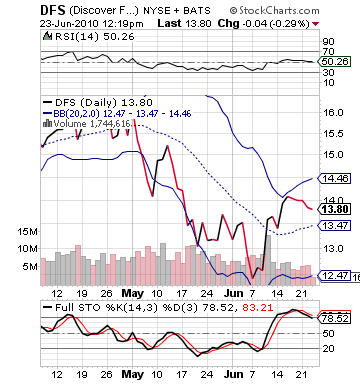 for debts that had been delinquent for more than 180 days dropped but then rose again in May. Delenquicies fell 9.1% year-over-year in April and 1% from March.
Discover's competitors American Express (NYSE:AXP), Visa (NYSE:V), and Mastercard (NYSE:MA) all had outstanding quarters in their latest quarters, beating expectations. Mastercard increased their profits in the latest quarter by 50% sequentially. Visa improved its earnings 25% year-over-year. Discover is looking to make the biggest gains among credit cards in its latest quarter, but the company is far behind in profits.
The trend during the Recession was to use debit cards and avoid paying off credit card debt. Yet, credit card companies are starting to finally see that credit card debts are being unleveraged and spending is being finally moved to credit cards again. Card transactions in 2008 and 2009 actually grew 8-9%. The problem was those gains were offset with delinquency and write-offs. As these decline, it is off to the races for Discover and credit card companies.
The company had a nice run in the beginning of 2010 with the bull market that we have had, but the company has actually dropped into earnings. At the beginning of the week, I though DFS was a great option, but it was too overvalued for a weekly play. Now, the stock has seen a rundown, and it is in a good position to have some room to move upwards before hitting a toppy point. The company's upper band is at 14.40s, which is about a 5-6% gain. I think the company's non-move upwards into earnings and the turn to profit is a great reason to believe that this stock will be making a major move tomorrow.
I would expect a nice rise into the close as well, so if it is 4% or so I am taking my profits today.
Entry: We are looking to get involved at 13.80 - 13.90.
Exit: We are looking to exit tomorrow morning after earnings or if we gain 4% or more after entry today.
Stop Loss: None.