Everybody's favorite company, Google (NASDAQ:GOOG), dropped again this week, hitting a low of $1,107 on Thursday and taking the stock down around 9% from its February high.
For some eager investors, this could well be the mild correction they have been waiting for in order to add to their already burgeoning holdings.
However, at a current market price of $1,114, Google is still not cheap enough to warrant additional exposure.
Moreover, the uncertainty that surrounds many of Google's business ventures, and the sheer number of these projects, means that Google investors could be looking at $900 a share before too long.
Overvalued stock price
Valuing a company such as Google is not an easy task but using a discounted cash flow model can at least give some idea of where to place the company.
Currently, Google trades with a twelve month trailing EPS of $36.05, while analysts currently estimate EPS growth of 16.87% over the next 5 years.
Therefore, if we assume a much more conservative estimate of, say, 12% over the next 10 years, dropping to 3% thereafter (in line with inflation), we come to a current valuation of $1,032, using a discount rate of 10%.
By this reckoning, Google is currently overvalued with no margin of safety to speak of.
We would therefore need Google to drop to around $830 in order to obtain a decent margin of safety of around 20%.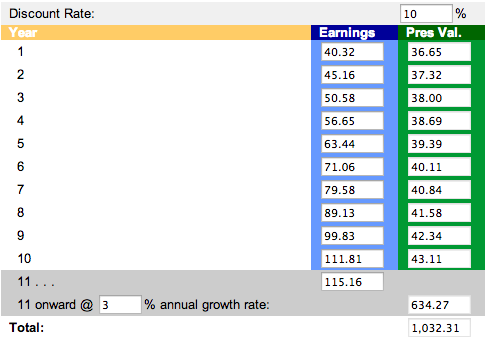 Source: moneychimp.com
Market playing catch up
While DCF provides some basis for finding a ballpark figure, it is also important to look at company earnings and for too long now, Google stock has been on the quiet upward march, even as the company has continued to miss analyst estimates.
Google has missed consensus sales estimates in seven of the last nine quarters, consistently missing out on its bottom line.
Last quarter, the company jumped 4%, despite posting profits that missed expectations once again.
This can surely only be put down to investor complacency. There is just so much money following Google, retail and professional, that the stock hardly ever lacks support, effectively giving Google a free ride.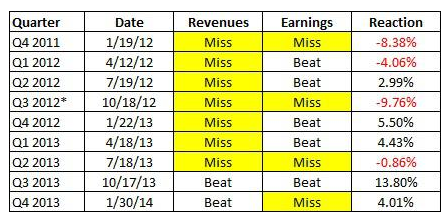 Recent Google earnings. Thanks to Bill Maurer.
Would Peter Lynch be a buyer?
When looking for investment opportunities, a free ride might sound attractive, but it usually requires a healthy dose of skepticism. And more often than not, it is an indication of danger further up the road.
The problem is, when looking at Google as an investment, I cannot help but be reminded of the wisdom of Peter Lynch, the uber-successful stock picker and author of One Up On Wall Street.
The thing I always remember Lynch saying is that it is infinitely better to find boring, overlooked companies than one the whole world is talking about.
"If I could avoid a single stock it would be the one in the hottest industry, the one that gets the most publicity, the one that every investor hears about it in the car pool or on the commuter train, and - succumbing to the social pressure - often buys."
Looking at Google, I can't help but think this is one of those hot stocks, the kind that every man on the street wants to go up.
"Diworsification"
But the thing that most concerns me about Google can be attributed to another one of Lynch's rules - that when a company diversifies its business so broadly, it lacks a core focus, and the whole firm begins to suffer.
Now it's obvious that Google has made some good acquisitions over the years, but Google has now taken over more than 140 companies in an almost random pattern of buyouts.
Internet security, wind turbines, photo editing and more recently robotic companies are just some of the many types of businesses Google has bought into, and it seems Google is just as likely to buy a firm for its talent than for its profit making ability.
In my view, taking on so many different businesses can only dilute the focus of the firm as a whole, and this fact creates too many uncertainties for accurate investment analysis.
"Bond-esque"
Not to mention the fact that many of Google's most innovative projects are kept closely under wraps, as part of the secretive "Google X" enterprise, and located half a mile away from the Googleplex itself.
There is Project Loon, an idea that aims to bring the Internet to everyone via a network of balloons flying in the stratosphere.
There is the "Web of Things," there is Google contact lenses, and there is the driver-less car. There is also the less than stylish Google Glass project.
Don't get me wrong, these projects are hugely exciting for the world and we should be grateful to Google for their existence. But from an investment point of view, there is too much "James Bond" and not enough shareholder value.
Indeed the situation reminds me of another of Lynch's best quotes, that you should "never invest in any idea you can't illustrate with a crayon."
In the case of Google, we might be able to use a crayon, but we would probably run out of paper.
Bottom line
Despite what I have said here, I do actually believe Google to be a company with an exciting future - just not at these prices at this point in time.
No company can march upward forever - just take a look at Apple (NASDAQ:AAPL) - and the time may well have come for Google shares to take a rest. That may happen now, or it may happen in six months time.
It may even happen in a couple of years and coincide with a much broader overall market decline where investors sell whatever they can get their hands on.
For now though, it is better to watch and wait. To get back on the Google train I will be waiting for a price much nearer the $900 mark.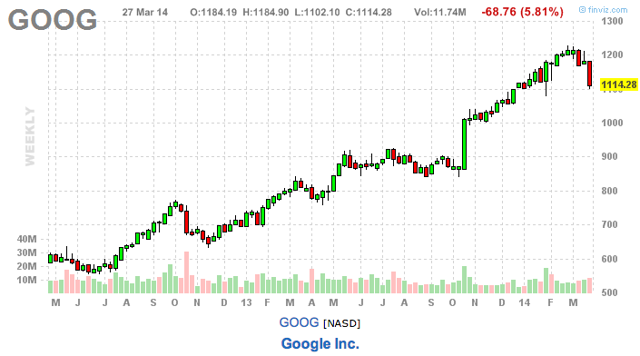 Disclosure: I have no positions in any stocks mentioned, and no plans to initiate any positions within the next 72 hours. I wrote this article myself, and it expresses my own opinions. I am not receiving compensation for it (other than from Seeking Alpha). I have no business relationship with any company whose stock is mentioned in this article.