Chinese social media service Sina (NASDAQ:SINA) Weibo has recently filed for a U.S. IPO. In this article, I analyze Weibo's 137K-word IPO prospectus to share my understanding of the document.
What is Weibo?
According to the IPO prospectus, "Weibo is a leading social media platform for people to create, distribute and discover Chinese-language content." This official definition is a good starting point to understand the company, but it does not show the whole picture of Weibo's business model.
I broke down the 137K-word IPO prospectus into single words, and counted their frequencies to determine the most frequently used words (Exhibit 1), excluding common words (the, of, and, to...) and common IPO terminologies (ordinary, company, ADSs...). From this table, I have reconstructed a one-sentence definition of Weibo using the 15 most popular words in the prospectus:
"Sina Weibo is an Internet marketing platform in China that uses its users' social content and social interest to generate revenues and income from online advertising customers."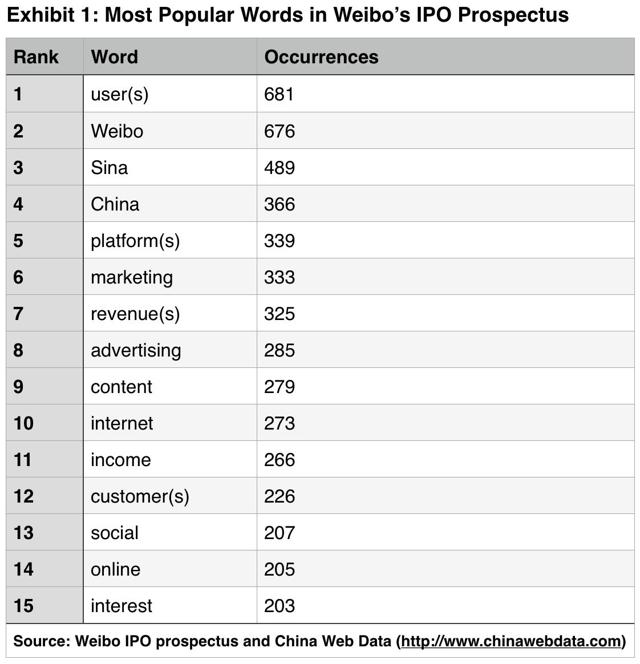 What is unique about Weibo?
In my analysis of the Weibo IPO prospectus, one interesting finding is that the word "feed(s)" was mentioned 158 times, much more than 22 times in Facebook's IPO prospectus and 2 times in Twitter's IPO prospectus. Here is the first appearance of "feed" in the Weibo prospectus: "Any user can create and post a feed of up to 140 Chinese characters and attach multimedia or long-form content." It is clear that by "feed," Weibo actually means "message," "update," or "Tweet." It is a single piece of content created by users. In contrast, in the Internet industry, "Feed" is used to describe a collection of frequently updated items that can be news articles, blog posts, status updates, etc. Its usage can be seen in "RSS feed,""Atom feed," and Facebook's "News feed." Weibo's innovative usage of "feed" helps differentiate it from other social networking services.
What is Weibo's strategic focus?
Another frequently used word in Weibo's IPO prospectus is "mobile,"which appeared 117 times in the document. Here is the first appearance of "mobile" in the prospectus:
"Designed with a 'mobile first' philosophy, Weibo displays content in a simple information feed format. With a limit of 140 Chinese characters per feed, the high information-density of Chinese characters and users' ability to personalize content information flow, Weibo is particularly suited for mobile use, and we have seen significant mobile adoption."
This statement by the company shows that Weibo has clearly identified the mobile platform as its strategic focus. This strategy is consistent with the growing trend that most of people's social networking activities take place on mobile phones.
In the "Our Strategies" section of the prospectus, Weibo's first strategy is mobile-oriented:
"We intend to continue to grow our user base and user engagement through improving our mobile functionality to drive the growth of our mobile user base, increasing our penetration in China, especially in less developed lower-tier cities…"
This statement shows that the next wave of Weibo's user growth will primarily come from mobile handset users in China's second-and-third-tier cities, as opposed to first-tier cities such as Beijing, Shanghai, Guangzhou, and Shenzhen.
Disclosure: I have no positions in any stocks mentioned, and no plans to initiate any positions within the next 72 hours. I wrote this article myself, and it expresses my own opinions. I am not receiving compensation for it (other than from Seeking Alpha). I have no business relationship with any company whose stock is mentioned in this article.