BlackBerry (NASDAQ:BBRY) just reported an earnings beat Friday morning. The stock spiked up dramatically then abruptly sold off.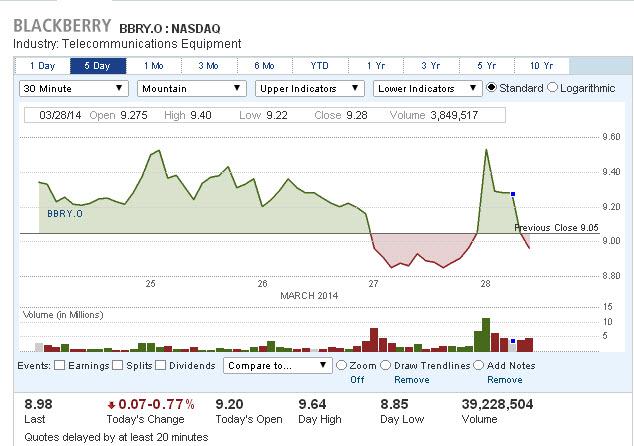 (Chart provided by CNBC.com)
What gives? How could this have happened? In the following sections I will a lay out my reasoning for this phenomenon and my continued bearish take on the stock.
BlackBerry sells off after an earnings beat
The company reported revenues of $976M, down 18% from the previous quarter and 64% year over year. Cash and marketable securities of $2.7 billion as of March 1st is off from $3.2B three months previous. CEO John Chen stated,
"We have significantly streamlined operations, allowing us to reach our expense reduction target one quarter ahead of schedule."
The company anticipates maintaining a strong cash position and continuing to look for opportunities to streamline operations, targeting break-even cash flow by the end of fiscal 2015. That is all well and good, yet it appears investors sold heavily into the strength.
The issue is the earnings beat was more related to cost savings than revenue growth. Although BlackBerry showed some progress on profit margins and did a bang up job on cost reduction and avoidance, revenues were down significantly. This means the company is shrinking, not growing. Not good news for a growth stock.
The new CEO had done a superb job of keeping BlackBerry off life support, but the company remains in the intensive care unit. I submit it will take a reversal of trend in top line revenue for the stock to begin trending upwards. Increasing, not decreasing, revenues is the key metric to follow signaling a return to growth. I'm not interested until this occurs.
The stock has trapped many investors underwater
The stock is up against major long-term resistance. Over the past few years the hopes of a BlackBerry turnaround have drawn many investors into the stock. Nonetheless, most have seen their high hopes dashed time and time again by the company. This has left a large cohort of long investors sitting on losing positions.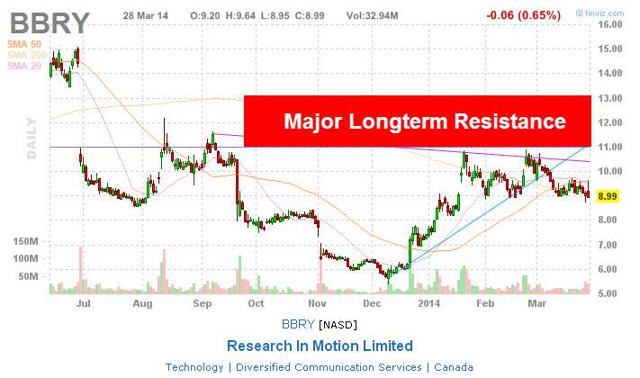 While new entrants into the stock bid up shares with high hopes of a massive pop due to the positive earnings beat, I posit other longer term holders of the stock were waiting in the wings for an opportunity to sell. Holding the stock over the last two years has been a brutal affair. It is a wonder anyone is still long the stock after the extreme swings in the share price. BlackBerry is going to have to do more than simply tread water to move up significantly.
Short interest is high and growing
Over the past few months the short interest has risen substantially from 93 to 105 million shares.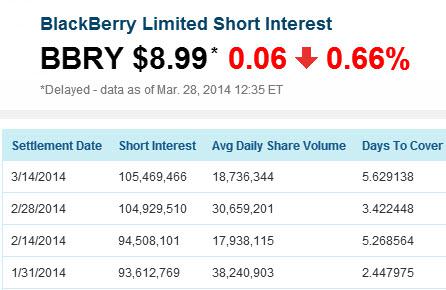 (Table provided by Nasdaq.com)
That is an approximately 10% increase in just a few months. It's not simply the increase in the short interest that spooks me either. The other foreboding fact is 32% of the float is short according to Finviz.com. This can either be a blessing in disguise or a curse. The stock may see a huge pop due to a short squeeze at some point. Yet, in the mea time, longs have to put up with the intense downward pressure. It seems the shorts failed to panic at the news of the earnings beat this time. This may embolden the shorts. Only time will tell.
The brighter side
BlackBerry beat estimates.
BlackBerry did beat estimates by reporting a smaller than expected loss. If the company can keep on this positive track, it may eventually recover. The new CEO is a turnaround specialist. I believe he may just pull it off, but it will be some time before we will know for sure.
BlackBerry's cash position is sustainable.
The new CEO is a turnaround specialist. He has done a fantastic job of keeping the fears of the company going bankrupt at bay. The company is managing cash flows well and no immediate need for an infusion of capital is necessary in the immediate future.
Conclusion
BlackBerry beat earnings estimates. Regardless of this the stock has sold off. With revenues down significantly the company still has a lot of work to do proving itself. A reversal of the downward trend in the top line revenues due to organic growth will be your key to jump back in. Further, the overhang long-term investors who are currently underwater on their positions and the shorts will make for a bumpy ride. I would avoid the stock for now.
Disclosure: I have no positions in any stocks mentioned, and no plans to initiate any positions within the next 72 hours. I wrote this article myself, and it expresses my own opinions. I am not receiving compensation for it (other than from Seeking Alpha). I have no business relationship with any company whose stock is mentioned in this article.