GrowthIncome Research and Management, LLC, shows why this list may be a contributing factor to the irregular high level of the stock price:
1. Premium
2. Yield
3. Declined Distributions
4. Other Algorithms
5. Declining Net Asset Levels
6. Follow-On-Offering
7. Chile Currency Devaluation
Pitfalls of a Managed Distribution: Currently Aberdeen Chile Fund (NYSEMKT:CH) operates under a managed distribution policy that pays "quarterly distributions at an annual rate that is a percentage of the rolling average of the Fund's prior four quarter-end net asset values."[1] Under this policy, their current distribution rate is 10%: a tall order under section 19 of the Investment Company Act of 1940. So how do they do it?
Rules and Regulations: Under Section 19(b) of the Investment Company Act of 1940 investment companies are not allowed to distribute long-term capital gains more than once every 12 months as
"it shall be unlawful in contravention of such rules, regulations, or orders as the Commission may prescribe as necessary or appropriate in the public interest or for the protection of investors…"[2]
However, there are some companies that are exempt from this rule, and Aberdeen Chile Fund is one of them. This allows the Fund to utilize long-term capital gains for quarterly distributions rather than providing capital gains once every 12 months to meet the requirements of their Managed Distribution Policy. In looking at CH's recent distribution statistics, this exemption is being utilized to its full potential.
Yet, this exemption is still not enough because Aberdeen Chile Fund estimates that it has distributed more than its income and capital gains, therefore requiring that a portion of the distributions may be a "return-of-capital" ("ROC"). Shareholders should not draw any conclusions about CH's investment performance from the amount of CH's current distributions or from the terms of the distribution policy as providing this return has proven to be a tall order.
Yet, Some Still Do (See www.growthincome.net):
1. The Premium: Aberdeen Chile Fund's attractive annual dividend yield of 10.6% has helped the stock soar to a current premium of +21.5%. ("52 Weekly Average" is a premium of +10.3%) CH's stock premium is fifth (5th) from the top of the CEF's premium list.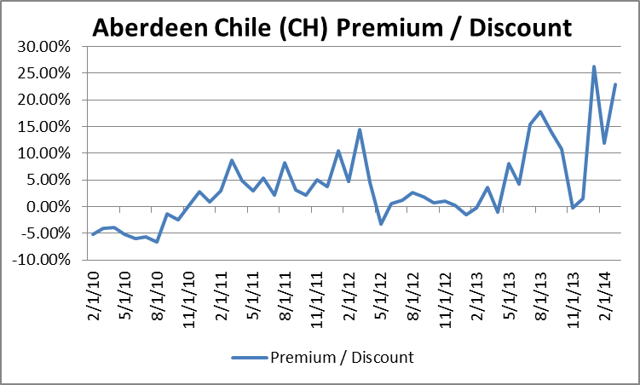 2. Yield: In order to see how CH is producing their managed distribution, we have produced a "Yield Matrix" for 2012 and 2013 to show where these distributions came from: net investment income (NII), short & long-term capital gains and return-of-capital. This "Yield Matrix" is divided into 3 parts:
a. Basic Data: Dividend Ex-Date, Dividend Yield and Yield Per Share;
b. Dividend Per Share: broken down into its relevant sources;
c. Yield Per Share: broken down into its relevant sources
For 2012 and 2013 net investment income makes up only 1.1% and 0.7% of the total distribution. In addition, long-term capital gain makes up 6.5% and 5.5% respectively and return-of-capital makes up 2.4% and 5.0% respectively. (See Calendar Year 2012 and 2013 below on chart 2.)
For the first quarter of 2014, CH looks to continue on this path with only 0.1% of the dividend coming from net investment income and 2.6% coming from return-of-capital. A quarterly distribution yield is now set for late-June. A return of capital distribution does not necessarily reflect the Fund's investment performance and should not be confused with "yield" or "income."

3. Declining Distributions: CH's quarterly distribution has declined from $0.51 in 12/28/11 to $0.31 per share in 3/20/14, representing a decline of 39.2%. However, the premium has gone up.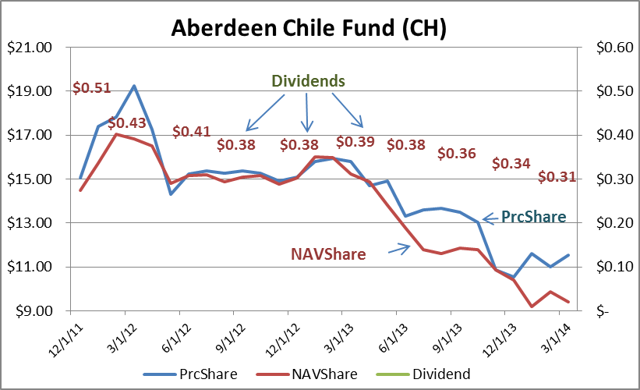 4. Other Algorithms: We have also compared the stock price on Ex-Dividend Dates with the stock price at the following "pre-Ex-Dividend-Dates" (the day before the Ex-Dividend-Date). The "Pre/ExDate was 6.2% (11.67 / 10.99 = 6.2%). However, once those 12 calculations were completed, the stock prices had fallen to -3.2% (Pre/ExDate; Average).

5. Declining Net Asset Levels: The current total net assets are about $88.4 million with no leverage. The NAV per share has gone down about 48.3% from 2/26/10 to 2/28/14 and the share price level has gone down about 40.0%. However, the discount was -5.2% on 2/26/10 and today it has a premium of +22.8%.
6. Follow-On Offering: There may likely be follow-on offerings for the purpose of raising capital to pay dividends. This practice is not uncommon. Cornerstone's CEFs (Cornerstone Strategy Value [CLM], Cornerstone Total Return [CRF] and Cornerstone Progressive Return [CFP]) have had a string of follow-on offerings to meet their monthly annualized dividend yield of 18.3%.
7. Chile Currency Devaluation: Chile has seen the value of its currency depreciate significantly. It has fallen over 5.0% against the dollar so far in 2014, and fell 9.0% during last year. CH is currently strong in Chilean financial and consumer staples, which represents about 44.0% of its current portfolio. Chile's economic growth has nearly slowed to a four-year low, in part because of tumbling copper prices. Chile is a top copper exporter.
Exceptions: Currently there are only 6 CEFs with Latin-American Equity. CH is the only one of these 6 funds that is trading at a premium. The other 5 funds trade at an average discount of -8.5%. However, if you are still attracted to CH's yield, you might want to look at the Mexico Fund (NYSE:MXF), which currently has a yield of about 10.8% and the discount is -0.2%.
Joe Eqcome
---
[1] Aberdeen Chile Fund, Inc. Annual Report - Form N-CSR December 31, 2013
[2] Investment Company Act of 1940 Section 19(b)
Disclosure: I have no positions in any stocks mentioned, and no plans to initiate any positions within the next 72 hours. I wrote this article myself, and it expresses my own opinions. I am not receiving compensation for it. I have no business relationship with any company whose stock is mentioned in this article.