Since SodaStream's (NASDAQ:SODA) strong showing at the International Home and Housewares (IHH) show, the stock has shown strong signs of strength, rising by more than 11% in roughly 10 trading sessions. On March 17th, which was the first day of trading after the weekend of the IHH show, shares of SODA have surged from $39.77 to a peak of $44.40. This type of move in a market that has been basically flat during the same time period is usually not without its merit. So why the strong performance from shares of SODA, and at quarter's end, when fund managers usually eliminate some of their losing positions?
First and foremost, SODA's valuation is fairly cheap when positioned against other companies, growing the time line at nearly 30% last year. The forward-looking multiple on SODA is only 20 times FY14 earnings, based on analysts' estimates. Any slight outperformance in earnings in the coming quarters puts the stock in an even more value-oriented position for shareholders at recent share price levels. To speak frankly, when has SODA ever really shown the appreciative valuation it has reasonably deserved over the last 3 years. I can probably list the number of companies growing top line at roughly 20% and with a multiple to match on one hand. With that being said, the investing community really doesn't have a similar business to model SODA after; maybe Keurig Green Mountain (NASDAQ:GMCR), but comparing a more needs-based coffee maker company to a lesser needs-based soda maker company isn't the right comparison either. Martin Costa of Capital Ladder Advisory Group has said many times when answering questions on SODA's valuation, "If you don't get the valuation, you ain't gonna get the valuation, and don't try to compare it to anything else, because there aren't any other soda maker companies out there". Moving on then!
Since SodaStream's guidance for FY14 revenue growth is half of what it was a year ago, and the company is only expected to grow earnings per share slightly above a year ago, why buy this stock at all? Surely, there are other opportunities out there, right? Sometimes, a company's guidance is inclusive of what the company sees in the sales channels today. Sure, a company understands what its prospects are for the year. But what if these unnamed prospects are sizable, yet not likely to occur for the next several months, maybe even 6 months? Anything can happen over a 6-month time period, and if a company submits guidance to investors which includes a sizeable sales prospect, and said sales prospect doesn't come to fruition, well, that guidance will be extremely hard to achieve and could impact the stock price greatly. For this reason, many companies issue modest guidance, knowing the potential is within the company's sales channel to show meaningful outperformance of the issued guidance.
If we think back to Q3 last year, we can recall that syrup sales only grew at 8% in the quarter vs. the prior year-ago period. Naturally, everyone panicked and believed that syrup sales were going to continue to fall off a cliff. SodaStream's CEO said that syrup sales would once again accelerate in the next quarter, as the company was nearly halfway through the quarter upon this declaration, and they certainly did, growing at 32% in Q4 vs. the same period a year ago. This example basically demonstrates when and where a company can be boastful or bashful with guidance.
Now I'm going to ask investors to remind themselves of a somewhat simplistic slide from SodaStream's presentation at the ICR XChange conference in January of this year.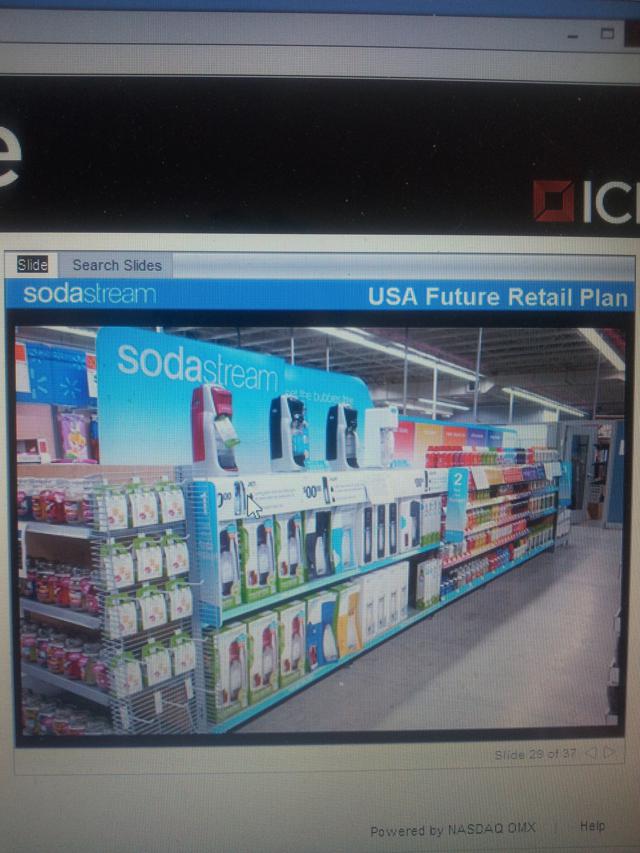 Notice at the top of the slide, where it says "USA Future Retail Plan". If one looks beyond the large SodaStream sign in the slide/picture, they can see the distinct sign of the Wal-Mart logo hanging, as well. This slide represents about 20 linear feet of SodaStream product at Wal-Mart as a planned shelf-space expansion at the retailer for this year. This would be the largest linear footage designated to SodaStream product in the nation, only to be rivaled by that of Bed Bath and Beyond's (NASDAQ:BBBY) dedicated linear footage for SodaStream products. Currently, SodaStream has about 4 linear feet of shelf space at Wal-Mart, so the planned expansion is for 5 times the current shelf space allotted to SodaStream. That's the kind of math that I'm not good at, but I'm glad I understand the term "multiply". Going from 4 feet to 20 feet of shelf space at Wal-Mart is the equivalent of adding new stores, and could represent a meaningful pipeline build that wasn't originally offered in SodaStream's FY14 guidance. Simply count the number of machines and syrups on the shelf in the slide/picture and compare that to your current store display.
Exactly how meaningful this slide presentation from the ICR XChange is might depend on how many Wal-Mart stores will offer SodaStream this amount of space. Moreover, the shelf space alone acts as a brand ambassador for SodaStream at Wal-Mart. Imagine if a consumer was on the shelf regarding whether or not to buy a SodaStream, and they saw 20 feet of display space at Wal-Mart. The sheer size of the display and breadth of options may be the very thing that pushes that consumer from intending to purchase, to an outright purchase. This type of display shows the consumer this is a product that has purpose, relevancy for the consumer, and is here to stay.
So to keep it short, and in closing, there is always a reason as to why a stock performs one way or the other. In the case of SodaStream, we have been made to understand that there is potential for the company to outperform its stated FY14 guidance, and we look to the IHH Report and this ICR XChange slide/picture for a couple of reasons investors are currently buying into shares of SODA nearing the end of the quarter, when they typically sell out of shares of SODA.
Disclosure: I am long SODA, BBBY. I wrote this article myself, and it expresses my own opinions. I am not receiving compensation for it (other than from Seeking Alpha). I have no business relationship with any company whose stock is mentioned in this article.