Back in January, I predicted that three companies would soon become Dividend Achievers - an elite group of companies with 10 or more years of increasing annual dividend payments.
Sure enough, CVS Caremark (NYSE:CVS), Texas Instruments (NYSE:TXN) and Qualcomm (NASDAQ:QCOM) were added to the Nasdaq U.S. Broad Dividend Achievers Index last week.
These companies, along with Intel (NASDAQ:INTC) and Dominion Resources (NYSE:D), are the five largest companies being added. You can view the full list of index changes here.
Now, to be fair, determining which specific companies will join the index ahead of time is the easy part. The true challenge is evaluating how the new additions will affect the index as a whole.
And based on my analysis, these newcomers are about to provide the index with a massive injection of invigorating dividend growth. It's why I'm calling them "performance-enhancing dividends" (PEDs).
Pumping the VIG Full of Steroids
No, I'm not talking about those PEDs, otherwise known as performance-enhancing drugs. Nonetheless, these PEDs will help to strengthen the Vanguard Dividend Appreciation ETF (NYSEARCA:VIG), the fund that tracks the Dividend Achievers Index.
Let's take a look at how the group of 40 new additions, excluding real estate investment trusts, stacks up against the 145 current constituents of VIG. Since VIG is a market cap-weighted ETF, I'll weight the stocks based on their size in order to compare the two lists: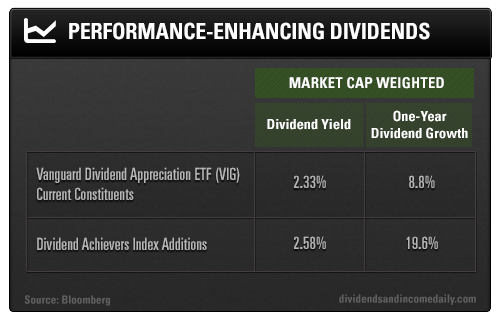 As you can see, the new additions are growing their dividends at a rate that's more than double that of the index veterans. As I've shown before, fast dividend payout growth is the key to outperforming the market.
In this case, the index newcomers are not only growing their dividends at a quicker pace, but their dividend yields are also higher. So it looks like we're getting the best of both worlds!
You'll notice that the weighted average dividend yield for the constituents of VIG is higher than the dividend yield for the ETF itself. This is because the ETF caps the weighting of each stock in the fund at 4%, regardless of how large a stock's market cap is relative to that of the other constituents.
This weighting cap may reduce the dividend yield of VIG, but it's actually beneficial because it creates a more balanced portfolio of holdings.
Building Muscle Mass in Underdeveloped Areas
Now, let's take a look at how the new additions will affect the sector composition of VIG.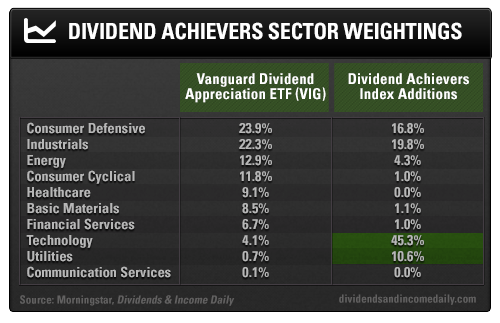 As it turns out, the new index additions will boost VIG's heft in the technology and utilities sectors, two sectors with very low weightings in the fund. Therefore, the new additions will make VIG more balanced from a sector perspective.
This is one of the reasons why I favor VIG over the iShares Select Dividend ETF (NYSEARCA:DVY) and its 35% weighting in utilities. So, there's a lot to be excited about with this new class of Dividend Achievers. VIG is getting more yield, dividend growth and diversification.
With its excellent total return performance since inception, razor-thin expense ratio of 0.1% and dividend-grower focus, VIG is still the gold standard of dividend ETFs. And as I've shown, the new additions only make this excellent ETF even stronger.
Disclosure: I have no positions in any stocks mentioned, and no plans to initiate any positions within the next 72 hours. I wrote this article myself, and it expresses my own opinions. I am not receiving compensation for it. I have no business relationship with any company whose stock is mentioned in this article.
Additional disclosure: Dividends & Income Daily is a team of financial researchers. This article was written by our Editor-in-Chief, Alan Gula, CFA. We did not receive compensation for this article, and we have no business relationship with any company whose stock is mentioned in this article.