According to an entry in Wikipedia:
An aristocrat is a person of a social order considers in the highest social class of that society. Specifically, in monarchies, the aristocrats are a class of people who either possess hereditary titles granted by a monarch or are related to such people. In some societies-such as Ancient Greece, Rome, and India-aristocratic status may derive from membership of a military caste, although it has also been common for aristocrats to belong to priestly dynasties in lieu of this, as is the case in polities all over the continent of Africa. Aristocratic status can involve feudal or legal privileges. They are usually below only the monarch of a country or nation in its social hierarchy.
For us commoners, we are not and never will be aristocrats. We may make millions of dollars, buy the finest treasures, and speak in 'aristocrat' babble, but aristocracy is something that we can never earn on our own. We can marry into an aristocracy, I guess, that may be the only exception. But chances are, if you're reading this, you're not an aristocrat. If on the other hand it's being read to you, well, maybe you are.
Unlike in the real world, however, in the world of equities, you can actually buy your way in to the aristocracy. The price? 25 years of consecutive dividend growth, through good times and through bad, in sickness and in health… sorry, I was getting carried away on the whole concept of marrying into an aristocracy. All kidding aside, a company can be included in the S&P Dividend Aristocrats index if it has increased its dividend for 25 consecutive years. So while it is not impossible, it certainly requires a little bit of patience.
Index Definition
The Dividend Aristocrats index is an equally weighted index made up of companies that have increased their dividend payouts for 25 consecutive years. The only other requirements of note are that the companies must be members of the S&P 500 and the stock must meet minimum float-adjusted market cap and liquidity requirements. There are other guidelines that must be met at the index level such as minimum number of stocks and diversification, but I will not go into those here.
What I would like to highlight is that the primary requirement of 25 years of consecutive dividend increases is both a feature and a drawback of the index. For example, investors in any of the companies included in the index can sleep well knowing that each of those companies has succeeded in creating financial stability, predictable revenue and cash flow growth, and just as importantly, implemented a dividend paying policy that returns capital to shareholders.
The drawback of this requirement is that it takes 25 years for a company for a company to be added to the index. Wouldn't it have been nice to identify these companies when they had only increased dividends for 5 consecutive years? Or 10 consecutive years? This way, shareholders would have been able to benefit from 15-20 years of dividend growth. After all, what are the risks that the constituents of the index will continue to grow dividends? Unfortunately, the index does not predict future dividend growth and we've all heard the old saying, if we haven't read it in a disclosure; past performance is not indicative of future results.
The accomplishment is quite impressive however, considering many of these companies have had changes in management over the years, have been through not one but at least two crises, and probably had their fair share of strategic change, operational challenges, and competitive rivalry that all could have derailed a dividend growth policy. It speaks to the corporate culture of these companies that new management has stayed the course that was set by predecessors, when more often than not, a new CEO comes in to make dramatic changes, such as Tim Cook initiating a dividend by Apple (AAPL) after the passing of Steve Jobs. Many of you might recall Steve Jobs' reluctance to pay a dividend.
Unfortunately, as I previously mentioned, the index doesn't identify possible future members.
Diversification
The index includes companies in all 10 Standard & Poor's (S&P) sectors so it provides adequate choices for an investor looking to diversify his portfolio. It's not uncommon to see many dividend focused strategies weighted towards specific sectors, such as financials, utilities, and consumer staples. A look at the sector breakdown for the index confirms that there is still some level of sector concentration in Consumer Staples, Industrials, Healthcare, and Materials.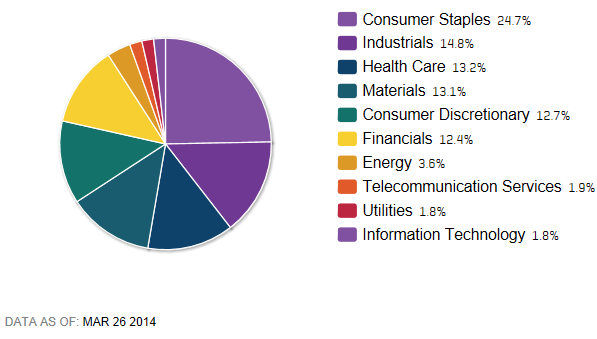 The other interesting point to make is that the 25 year rule allows for some flexibility on dividend yield in that it doesn't require a specific dividend yield only that the dividend payments have increased for companies to be included. Dividend yields don't have to be at a certain level, they just have to have increased for 25 consecutive years. The dividend yields on the companies currently in the index range from 0.6% to 5.8%, which means that certain companies excluded from other 'high dividend' indices may still be included in the S&P 500 Dividend Aristocrat Index.
Five Aristocrats
To find a few potential investment opportunities, I screened the S&P Dividend Aristocrats index for companies that met the following criteria:
Return on Equity above 15 - I am looking for high quality companies, but I also want to make sure I'm getting a high ROE.
Beta below 1 - Since I'm looking for dividend growth and want to protect as much capital as possible, I want companies with less sensitivity to the market (S&P 500). The S&P 500 had a return of 32% in 2013 and is expected to have positive returns, albeit more modest returns, in 2014. If there is an unexpected pullback in the short-term, I would like to minimize my volatility.
Debt to Equity below 50 - these are great companies and they have had great performance, at least good enough to be able to increase dividends for 25 consecutive years. But I want to make sure that each of these companies remains financially stable and has minimal risk of not being able to meet its obligations over the short term.
Payout ratios below 60 - the index is designed to identify companies that have historically increased dividends, but I want to make sure the companies can continue to increase dividends in the future. A reasonable payout ratio gives a company flexibility to continue to pay dividends even when cash flows may suffer from time to time.
New addition - I wanted to evaluate one of the rookies in the group. It also happened to have the highest dividend yield of all the companies in the index.
Finally, I also wanted to analyze a diverse group of companies so I chose companies that met the criteria above and did not choose two companies from any given sector.

Click to enlarge
A summary of the 5 year dividend history and fastgraphs for each of the 'aristocrats' is shown below.
AT&T (NYSE:T)

Click to enlarge
Valuation on the stock looks relatively attractive with a price target of $54.75 if we use the long-term average multiple and apply it to future earnings.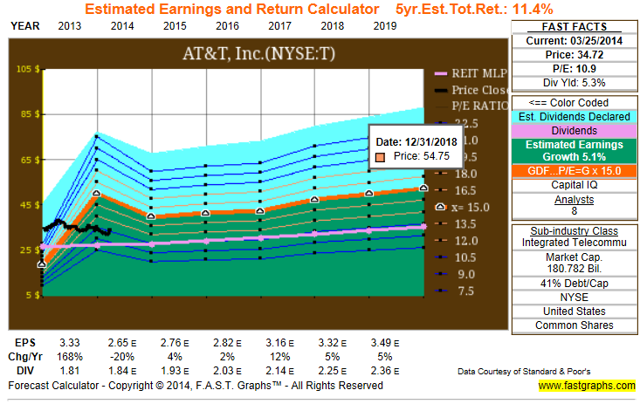 Click to enlarge
Coca Cola (NYSE:KO)

Click to enlarge
Coca Cola looks a bit stretched on valuation and it may be advisable to wait for a pullback, but it currently pays a 3% dividend yield and has a very robust 25%+ return on equity.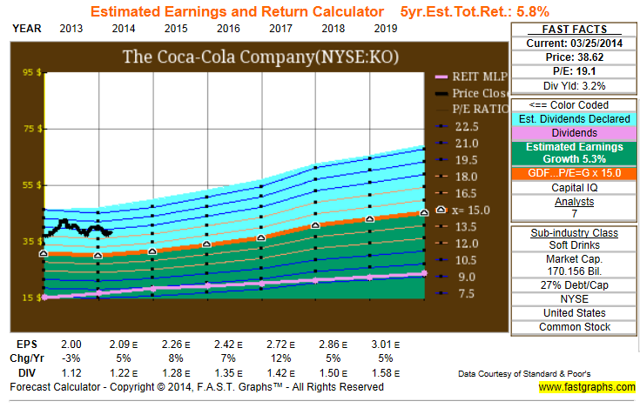 Click to enlarge
Exxon Mobil (NYSE:XOM)

Click to enlarge
Exxon Mobil can be an excellent energy play and looks to be slightly undervalued and a very strong financial position, featuring a .04 debt/equity ratio.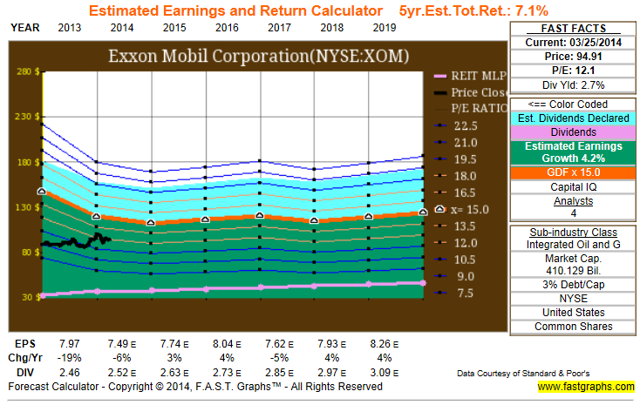 Click to enlarge
Johnson & Johnson (NYSE:JNJ)

Click to enlarge
Johnson and Johnson also looks fairly valued without much upside on price appreciation, but EPS growth estimates are in the high single digits and the dividend is expected to increase by more than $2 by 2019.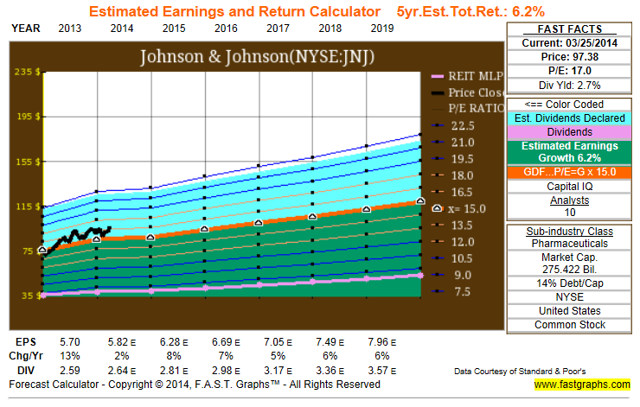 Click to enlarge
McDonald's Corporation (NYSE:MCD)

Click to enlarge
Once again, it looks like high quality companies trading at a discount are hard to come by. McDonald's also seems to be fairly valued but does sport high EPS growth estimates and has both the lowest beta to the S&P 500 and the highest return on equity over 1 and 5 year periods. While price appreciation may be minimal over the next couple of years, investors may be pleasantly surprised and be paid a dividend while they wait.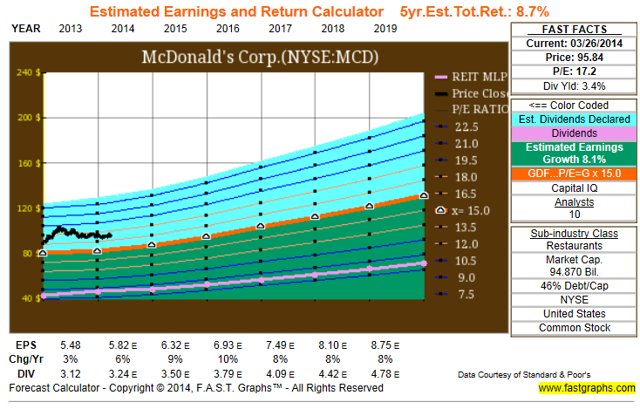 Click to enlarge
Buying into the Aristocracy
Investing in the S&P 500 Dividend Aristocrats index can be done through the ProShares S&P 500 Aristocrats Index ETF (NYSEARCA:NOBL) and if you are a passive investor, this may be the best option for you. A better option in an environment where correlations have declined is to be a bit more selective within your portfolios and choose individual stocks from the index that complement the rest of your holdings.
I have provided a few options here that despite the fair valuation on three of them, are stocks that have provided above average returns to shareholders, while also limiting sensitivity to the broader S&P 500 index and positioned to surprise on the upside on both price appreciation and dividend growth.
Good luck to everyone and thanks for reading.
Sources: Standard & Poor's, Morningstar, Fastgraphs
Disclosure: I have no positions in any stocks mentioned, and no plans to initiate any positions within the next 72 hours. I wrote this article myself, and it expresses my own opinions. I am not receiving compensation for it (other than from Seeking Alpha). I have no business relationship with any company whose stock is mentioned in this article.