Many pharmaceutical companies will lose their drug patents in 2014, which will result in the loss of billions of dollars in revenues for big pharmaceuticals. The year 2014 seems to be a challenging year for Eli Lilly & Co (NYSE:LLY) with two of its major products facing generic competition. Hence the pharmaceutical company is trying hard to come up with blockbuster drugs that can revive its performance. This made me change my stance on the company as ascertained by my previous article. The purpose of this article is to look at some of the aspects that ascertain that the company is on the right path and is moving towards a bright future.
Late Stage Trio: A Catalyst
Eli Lilly received a recommendation for its diabetes drug Jardiance or empagliflozin from the Committee for Medicinal Products for Human Use (CHMP) on the 21st of March. The final decision of the European Medicine Agency (EMA) regarding the approval of the drug for marketing will come within 3 months. The same medicine failed to receive US approval earlier this month because of manufacturing issues. The US Food and Drug Administration (FDA) didn't approve empagliflozin, a treatment for type 2 diabetes, because the manufacturing facility of Boehringer Ingelheim GmbH, where the drug was to be produced, was not up to par. Otherwise the drug met all safety and efficacy standards and therefore no further clinical trials are needed for the drug's approval. Regarding the issue, Eli Lilly aims to work towards resolving the deficiencies and resubmitting the drug for approval from the FDA very soon. Empagliflozin is a drug meant for reducing blood glucose levels in adults with type 2 diabetes by blocking glucose re-absorption in the kidney. According to analysts' estimates compiled by Bloomberg, Jardiance is capable of adding $518 million to the company's top line in 2019. However, the delayed approval will pave the way for other competitive drugs like Invokana of Johnson & Johnson (NYSE:JNJ) and Forxiga of AstraZeneca Plc (NYSE:AZN).
The type 2 diabetes market is expected to grow substantially by more than double its current amount, between 2012 and 2022. According to GBI Research, the value of the global market has the potential to reach $38.8 billion by 2019. This drug can add brighter prospects to the company in the future and may become a blockbuster if approved in both the US and Europe.
Another competitive advantage that the company hopes will benefit it enormously in the diabetes drug market is Dulaglutide, which is currently under the consideration of the US and European authorities for regulatory approval. It is expected to be approved later this year. Dulaglutide, a once-a-week type 2 diabetes drug, proved itself comparable to Victoza from Nova Nordisk (NYSE:NVO) in its late stage trials. Victoza generated sales of $2.1 billion in 2013 and is a once-a-day drug for reducing blood sugar in patients suffering from type 2 diabetes. On the other hand, Dulaglutide needs to be taken once per week and its 1.5 mg dose has the same results as a 1.8 mg dose of Victoza. According to ISI Group, Dulaglutide can generate $2 billion in peak annual sales once it hits the market after regulatory approval. Dulaglutide belongs to the drug class called GLP-1 Receptor Agonists that are anticipated to experience tremendous growth among other classes (CAGR of 17%) due to their weight loss effects and their once-per-week administration making it superior to the standard once- or twice daily therapies.
A combination of Dulaglutide and Empagliflozin on its diabetes drug portfolio will not only bolster its diabetes portfolio but will also enable Eli Lilly to negotiate better deals with health insurers and pharmacies. This will render greater tailwinds for the company especially in the case of Empagliflozin that will be shelved due to its two big rivals from Johnson & Johnson and AstraZeneca.
Another Tailwind: Ramucirumab
Ramucirumab is a candidate for the treatment of lung cancer and met its primary endpoint of overall survival in the phase III trial. In first of the phase III trials, the drug showed serious improvements in NSCLC (non-small cell lung cancer) patients. The next two trials results will be demonstrated in liver and colorectal cancer. This drug is designed to directly inhibit angeogenesis, a process through which blood vessels supply blood to tumors. In this regard it is highly comparative to another drug Avastin; a blockbuster from Roche. Ramucirumab's sales are forecasted to reach $200 million in 2015 and $2 billion in 2020. The lung cancer drug market is dominated by the US in North America with a 93.5% share and Germany in Europe with a 32.4% share. Out of the two main types of lung cancers, NSCLC accounts for 80% of the total lung cancers. The lung cancer drug market is expected to reach $13 billion by 2020 growing at a CAGR of 13.5% from 2015 to 2020. This implies that ramucirumab may become a lucrative commercial opportunity for the company and can bolster its top and bottom lines. This will take a couple of years to hit the market after being approved by the concerned authorities in the US, Europe, and other countries where the company intends to file the drug for approval.
The Road Ahead
Since Eli Lilly's prime product Cymbalta, an antidepressant, faced generic competition after its patents expired in 2013, the company began seeing setbacks and negative year-over-year performance. Another drug, Avista, for osteoporosis, will see its patents expire this month and that will also shake the company's top line. Eli Lilly lost its exclusivity rights for both patents at a price of $4.99 billion and $1.01 billion, respectively.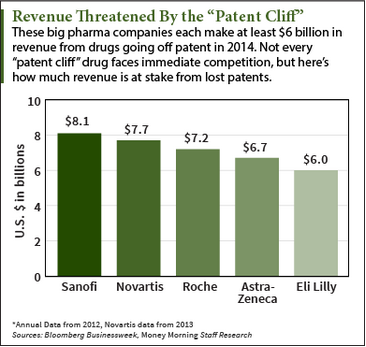 Source: Money Morning
The company is striving to come up with products that can make up for the lost sales, but the above-mentioned tri-products combined fail to add $6 billion to the company's top line. If Eli Lilly successfully gets its drugs approved, this will counter the lost sales from the generic competition and the bull case for the company may persist in the long term. Wall Street has set an upward price target of $67 and a lower price target of $45 for the stock which implies a 15.95% upward and 22.1% downward potential.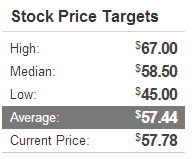 Source: Wall Street Journal
Bottom Line
Summing it all, I believe that 2014 will remain a challenging year for Eli Lilly but in the future new drugs and medicines will propel the company forward. Drugs for type 2 diabetes from Eli Lilly will compete with many others in the market, but the market itself is still huge enough to offer the company a decent chunk. Apart from the diabetes market, Eli Lilly is focused on making better earnings from the lungs cancer market as well. This way the company is on its way to attaining its glory days through its loaded product pipeline. Therefore, in my opinion, Eli Lilly is a stock worth holding for the long term. Investors should not focus on the short term shortcomings that are depressing the stock price. They should instead look at the long term that features the company's upcoming drugs and their prospects and enjoy an enviable dividend yield of 3.39% in the meanwhile.
Disclosure: I have no positions in any stocks mentioned, and no plans to initiate any positions within the next 72 hours.
Business relationship disclosure: The article has been written by a Gemstone Equity Research research analyst. Gemstone Equity Research is not receiving compensation for it (other than from Seeking Alpha). Gemstone Equity Research has no business relationship with any company whose stock is mentioned in this article.