The after earnings fallout wasn't as bad as I expected. I was hoping the bears to really punish BlackBerry (NASDAQ:BBRY), but I guess I have to wait until Monday. I bought put options at $9 strike for April 14. I'm new to options trading. While my BBRY options went right, my DDD put options bet went left.
BBRY March 27, 2014 chart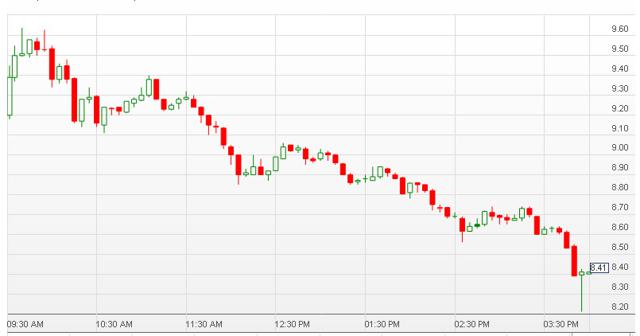 Click to enlarge
Source: money.msn.com
I now understand why very smart options gamblers can reap nice returns without even owning stocks. I would like to thank a very kind SA user, palma308, for showing me how to make money in bear/bull cycle. I'm from the Philippines - we never and still don't have options trading at the PSE.
I'm long BlackBerry. So on paper, I still lost more than I won through options. I'm giving myself another six months to learn and practice options trading. It took me more than six months of daily practice in 2010, before I became a winning grinder at PokerStars.
Cheaper BBRY Is Better For Me
Right now, I'm going to wait for BBRY bears and shorts to bring down the price so I can throw good money after cheap money. No, I'm not going to buy more put options at $8 strike. I'm going to buy more BBRY shares when they are cheaper than price level. I monetized some BBRY gains last February after I realized it wasn't going beyond its January high.
I bought some BBRY at below $7 last December and sold them at $10.20 last month. I used the money to swing trade DDD to recoup my losses from my January misadventure. I'm again waiting for the bears to make BBRY more affordable so I can make another bet. BlackBerry, with John Chen at the helm, has been very good to me this year.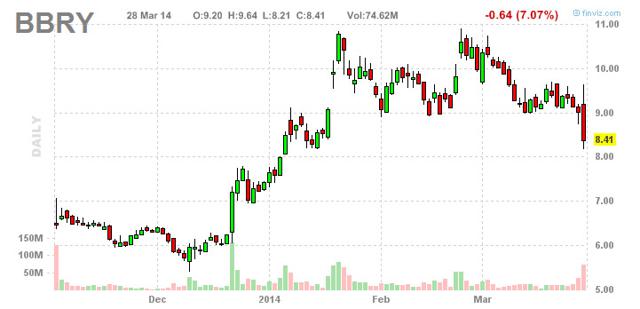 Click to enlarge
Source: Finviz
It is best to take advantage of the shorts by just sitting on the fences and waiting for them to get bored pummeling BBRY. Buy only when you think BBRY has bottomed out. The stock will rebound again once the current bears changes costumes and become BBRY bulls once more.
BlackBerry is Still RedBerry
Q4 results show BlackBerry is still bleeding losses, but the worst may be over. BBRY's latest quarter posted a -$0.08 EPS, which beat industry estimate by $0.46. Chen has done a good job minimizing the hemorrhage. This should be enough evidence that BBRY is not going to bleed to death.
The $976 million revenue misses by $134 million. It pains me to see that once smartphone leader, BlackBerry, only managed to sell 3.4 million phones last quarter. I hope Chen's new bullish moves on classic high-ASP QWERTY smartphones will help the company return to profitability by FY2016.
Enterprise services accounted for 56% of revenue and software 7%. Chen is still bullish about the company's comeback trail to regain lost smartphone market share. Poor sales of its touchscreen BB 10 phones contributed to the $423 GAAP loss for Q4.
Chen believes that the company can again be a force in phones by reintroducing keyboard-centric policy for new BlackBerry phones. There are at least three upcoming QWERTY-keyboard phones which Chen hopes will win back corporate and government customers who disliked the Z10 and Z30.
It makes sense to me, BlackBerry almost bled to death trying to imitate the iPhone and Android touchscreen phones. Perhaps a return to what made BlackBerry successful may bring it back to its RIM heydays. Like Coca-Cola, Chen is going back to the Classic glory while still offering something new to the masses.
The Z3 touchscreen is for emerging markets but new keyboard-centric BlackBerry OS 10 phones will be geared toward the high-end market.
BBM for Desktop
I like it very much when Chen said he is thinking of expanding BBM to desktop computers. I'll buy a lot more BBRY if he does this. I was skeptical of the monetization of mobile BBM due to its low user base compared to other mobile messaging apps. However, I'm sure that BBM's user base will increase substantially if it has a desktop Windows/Mac version.
If BBM only has 85 million current users now (despite it being available to Android and iOS devices), I see a better 50% upside chance for it within a year if a desktop version is introduced. Not all people in the world are dependent on smartphones and tablets. I'm still typing this on an old Toshiba Portege notebook.
BBM's value to advertisers and data miners will only be bigger if it has more users. A desktop version definitely helps in propagating BBM across the globe.
Conclusion
It is better to watch and wait for the shorts to run out of steam, rather than fight them. Patience is key to this long tournament of BlackBerry gambling. My buy level is $8. I hope Monday bears give me this re-buy window of opportunity.
BlackBerry's short interest is high so invest only if you don't mind short-term swings. I like BBRY's low Price/Sales and Price/Book ratios. Click the chart below to see the fundamental numbers.
We all have different metrics when evaluating companies. I confess though that my belief in Chen influences me more than any other metrics.

Click to enlarge
Source:finviz.com
Disclosure: I am long BBRY. I wrote this article myself, and it expresses my own opinions. I am not receiving compensation for it (other than from Seeking Alpha). I have no business relationship with any company whose stock is mentioned in this article.