Conventional [government] logic is that low interest rates, capital subsidies, and encouraging words of home ownership bliss will spur housing demand. While this is certainly true under certain conditions, adults soon learn the economic reality that there is no free lunch in the long run. With new home buyer subsidies fading across the country, home sales have hit a wall that even prolonged access to cheap money cannot surmount.

The Commerce Department released a report yesterday (.pdf) that shows a 32.7% drop in new home sales from April to May, which is 18.3% below last May's sales rate. Inventories are rising, which means that prices will invariably face renewed downward pressures:
click to enlarge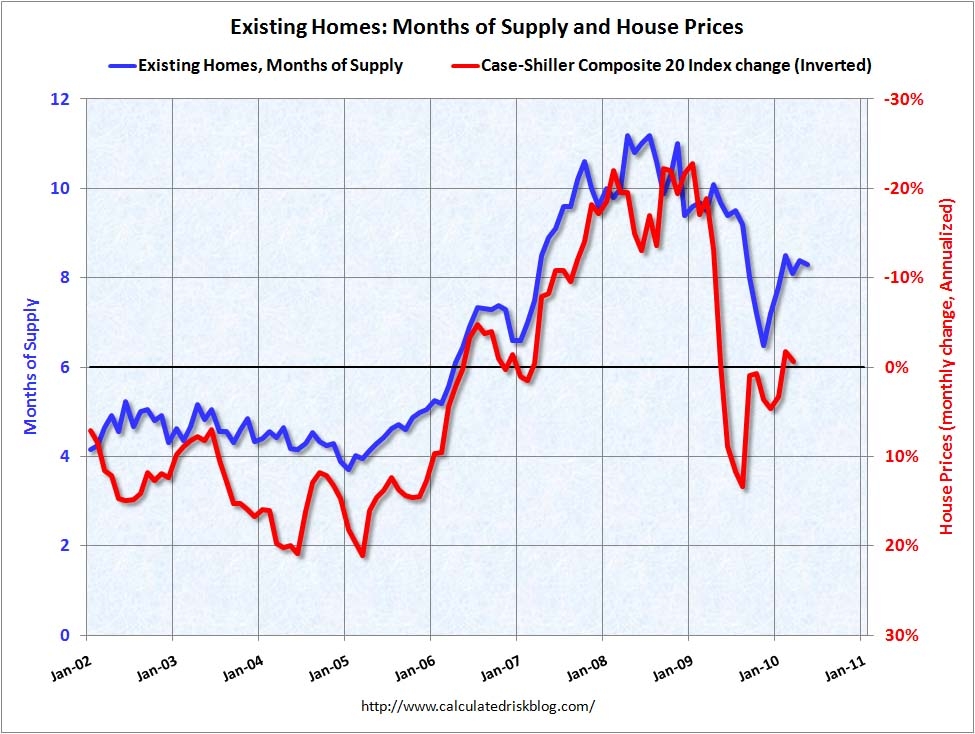 The above chart, provided by CalculatedRISK, shows that housing inventories are once again on the rise after a rather sharp decline from Q408 to Q409. Inventory declines over that period were likely the result of combined fiscal and monetary incentives for home buyers, particularly new home buyers via state and federal tax credits. The CalculatedRISK article points out that inventory levels above 6 months cause downward price pressures.
The Commerce Department's press release estimates housing inventories to be at the 8.5 month level, given current sales volume. The last time we saw home inventories at that level (Q1-Q2 2007) the Case-Shiller Composite 20 Index had a rate of decline of about 15% month-over-month.
Worse yet, is that shadow inventory levels are estimated to be anywhere between 2 million and 8 million homes, which are all in distressed conditions and yet to hit the market.
What's scary is that housing inventories are mounting despite extremely low mortgage rates. As noted in the LA Times:
In a good sign for home loan rates, yields on 30-year mortgage-backed bonds issued by Fannie Mae (FNM) and Freddie Mac (FRE) fell on Tuesday to new 52-week lows as long-term Treasury bond yields also slumped. The benchmark Fannie Mae yield slid to 3.87% from 3.92% on Monday; the benchmark Freddie Mac yield dropped to 3.90% from 3.96%.

Both fell below 4% this month for the first time since briefly trading under that level in late November.
Mortgage subsidies appear to be having a diminishing impact on housing markets, especially as fiscal subsidy programs are winding down. Real estate markets certainly have local characteristics, so what's true for one region may not hold for another. Our Company predicts that for our local market, Manhattan Beach real estate prices will decline between 4% to 9% by the end of 2010. If the inventory to Case-Shiller correlation holds true then we may very well be underestimating the coming decline.
Disclosure: No positions