I continue to be amazed at the continued press being given to OPINION of folks indicating the U.S. economy is about to pick up. Is there any evidence that an economic pickup is on the table?
Looking at the leading indices from several sources do not offer much hope.
Leading Index for the United States
This index has a good record of leading GDP in direction (not necessarily amplitude) by six months (four months in reality as it is issued almost 2 months into the forecast period). This index is now showing a declining rate of growth.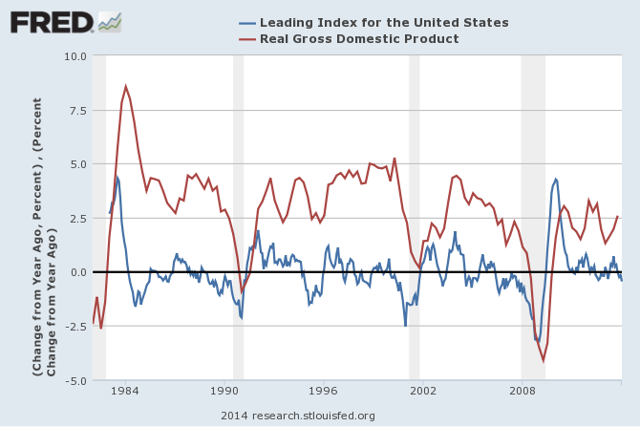 Click to enlarge
Leading Index for the United States from the Philadelphia Fed is the super index for all the state indices. The models include variables that lead the economy: state-level housing permits (1 to 4 units), state initial unemployment insurance claims, delivery times from the Institute for Supply Management (ISM) manufacturing survey, and the interest rate spread between the 10-year Treasury bond and the 3-month Treasury bill.
ECRI's Weekly Leading Index
ECRI's Weekly Leading Index (WLI) is presented as leading business cycles which is not exactly the same as GDP - even so there is reasonable correlation. In the case of the WLI, it is issued almost in real time so the full 6 months of forward forecasting is evident in real time.

Click to enlarge
ECRI's WLI Growth index value remains marginally above zero which according to their definition means the economy six months from today will be marginally better than today. A positive number shows an expansion of the business economy, while a negative number is contraction. The trends in the last 12 months have remained in a very narrow slightly positive channel. The methodology used in creating this index is not released but is widely believed to be monetary based.
The Conference Board's Leading Economic Indicator (LEI)
Looking at historical relationships, this index's 3 month rate of change (red area in chart below) must be in negative territory many months (6 or more) before a recession occurs. In mid-2012, the rate-of-change made several small incursions into negative territory - but is currently in positive territory; however, the growth is declining.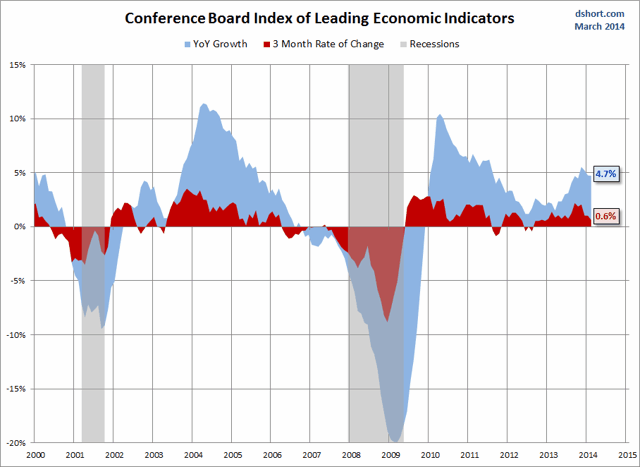 Click to enlarge
Chemical Activity Barometer (CAB)
The CAB is an exception to the other leading indices as it leads the economy by two to fourteen months, with an average lead of eight months. The CAB is a composite index which comprises indicators drawn from a range of chemicals and sectors. Its relatively new index has been remarkably accurate when the data has been back-fitted, however - its real time performance is unknown - you can read more here. A value above zero is suggesting the economy is expanding.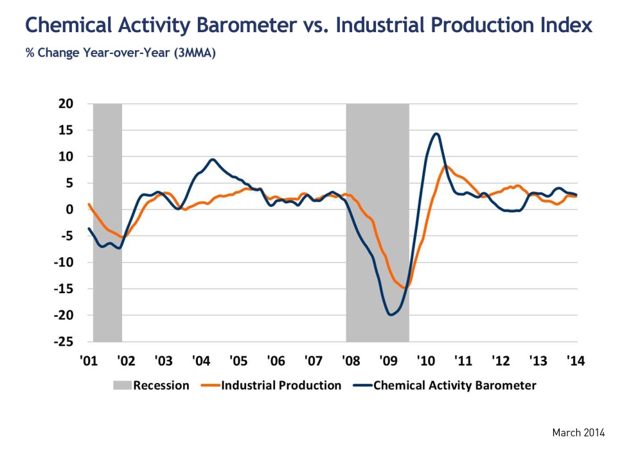 Click to enlarge
This index is pointing to modest but continued growth in the U.S. economy through the fourth quarter of 2014. This index is released in almost in real time.
Final Thoughts
There is no economic element I can find that has a forward view deep into 2014 (other than opinion) - which suggests the economy is about to enter a growth spurt. I hope that every leading index is underestimating economic growth, but the economy usually does not turn without giving some indication (if one is looking). And where I am looking now looks like continued muddle through marginal growth.
My usual weekly economic wrap is in my instablog.
Disclosure: I have no positions in any stocks mentioned, and no plans to initiate any positions within the next 72 hours. I wrote this article myself, and it expresses my own opinions. I am not receiving compensation for it. I have no business relationship with any company whose stock is mentioned in this article.