I published a recent article warning of the risks of stock buybacks at market highs and received some comments disputing the thought and asserting that companies with large buybacks outperform. I did not say buybacks were all bad, but warned that buybacks at market highs were dangerous.
Following up on the comments, I did a brief search for companies that did large buybacks in the 2007 period and came up with four names in five minutes. I didn't have to look any further to demonstrate the risks of buybacks at market highs.
On February 12, 2007 Ambac Financial Group Inc. ("Ambac") did a debt issue the entire proceeds of which were used to fund a buyback. On May 1, 2013 Ambac filed for bankruptcy.
In December 2007, Kiplinger published an article on three companies doing major buybacks, extolling the virtues of their buybacks - Safeway (NYSE:SWY), Ann Taylor (NYSE:ANN) and SkyWest (NASDAQ:SKYW).
The Kiplinger article stated:

Source: Kiplinger
So how did those buybacks work out?
Not that well, I am afraid. After seven years in the doldrums, Safeway is finally above its 2007 price.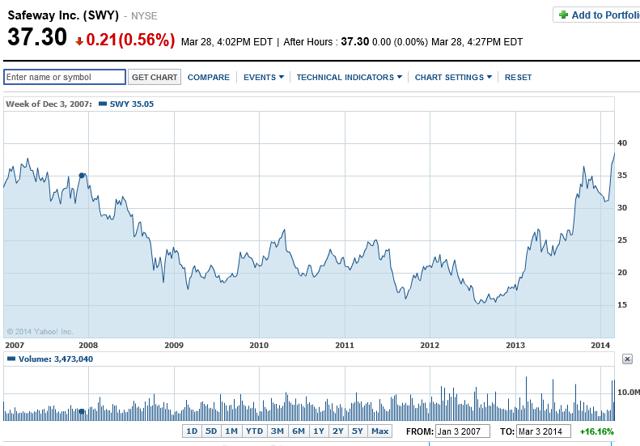 Source: Yahoo.com
Ann Taylor, since renamed Ann Inc., has yet to recover to its 2007 high.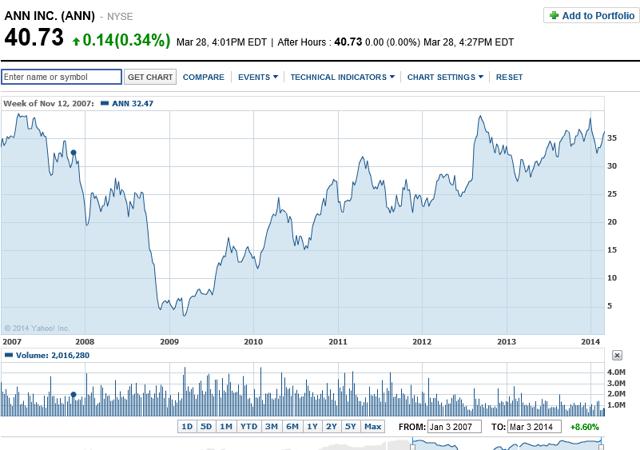 Source: Yahoo.com
For its part, SkyWest today trades at half the price it did in 2007.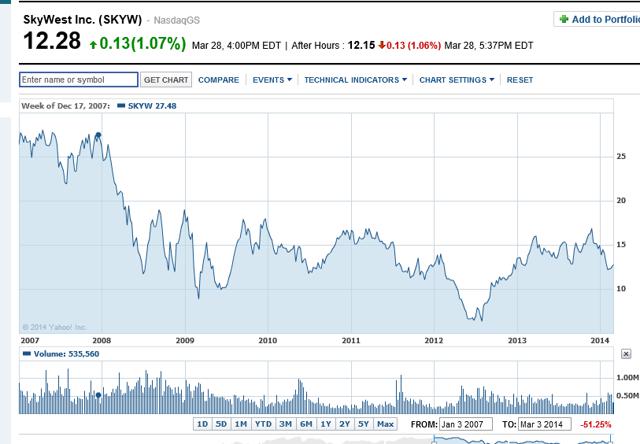 Source: Yahoo.com
I did not choose these stocks to be representative of stock buybacks generally. They were promoted by well-respected Kiplinger in 2007 as stocks that should benefit from buybacks.
2007 was a market peak and 2014 looks like it might be as well. It is stock buybacks at market peaks that are dangerous for investors, not stock buybacks generally. Stock buybacks made in the depressed market following Lehman Brothers' collapse likely did very well. I just haven't found many of them to report.
As I set out in my earlier article, stock buybacks are dangerous at market highs. I have no position in any of the stocks mentioned.
Disclosure: I have no positions in any stocks mentioned, and no plans to initiate any positions within the next 72 hours. I wrote this article myself, and it expresses my own opinions. I am not receiving compensation for it (other than from Seeking Alpha). I have no business relationship with any company whose stock is mentioned in this article.